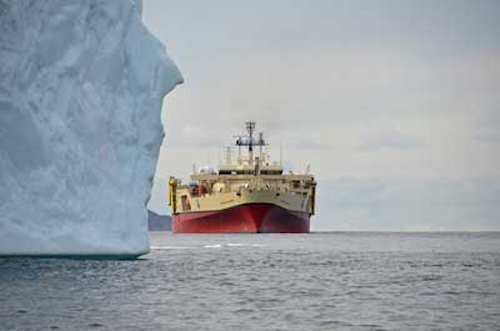 TGS has updated various seismic gathering programs off northern Europe.
The company continues its joint program with PGS in the Viking graben of the North Sea. By the end of the 2011 season, 6,857 sq km (2,647 sq mi) of data had been acquired for this multi-year project. The data set is close to the recent Sverdrup discovery.
TheM/V Polar Duke acquired 1,055 sq km (407 sq mi) of new 3D data along the Nordkapp Platform margin fault in the Norwegian Barents Sea. TGS plans to return this year to finalize the program which is close to several blocks nominated for Norway's 22nd licensing round.
TGS has completed two long-offset 2D surveys in partnership with Fugro. Last year theM/V Akademik Shatskiy added 9,737 km (6,050 mi) of new long offset 2D data in the Norwegian Sea, and the M/V Akademik Lasarev compiled 8,700 km (5,406 mi) of long-offset 2D data in the Barents Sea.
During 4Q 2011, TGS concluded a 1,800-km (1,118-mi) 2D program off northeast Greenland with theAkademik Shatskiy, supported by the ice breaker M/V Fennica. This is another joint TGS/Fugro project with TGS processing the data.
Akademik Fersman has also acquired 5,050 km (3,138 mi) of multi-client 2D in the Russian arctic over the Laptev and East Siberian Sea, in partnership with Russian contractor DMNG.
Acquisition should resume this summer when weather permits.
Public hearings have been staged in Archangelsk to discuss planned seismic research programs in the Kara Sea off northern Russia.
The activity will take place in the East Prinovozemelsky-1 and East Prinovozemelsky-2 blocks, which Rosneft is developing jointly with ExxonMobil. Rosneft was awarded licenses in 2010 to perform geological studies and produce oil and gas at these blocks and also East Prinovozemelsk-3.
The company estimates combined recoverable resources in the area at 6.3 billion metric tons (6.9 billion tons) of crude and condensate and 14.6 tcm (516 tcf) of gas.
The hearings brought together residents of Archangelsk and public organizations with seismic research specialists and independent ecologists. Results will be submitted for state environmental examination.
Rosneft plans to conduct the seismic acquisition from July to October this year using Russian contractors. The 3D seismic will be acquired over East Prinovozemelsky-1 block and 2D seismic over East Prinovozemelsky-2 block, with Rosneft specialists and teams of ecologists monitoring the impact on marine mammals.
Rosneft President Eduard Khudainatov said: "Rosneft and ExxonMobil have 15 years' experience of joint work on the Sakhalin shelf, where the harsh natural conditions and climate are comparable with those of the arctic seas. The application of advanced innovative technologies in exploration work based on best international practices and compliance with the most demanding environmental requirements and standards is the way to eliminate any risks for the environment and preserve the unique arctic flora and fauna."
Electromagnetic Geoservices has secured pre-funding for a multi-client 3D EM campaign in the Barents Sea, ahead of Norway's 22nd exploration licensing round awards. Data acquisition will start next month using the vesselAtlantic Guardian.
Preliminary data will be available from April and 3D inverted data from May.
Shell Kanumas has contracted Polarcus Ltd. to conduct an 8,500 sq km (3,282 sq mi) 3D seismic acquisition project offshore Greenland.
Two ICE-1A/1A* class vessels, PolarcusAmanti and Samur, will start the work in 3Q 2012.
The Norwegian Petroleum Directorate (NPD) has contracted PGS and Dolphin Geophysical to acquire seismic data in Norway's northern offshore outposts.
Extending seismic surveying into arctic regions adds some new elements to the challenges of completing a project. Photo courtesy PGS.
The contracts have a total value of $29 million, with activity starting at the beginning of May earliest and continuing until end-August.
PGS' M/V Nordic Explorer and Dolphin's M/V Artemis Atlantic will perform the surveys around the Jan Mayen region between Norway and Iceland and in the southeastern Barents Sea. Further seismic data will be acquired in the Nordland IV and V areas.
This program has been commissioned on assignment from Norway's Ministry of Petroleum and Energy. Results will form part of the review when the country's parliament (Storting) decides whether to open these areas to petroleum activities.
Seven companies have purchased the Norwegian Petroleum Directorate's seismic data package from the unexplored northern Norwegian offshore areas around Lofoten and Vesterålen. The buyers are Statoil, ExxonMobil, Norske Shell, RWE Dea Norge, GDF Suez, Dong Energy, and Det norske oljeselskap. According to NPD, others have indicated interest.
NPD acquired seismic data off Lofoten, Vesterålen, and Senja on assignment from the Norwegian government between 2007 and 2009, for a total cost of $70 million.
Elsewhere offshore Norway, the NPD and the University of Bergen have acquired samples from steep parts of the seabed on the Jan Mayen ridge between Norway and Iceland. Data was acquired on both the Icelandic and Norwegian sides of the ridge, under an agreement with Icelandic authorities (Orkustofnun). NPD is investigating the potential for petroleum in the region. Good-quality sandstone was also discovered, as were rocks of the same age as source rocks on Greenland. Water depths in the survey area range from 600-2,000 m (1,968-6,561 ft). The areas were selected in part based on seismic data available for this part of the Norwegian Sea. More seismic will be acquired on the Jan Mayen ridge this coming summer. Last year, Norway's government started a process to open seas in this area for potential petroleum activity.
Not all the seismic work is in cold water, however. Work nearer the Equator includes the following:
Petroleum Geo-Services ASA'sRamform Valiant is under way to acquire 26,000 sq km (10,039 sq mi) of 3D data in five Kwanza/Benguela basin blocks offshore Angola.
In February, thePGS Apollo will join the Valiant and acquisition will continue with both vessels until 4Q 2012. PGS will start processing data in March. Together, the two vessels will operate 20 vessel months on this project.
BP, Total, and Statoil have been made operators of blocks 24, 25, 38, 39, and 40. Sonangol is a partner in all of the blocks.
Now that a final agreement has been reached with Sonangol E.P., TGS-NOPEC Geophysical Co. will begin acquisition of a 3D multi-client seismic survey offshore Angola covering about 12,500 sq km (4,826 sq mi). The survey will start on blocks 36 and 37 in late January.
More Offshore Issue Articles
Offshore Articles Archives
View Oil and Gas Articles on PennEnergy.com