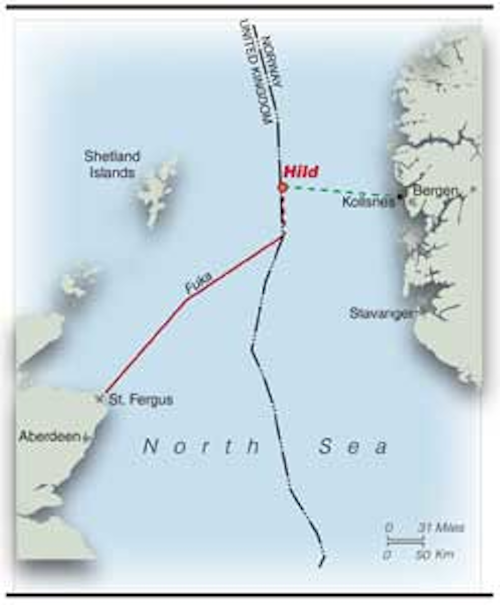 Norway's offshore construction spree is set to intensify, with four major new projects close to the launch pad.
Lundin Petroleum has submitted its long-awaited plan for the 186 MMboe Luno field in the North Sea, which also takes in the basement Tellus discovery. The $4-billion scheme calls for construction of a processing platform, with Kvaerner the designated contractor for the jacket, and an oil export pipeline to the Grane field facilities. Rowan will provide a jackup to drill the 15 planned development wells.
Luno is due onstream in late 2015, building to a peak of 90,000 b/d. However, the platform will have processing capacity of more than 120,000 b/d to accommodate assumed throughput from Det norske oljeseleskap's nearby Draupne development.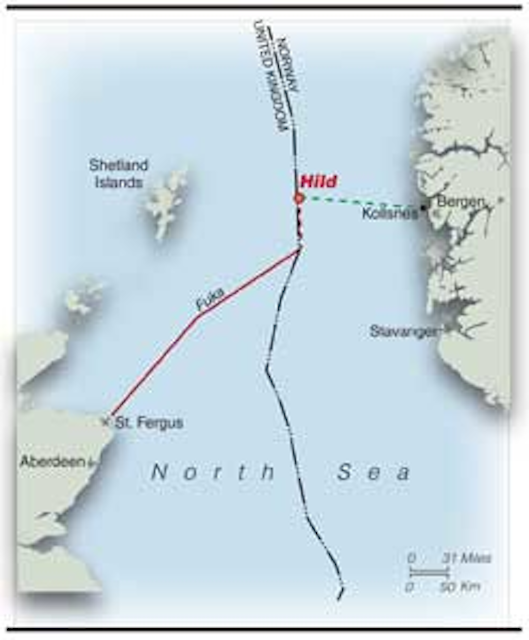 Hild field development location offshore Norway.
Total's solution for the Hild field in the North Sea carries a similar price tag. The project is designed to tap separate gas condensate and oil reservoirs, initially from the Hild Ost and Hild Ol structures, without pressure support. Later, oil will be extracted from Hild Sentral and Hild Vest in the Frigg formation using gas lift.
Development will be based around an integrated wellhead, production, and accommodation platform in 115 m (377 ft) water depth. Processed gas will flow to St Fergus in eastern Scotland via a new pipeline connecting to the Frigg UK trunkline system. Liquids will head to a 620,000-bbl dedicated storage vessel which will separate out produced water for reinjection, with the remaining oil exported via shuttle tankers. Power will be supplied by a 170-km (105-mi) subsea cable, claimed to be the world's longest AC power link from shore to an offshore platform.
Still in the North Sea, Statoil and its partners have committed to a fixed platform for the Dagny, Dagny East, and Eirin accumulations, which have combined reserves of 300 MMboe. Development will cost up to $4.9 billion, with the gas exported to Statoil's Sleipner East complex, 20 km (18.6 mi) to the southwest, and the oil probably offloaded to visiting tankers.
In the Voering area of the Norwegian Sea, Statoil's Luva gas condensate field will be exploited via Norway's first spar platform. Luno is 300 km (186 mi) offshore in 1,300 m (4,265 ft) water depth. Aside from being the nation's deepest water development to date, it is also remote from existing offshore infrastructure, the nearest being the Norne facilities 140 km (87 mi) away.
Statoil says the spar will be one of the world's largest, with processing capacity for 23 MMcm/d of gas, and storage for condensate. There will be provision for at least nine subsea wells, with the gas transported through a new 480-km (298-mi), 30-36-in. (76-91-cm) subsea pipeline to the processing complex at Nhyamna, western Norway that currently serves the Ormen Lange field. The pipeline will also connect to Norske Shell's Linnorm field, a planned subsea tieback to the Draugen platform, and to RWE Dea's (assumed) Zidane development. An additional link is possible to the Haltenbanken area of the Norwegian Sea to address gas capacity constraints in the Aasgard Transport pipeline system. Start-up at Luva is currently scheduled for 2016.
Norwegian licensing delivers results
By far Norway's largest unharnessed resource is Johan Sverdrup, the new name for the unitized Avaldsnes/Aldous discoveries on the Utsira High in the North Sea. Despite a below-par result early this year from an appraisal well on the Avaldsnes section, joint operators Lundin and Statoil are sticking to their prognosis of 3.3 Bboe recoverable, but this will have to be proven by further extensive delineation drilling in 2012. The discovery "shows that the era of easy oil on the Norwegian shelf is not over," said Bjorn Kare Viken, Statoil SVP Subsea and Marine Technology, at GE Oil & Gas' annual industry meeting in Florence. "We just need to think differently."
Norway's recent run of exploration successes continues to drive demand for fresh acreage. The Petroleum and Energy Ministry has awarded 60 new production licenses to 42 companies under the country's 2011 Awards in Pre-Defined Areas round. The bidding process starts again this summer when the Ministry rolls out the next list of blocks available under Norway's 22nd licensing round.
Statoil overhauls subsea controls
Statoil has started replacing subsea control systems in some of its older wells in the North Sea with GE's SemStar 5 systems. Overhauls will be performed on a total of 26 wells on the North Sea Tordis and Vigdis fields, which came onstream in the 1990s via connections to the Gullfaks C and Snorre A platforms. The aim is to help keep both fields in production through 2030.
These are the first subsea applications for SemStar 5, which was adapted to Statoil's requirements, according to Joar Kristenses, project manager for the Tordis/Vigdis modification program. The fiber optics-based technology is designed for remote monitoring and operation from a shore-based location, and incorporates equipment for real-time diagnosis of seabed equipment, sand monitoring, and leak detection.
Rod Christie, VP Subsea Systems at GE, describes SemStar V as "the next-generation subsea control system," which can be easily be retrofitted to a well by means of an engineered adaptor, after the obsolete control module system has been pulled out. At Statoil's request, the company performed full system tests in over-pressured conditions at its hyperbaric chamber in Nailsea, UK prior to installation offshore. "Our system provides open architecture and higher data rates," Christie added. "Under the next development phase, we are looking to enhance the technology by developing smart algorithms and improved diagnostics to give Statoil more information on integrity management."
More Offshore Issue Articles
Offshore Articles Archives
View Oil and Gas Articles on PennEnergy.com