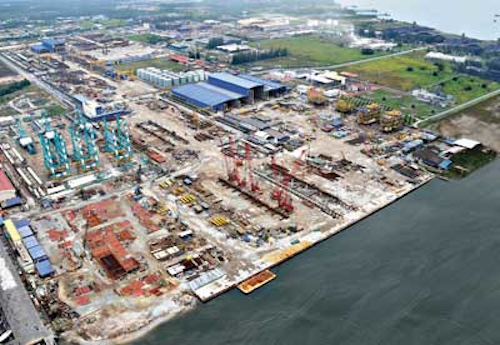 Government programs, agencies promote both domestic and foreign capabilites
The government of Malaysia has put together a sweeping program to position itself as the support hub for Southeast Asia offshore oil and gas operations.
Under the direction of the Ministry of Industry and the Malaysia Investment Development Authority (MIDA), the country seeks to draw investment into Malaysia, not only from the oil and gas sector, but also from a wide range of manufacturing, services, trade, and financial sectors.
However, MIDA's primary function is to provide a "one-stop" central service to guide incoming enterprises – primarily from the oil and gas industry – through the process of locating in Malaysia. It also advises the government in policies and strategies for promoting industrial development within Malaysia.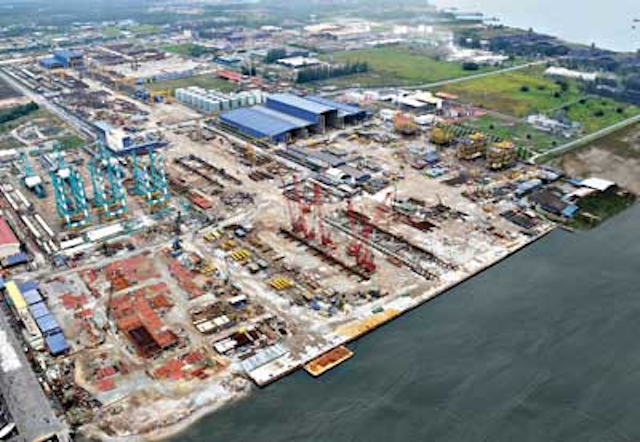 Kencana Petroleum manufacturing yard on the west coast of Malaysia.
For an enterprise that wants to launch a new business or open a branch in Malaysia, MIDA can give information on tax incentives, manufacturing licenses, duty exemptions, support services, permit requirements, and attractive special programs. MIDA prides itself on locating everything a newcomer might need under one roof, so that visitors can get all questions answered at the MIDA headquarters in Kuala Lumpur.
To further enhance MIDA's role in assisting investors, senior representatives from key government agencies are stationed at MIDA's headquarters to advise investors on government policies and procedures. These representatives include officials from the departments of labor, immigration, customs, environment, and communications.
In addition, MIDA is supported by other key agencies and associations that, like MIDA, were created to facilitate doing business in Malalysia.
MOGSC
The Malaysian Oil & Gas Services Council (MOGSC) was formed in 2003 to establish an association driven and promoted by the services sector of the Malaysian oil and gas industry.
MOGSC is now the premier and most proactive business forum representing the interests of the service providers in the Malaysian oil and gas industry, with the largest grouping of companies as members, from the big integrated players to the specialist services.
Since 2010, with the launch of the Economic Transformation Program (ETP) by PEMANDU, MOGSC has played an active role in support of the ETP agenda, especially with regard to making Malaysia the regional hub for oil and gas services, which is also the key mission for MOGSC.
MOGSC's stated goal is to represent the interests of Malaysian oil and gas service providers, promote their competencies and expertise, and raise their profile and visibility; to engage and collaborate with all industry stakeholders; and to promote Malaysia as a global hub for resources, products and services.
Specifically, MOGSC works with industry groups, including forums, major events, local and international exhibitions, and conferences. It also supports overseas visits, exhibitions, and conferences and talks. It seeks to maintain regular engagement with Petronas, the Malaysia national oil company, as well as other operating oil and gas companies, government agencies, and other industry stakeholders on matters of interest for the industry.
MOGSC is comprised on a number of "working groups" staffed by industry volunteers. Examples include:
Deepwater Working Group – involved in the deepwater sector promoting more Malaysian involvement and supporting Petronas' initiative to make Malaysia the regional hub for deepwater technology and services
Integrated Operations – promotes cost reduction through more effective and efficient operations
Decommissioning – seeks to establish Malaysia as a center of excellence for decommissioning services
Training & Technology – supports the national aspiration to develop and upgrade the competency skills and capabilities of personnel working in the oil and gas industry in Malaysia
Industry Consultative Committee – provides a platform to promote initiatives, drive the industry agenda, create awareness, and address any issues of interest and positive collaboration
Subsurface – seeks to establish Malaysia as a center of excellence for subsurface products, services, and expertise.
MPRC
The Malaysian Petroleum Resources Corp. (MPRC) began operations in July 2011. It is tasked with transforming the oil and gas services industry in Malaysia to create a more dynamic and competitive business climate.
"In undertaking the transformation, MPRC hopes to encourage more oil and gas companies to set up operation or regional headquarters in Malaysia," said Emir Mavani, president and CEO of MPRC. "At the same time," Mavani added, "MPRC hopes to bring Malaysian oil and gas services companies to higher levels of capability and competency in order to bid for projects anywhere in the world."
To make outsiders aware of its benefits, MPRC will be part of a large Malaysian delegation to the Offshore Technology Conference in Houston and is meeting with petroleum trading companies in Europe to promote the (GIFT) program.
"Making Malaysia the oil and gas hub for the Asia Pacific region is certainly the ambition of MPRC," Mavani added. "Multi-national oil and gas companies such as Shell, Schlumberger, Technip, and Halliburton are already moving major portions of the manufacturing back office operation to Malaysia because they recognize the value-added benefits that Malaysia offers them vis-à-vis other countries in the region."
"Comparatively," he commented, "Malaysia offers vast land areas for investors to set up large-scale manufacturing operations. There is also a large pool of qualified workforce, from professionals to technical to support staff."
MPRC also wants to expand the GIFT program to include other related components such as trading derivatives and over-the-counter securities. These activities will add value to the storage operation that we already have. With commodities trading, MPRC hopes it will create more demand for financial services and in turn will make the financial services industry more competitive.
"MPRC wants to focus on making Malaysia the hub for oil and gas expertise," Mavani noted.
Why Malaysia?
If you ask both new arrivals and long-time participants why they chose to establish a presence in Malaysia, you will get almost identical answers.
"It is geographically central to the Asia Pacific – India, Southeast Asia, Australia, China," said Stasi Prandalos, CEO of Mir Valve. "Malaysia has a pro-business government, an educated and productive workforce – many of whom were multilingual in two or three languages, including English – adequate and growing port facilities, and an efficient transportation system. The quality of life was important too, such as a comfortable living environment, modern amenities, good healthcare and medical facilities, good schools and universities. Not to mention attractive recreational and sports facilities and shopping. The proximity to Singapore was also a plus."
Stasi decided to move into the southeast Asia market as an expansion from the company's Australia location. At the time of the decision, Mir had no assets of any kind in Malaysia, but managed to launch a manufacturing and export facility starting from scratch.
"We also went to MOGSC for advice on how to proceed in Malaysia," he said "They gave us all the information we needed, really helped us launch our operation here, and they will do that for any new company coming in, even for companies that will compete with their membership."
Technip
For Technip, Malaysia had a number of advantages.
"It was an attractive investment destination," said Edgar Pushparatnam, K.S. Hoe, senior vice president, Corporate development for Technip Malaysia. "We saw Malaysia as a stable country, politically and economically and it had a fledging oil and gas industry with plenty of growth opportunities. In addition, Malaysia has an English-speaking educated and competent workforce."
Technip has a long history in Malaysia, operating in Kuala Lumpur since 1982 as the company's regional headquarters for Asia/ Pacific operations. Technip Malaysia provides technological solutions and turnkey contracting expertise in three business segments: subsea, offshore, and onshore.
They have a manufacturing facility for flexible pipes and umbilicals, known as Asiaflex Products. The plant caters to subsea field development in the Asia/Pacific and Middle East markets. Located in the Tanjung Langsat Industrial Complex in Johor, it provides access to all the major shipping routes to Asia and the rest of the world.
Technip has invested in a new subsea construction/flexible pipelay vessel,Deep Orient, that will be joining the market soon.
"As a result of our strategic 8% stake in MHB, we now have access to the MMHE yard in Pasir Gudang which is a major fabrication yard in Southeast Asia and the largest in Malaysia," Hoe observed.
Technip has plans for further growth in the Malaysia region.
"We had just opened an engineering design office in Miri, Sarawak, to bring us closer to our clients operating centers," Hoe noted. "We have already secured a term contract with JX Nippon Oil & Gas Exploration (Malaysia) and are looking forward to expanding in the East Malaysia region. Currently, employment of locals is under way from Sabah and Sarawak and the number is expected to grow to 100 by the middle of next year. Moving forward, we will continue to develop our human capital in areas such as deepwater, flexible pipes and umbilicals, refining, LNG, and FLNG."
Malaysia Marine & Heavy Engineering
A visitor walking through the bustling MMHE shipyard in Johor witnesses an army of some 9,700 workers engaged in a wide spectrum of engineering and construction projects – FPSOs, FSOs, semisubmersibles, jackups, tanker conversions, LNG carriers, and more. A Caspian Sea platform for Petronas. An East China Sea project for CNOOC. Wheatstone topsides to go offshore Australia. An FLNG for Shell. A platform for installation off Norway.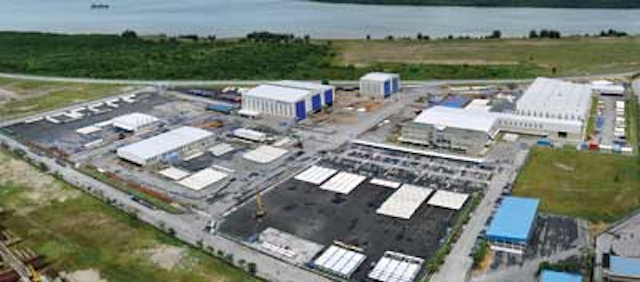 Malaysia Marine & Heavy Engineering yard in Johor, Malaysia.
Perhaps more than any other enterprise, MMHE exemplifies the successful business model that is fueling the growth of offshore support industries in Malaysia. Whereas some service or manufacturing is supported solely by Petronas, the MMHE customer base is global and reads like a who's who of offshore operators, drillers, and contractors.
The yard includes five open fabrication areas covering 321,400 sq m (3.5 million cu ft), 35 fully covered workshops totaling 99,000 sq m (1.065 million sq ft), and two dry docks accommodating vessels up to 450,000 dwt and lift ships up to 50,000 dwt.
MMHE recently entered into a joint venture with Technip to form Technip MHB Hull Engineering (TMH) in Malaysia. It aims to support Asia's upstream sector with a wide range of services.
"Malaysian Marine and Heavy Engineering is the center of choice for the construction of deepwater facilities, marine repair services, and marine conversion of FSOs, FPSOs, MOPUs, and MODUs," Maarten Spilker, managing director and CEO of TMH toldOffshore recently.
"Projections for the Asia/Pacific region in the coming decade are quite staggering. It will be a major challenge for the industry to resource the projects with skillful and experienced engineers. With the combination of MHB's fabrication expertise and Technip's topside engineering design capability, we expect TMH to become the safe haven and partner of choice by providing world-class hull engineering services," he said.
Sapura-Kencana
Sapura Kencana Petroleum, the new entity formed by the merger of Sapuracrest Petroleum and Kencana Petroleum, resulted in the largest oil and gas service provider in Malaysia and the world's fifth-largest EPCIC (engineer, procure, construct, intall, and commission) company by asset base. It is reflective of the new attitude of growth and expansion prevalent throughout Malaysia today. The combined company resulted in a work force of 9,000 people across more than 20 countries, ranging from Malaysia, Thailand, and Australia to Brazil and the United States. The company says it expects to achieve an annual compound growth rate of 15% to 20%.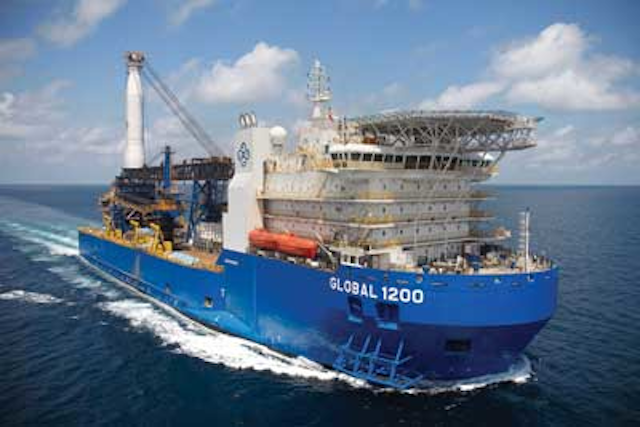 Global 1201, a subsea rigid S-lay and heavy lift vessel, is one of Technip's primary assets in Asia/Pacific acquired through the Global Industries acquisition. " title="The Global 1201, a subsea rigid S-lay and heavy lift vessel, is one of Technip's primary assets in Asia/Pacific acquired through the Global Industries acquisition. ">
TheGlobal 1201, a subsea rigid S-lay and heavy lift vessel, is one of Technip's primary assets in Asia/Pacific acquired through the Global Industries acquisition.
The two companies view the merger as a perfect fit, combining service and expertise with little overlap or redundancy.
Prior to the merger, Kencana Petroleum was best known for engineering services and shipyard capabilities, including fabrication, hook-up and commissioning, marine construction, vessel conversion, offshore marine and drilling services, and development of marginal and brown- fields.
Shipyard capabilities include engineering, procurement, and fabrication works for multiple large-scale offshore structures such as jackets, topsides, self-elevated, and relocatable wellhead platforms. Customers include Petronas Carigali, Hess, Murphy, Shell, OMV, ONGC, Exxon Mobil, Newfield, and Nippon.
SapuraCrest, formed by the merger in 2003 of Sapura Group and Crest Petroleum, provided a range of offshore services, including installation of pipelines and facilities, offshore drilling, marine services, operations, and maintenance. SapuraCrest Petroleum now seeks a more significant role within the oil and gas value chain.
SapuraCrest, now part of Sapura-Kencana, sees the recent award by Petronas to jointly develop and operate marginal fields in Malaysia as creating a platform to move forward into its next growth phase in the development, production, and operation of oil and gas fields and assets. Customers include national oil companies and majors operating in Malaysia as well as outside markets such as Australia, Japan, India, Russia, Indonesia, Thailand, Cambodia, Vietnam, Myanmar, and Madagascar.
Aker Solutions Malaysia
Aker Solutions has been present in Malaysia since 1981 under the name of Petrominco Engineering and Kvaerner Process Systems. Malaysia became the subsea operation headquarters for Asia/Pacific in 2006.
Aker Malaysia employs 800 people in Kuala Lumpur and Port Klang, the site of its vast construction yard. Today, the Port Klang yard is the largest subsea production facility in the world, covering some 220,000 sq m (2,368,060 sq ft) in total and 38,000 sq m (409,028 sq ft) under roof.
ASM is located in KL and Port Klang. The manufacturing center in Port Klang is the first of its kind in the world that can produce a complete subsea production system in one location.
Some of the deliverables managed out of Malaysia include feasibility studies, front-end and detailed engineering, shallow-water field developments, subsea tree and production control systems, manifolds, tie-in equipment, surface trees and wellheads, wireline, coiled tubing, pumping services, as well as management and support function roles.
Cameron
Cameron International Malaysia Sdn Bhd, based in Johor, manufactures and provides subsea equipment products, systems, and services to the global oil and gas industry.
The $32-million Cameron subsea manufacturing facility in Johor was added in 2007. The state-of-the-art facility provides manufacturing, assembly, and test capabilities to allow Cameron to serve what it sees as a growing market for subsea equipment. The plant is capable of completing as many as 40 trees annually.
Backlog in Malaysia has grown as a result of new orders for the Southeast Asia/Australian markets and the transfer of subsea project activity from other Cameron facilities, including Singapore and the company's European locales.
More Offshore Issue Articles
Offshore Articles Archives
View Oil and Gas Articles on PennEnergy.com