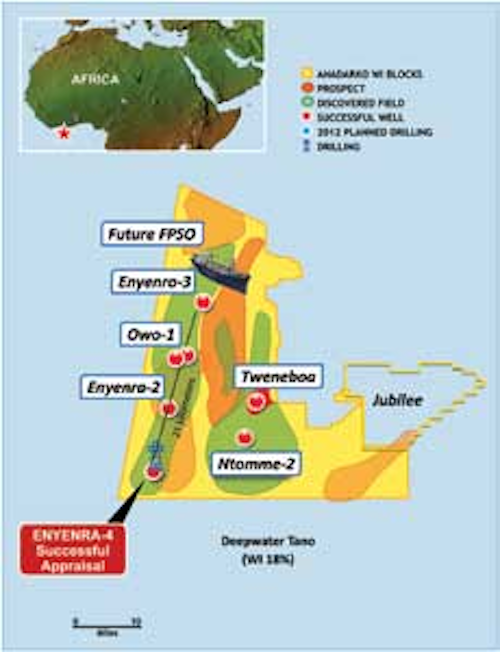 Exploration and development continues at a rapid pace offshore West Africa, with confirmations of previous discoveries and new finds that indicate more drilling and production ahead.
A recent study by energy analyst Infield Systems on global deepwater activity predicts aggressive capital spending offshore West Africa by both supermajors and independents alike.
The Infield report is the eighth edition of the Global Perspectives Deep and Ultra-deepwater Market Report. It provides an analysis of the key regions for deepwater development and growth over the period 2007 to 2016. The forecast focuses on capital expenditure on platforms, subsea, pipelines, and control lines at water depths of 500 m (1,640 ft) and greater.
Infield expects deepwater global expenditure to remain high for operators such as Chevron, Total, Shell, BP, and ExxonMobil. The combined investment by the supermajors and Petrobras is expected to reach 65% of the global deepwater capex expenditure over the course of the forecast timeframe.
Independent operators, such as, Anadarko, Noble Energy, Hess, and Tullow are also expected to substantially increase their proportion of capital expenditure within the deepwater market over the forthcoming five years. For Anadarko, the rise in investment is particularly significant, with key projects including the Gulf of Mexico's Lucius project, and exciting new projects offshore Africa.
Offshore Africa, Infield Systems anticipates strong deepwater investment to continue, with the region holding an equal global deepwater capex share to that of Latin America at 30% across the 2012-2016 timeframe.
Here are some of the hottest areas of E&P activity.
Ghana
Exploration and development of new reserves continue offshore Ghana, with operators delineating previous discoveries and moving into frontier areas for new wildcat drilling.
Anadarko Petroleum Co., which has been increasing activity in frontier areas offshore Africa, recently announced exploratory successes offshore Ghana and Mozambique and revealed plans to step up drilling in both areas.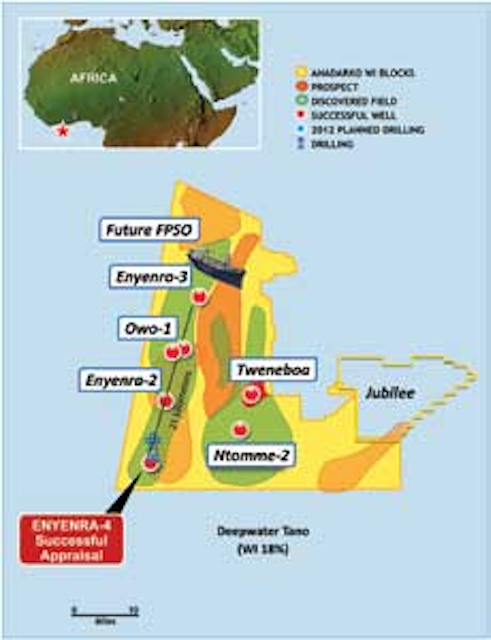 Anadarko's Enyenra-4A appraisal well, located in the Deepwater Tano block offshore the Republic of Ghana, encountered approximately 105 ft (32 m) of net oil pay in high-quality sandstone reservoirs, expanding the areal extent of the TEN (Tweneboa, Enyenra, and Ntomme) complex.
Anadarko's Enyenra-4A appraisal well, located in the Deepwater Tano block offshore the Republic of Ghana, encountered approximately 105 ft (32 m) of net oil pay in high-quality sandstone reservoirs, expanding the areal extent of the TEN (Tweneboa, Enyenra, and Ntomme) complex.
"With the success of the Enyenra-4A well, we've extended this high-quality oil accumulation more than 13 mi (21 km) from north to south, indicating approximately 2,000 ft (610 m) of continuous oil column," said Bob Daniels, Anadarko senior vice president, Worldwide Exploration. "We've seen strong evidence of static communication among the wells in the field and plan to continue working to affirm connectivity, while advancing this future mega project toward a plan of development and sanctioning."
The Enyenra-4A well is located approximately 4 mi (7 km) southwest of the Enyenra-2A and almost 13 mi (21 km) south of the Enyenra-3A well, which defines the northern end of the Enyenra field. The well was drilled to a depth of approximately 13,694 ft (4,174 m) in 6,158 ft (1,878 m) of water.
Meanwhile, Anadarko's Ntomme-2A appraisal well offshore Ghana found 128 ft (39 m) net of light oil (35º API) pay.
The Ntomme-2A well is 2.8 mi (4.5 km) south of the Tweneboa-3 side track, in 5,675 ft (1,730 m) of water. The well was drilled to a depth of approximately 12,810 ft (3,905 m). Once operations are complete, the partnership plans to install gauges in the Tweneboa-3 side track prior to a planned drillstem test at Ntomme-2A.
"Finding a significant light oil accumulation is an excellent result that enhances the value of the Greater Tweneboa, Enyenra, and Ntomme (TEN) complex, as we now estimate oil makes up the majority of the resource in place," said Daniels.
"Our 3D seismic modeling, coupled with the pressure data collected from the Ntomme-2A and Tweneboa-3 side track wells, indicates the potential for an oil column of more than 400 ft (122 m) below the gas/condensate accumulation encountered in the Tweneboa-3 side track well. The partnership plans to incorporate this new information into its ongoing program as we advance the development of the TEN complex."
Anadarko has an 18% working interest in the Deepwater Tano block. Partners in the block include Tullow Oil plc (49.95% working interest and operator), Kosmos Energy (18% working interest), Sabre Oil & Gas Holdings Ltd. (4.05% working interest) and the Ghana National Petroleum Corp. (10% carried interest).
Operator Tullow expects to develop TEN via an FPSO under an integrated subsea cluster development scheme. FEED work started last August, and a design competition is under way involving three FPSO contractors. Subsea FEED is nearing completion and tenders for this work are being prepared.
The company has identified further exploration prospects in the TEN license. Wells that could be drilled are Wawa-1, targeting hydrocarbons that may have moved to a trap up-dip from the TEN fields; Sapele-1, immediately south of the Jubilee, testing a prospective turbidite lobe; and Tweneboa Deep-1, a prospect underlying the TEN fields.
Eni Ghana has spudded the Nunya-1X exploration well on the Keta block offshore Ghana using the semisubmersible rigMarianas. The well targets a four-way dip closed structure. According to partner Afren, the primary reservoir target comprises Upper Cretaceous deep-marine fan sandstones analogous to those that have generated discoveries elsewhere along the West Africa transform margin.
Last year Eni took a 35% operating interest in the Keta block. The other partners are Mitsui and Ghana National Petroleum Co. Eni has had success in finding gas offshore Ghana in the past.
Also offshore Ghana, operator Tullow Oil has begun Phase 1A development drilling on the Jubilee field.
Under the $1.1-billion program, eight new wells will be drilled, including five producers and three water injectors. The first of these wells should come onstream in late June.
Phase 1 remedial measures will include acid stimulations and recompletions of some underperforming wells. This overhaul, and the additional Phase 1A wells, should allow production to build toward the FPSO's design capacity of 120,000 b/d.
Tullow expects Jubilee's production to average between 70,000 and 90,000 b/d in 2012, depending on the well performance achieved from the Phase 1 recovery program and the execution schedule of the Phase 1A wells.
Angola
Maersk Oil has discovered oil in the deepwater Azul-1 exploration well in block 23 in Angola's Kwanza basin.
The company says this was the first well to penetrate presalt objectives in the Angolan deepwater. It was drilled in a water depth of 923 m (3,028 ft) and reached a final depth of 5,334 m (17,500 ft).
Maersk adds that the condition of the well prevented an assessment of flow capacity by a conventional test. Instead, the partners opted for a mini-drillstem test that enabled recovery of two good-quality oil samples.
Early interpretation of the data suggests a potential flow capacity of more than 3,000 b/d. The partners plan further exploration on the block, including what Maersk calls "state-of-the-art" reprocessing of seismic data. The company expects full appraisal of the find to take several years.
Sonangol E.P. is the block concessionaire. Maersk is operator with partners Svenska and Sonangol P & P.
Nigeria
Afren has discovered a new oil-bearing structure close to the Okoro field off southeast Nigeria.
The jackupTransocean Adriatic IX spudded a well on the Okoro East prospect in mid-December, reaching total MD of 8,751 ft (2,667 m). It encountered 549 ft (167 m) true vertical thickness of net oil pay and 41 ft (12.5 m) of net gas pay in good quality reservoir sands.
Afren says the oil-bearing Tertiary reservoir sands are equivalent to those developed and already in production 2 km (1.2 mi) to the west at the Okoro main field. However, the discovery of further significant pay in previously unexplored deeper zones opens further prospectivity at similar levels on the main field and elsewhere on the block.
Logging operations arer complete and the well is being prepared for testing, after which Afren and partner Amni will work on an optimal development solution.
"We look forward next to spudding the Nunya-1x (Cuda-2) exploration well offshore Ghana later this month," said Osman Shahenshah, CEO of Afren.
Côte d'Ivoire
Vanco Côte d'Ivoire Ltd. has announced a discovery offshore Côte d'Ivoire block CI-401 with the Independence 1X well.
The well penetrated the targeted objective and found a series of good-quality sandstones containing light oil, said Vanco for partners Lukoil Overseas Côte d'Ivoire Ltd. and PETROCI Holding.
Full analysis, including wireline logs, reservoir pressures, and fluid samples, confirms that the well penetrated 8 m (26 ft) of hydrocarbon pay in good-quality Turonian-aged sand package. Hydrocarbon samples indicate 40° API gravity.
The well will be temporarily abandoned at a total depth of 4,132 m (13,556 ft).
The Independance-1X was drilled in a water depth of 1,689 m (5,541 ft), approximately 93 km (58 mi) south-southeast of Abidjan. It is one of the deepest water exploration wells drilled to date in the eastern offshore Ivorian basin, said Vanco. The well was drilled by theOcean Rig Olympia drillship.
This is the second exploration well drilled in block CI-401, which encompasses an area of 619 sq km (239 sq mi) in water depths ranging from 950 to 2,100 m (3,117 to 6,890 ft).
Meanwhile the jackupTransocean GSF Monitor has started drilling the Gazelle-P3 production well for Rialto Energy on the CI-202 block. The location is on the northern flank of the Gazelle structure, 43 km (26.7 mi) southwest of Abidjan.
The well is due to reach a TD of 3,400 m (11,155 ft) and should require 60-70 days to drill and test. This is the first of a three-well campaign on the block which should take six months to complete, including testing.
Gazelle-P3, which is being drilled from the Gazelle subsea template, is designed as a deviated hole targeting oil in already tested sands over the Upper Cenomanian reservoirs. It will also be deepened to test a potential gas prospect, Condor, and a combination structural/stratigraphic trap in the Lower Cenomanian not previously drilled.
Assuming a success, the second well will appraise Condor, while the third well in the program will target the Chouette exploration prospect, 13 km (8 mi) from the Gazelle template.

More Offshore Issue Articles
Offshore Articles Archives
View Oil and Gas Articles on PennEnergy.com