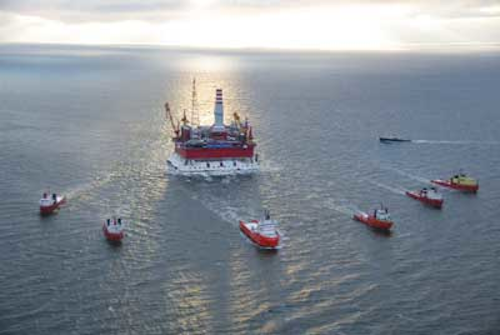 The next offshore frontier is the Arctic, according to Andrew Reid, CEO of energy analysts Douglas-Westwood. "More than 400 fields have been discovered to date in the Arctic, providing reserves in excess of 240 Bboe," Reid said, speaking at a recent IADC drilling conference. "There is no doubt that further drilling activity in this region could have a major impact on offshore production in the foreseeable future."
Meanwhile, Infield Systems Ltd. has identified more than 130 Bboe in discovered oil, gas, and condensate reserves throughout the offshore arctic and sub-arctic regions. Around 114 Bboe are gas reserves, and 16 Bbbl are oil. Infield's report on offshore arctic oil and gas prospects through 2017 includes current and future offshore oil and gas developments within the Arctic Circle, and in the "sub-arctic" regions of Sakhalin Island, the Jeanne d'Arc basin offshore eastern Canada, and the Cook Inlet off Alaska.
Arctic capital expenditure should increase more than $7 billion annually through 2017, according to Infield. Russia, with its reserves, should largely drive this expenditure, especially during 2013-2015 (assuming the Shtokman project goes ahead in the Barents Sea). The following is an overview of developments in the Arctic and sub-arctic regions.
Russia
Gazprom's board has approved a program for development of hydrocarbon resources on the Russian continental shelf through 2030. The company says more than 80% of the hydrocarbon resources are concentrated in the Barents, Pechora, and Kara seas, and the Sea of Okhotsk. Priorities include a comprehensive development of the Shtokman field and its satellites in the Barents Sea, and joint development of the Prirazlomnoye and Dolginskoye oil fields in the Pechora Sea.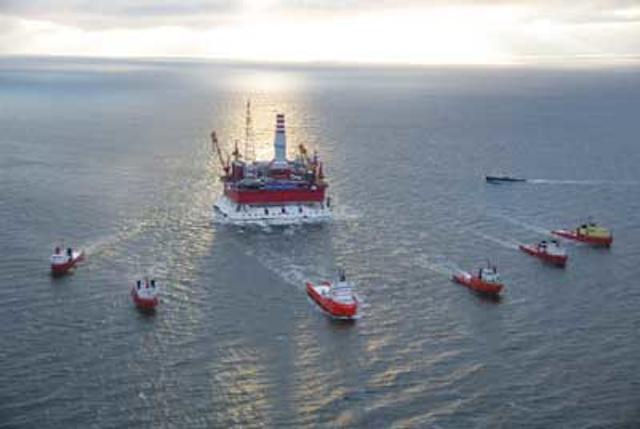 Prirazlomnaya is the first offshore ice-resistant stationary platform designed and built in Russia. Photo courtesy Gazprom.
Prirazlomnaya, the ice-resistant stationary platform for Gazprom neft shelf's Prirazlomnoye field on the Pechora Sea shelf 60 km (37 mi) offshore arrived on location this past August. This is the first offshore ice-resistant stationary platform designed and built in Russia. Measuring 126 m (413 ft) wide by 126 m long, with an unballasted weight of 117,000 tons, the platform can accommodate a crew of up to 200, and provide year-round operation. The platform is designed to withstand temperatures that can drop to -50º C (-58º F) during winter, and ice formation – the location is typically free from ice for 110 days each year.
The platform will provide drilling, production, and oil storage services, along with preparation and shipment of final products from the Prirazlomnoye field. Gazprom expects to drill up to 40 directional wells. Dutch contractor Tideway has been dumping 100,000 metric tons of stone (110,231 tons) as an erosion protection system around the platform to secure it to the seabed.
Discovered in 1989, the Prirazlomnoye field contains oil reserves of 72 million tons (525 MMbbl). The development is targeting annual production of more than 6 million tons (43.8 MMbbl). Associated produced gas will be used for the platform's needs. Production operations are scheduled to start this year.
The Kirinskoye gas and condensate field is Gazprom's top development priority offshore Sakhalin. The company expects to commission the field as part of the Sakhalin III project this year. For the first time in Russia, gas will be produced by a subsea production system.
Kirinskoye is in water depth up to 90 m (295 ft) in the Sea of Okhotsk, 28 km (17 mi) off the east coast of Sakhalin Island. Discovered in 1992, the Kirinskoye field contains gas reserves of 137 bcm (4.8 tcf) and recoverable condensate reserves of 15.9 million tons.
Also part of the Sakhalin III concession, Gazprom has discovered a new field within the Mynginskaya geological structure in the Kirinsky prospect. The exploration well flowed gas and condensate, and is currently undergoing testing. This is Gazprom's second gas/condensate discovery in the Kirinsky prospect in the Sakhalin III concession.
Meanwhile, the shareholders of Shtokman Development AG, Gazprom (51%), Total (25%), and Statoil (24%), have postponed a final investment decision on the Shtokman gas/condensate development in the Barents Sea. The board agreed that more time is needed given the scale and complexity of the project. As of this writing, a final investment decision had not been announced.
Shtokman, discovered in 1988, is about 555 km (345 mi) northeast of Murmansk in water depths to 350 m (1,148 ft). Estimated reserves are 3.8 tcm (134 tcf) of gas and about 37 million metric tons (40.8 million tons) of gas condensate. Phase 1 plans include drilling 156 wells – 144 producers, three monitors, and nine reserve wells. About 40 of the producers will be completed subsea, with the rest drilled by the two semisubmersibles and from tethered floating drilling/production structures (most likely TLP or spar-type platforms).
In other news, ExxonMobil and Rosneft have agreed to jointly explore and develop hydrocarbon resources in Russia and elsewhere, and to share technology expertise. The companies will spend around $3.2 billion on exploration of the East Prinovozemelsky blocks 1, 2, and 3 in the Kara Sea and the Tuapse licensing block in the Russian sector of the Black Sea. Rosneft estimates total recoverable resources at the three East Prinovozemelsky blocks at 4.9 billion metric tons (5.4 billion tons) of oil and condensate and 8.3 tcm ((293 tcf) of gas. They also plan to create an Arctic R&D design center in St. Petersburg for offshore developments.
Norway
Statoil has found more oil and gas on the Havis prospect about 7 km (4.3 mi) from last year's Skrugard discovery in the Norwegian sector of the Barents Sea. Well 7220/7-1 was drilled by the semisub rigAker Barents in 350-m (1,148-ft) water depth. The well in the PL 532 license encountered a 48-m (157-ft) gas column in the Stø formation and a 128-m (420-ft) oil column in the Stø and Nordmela formations.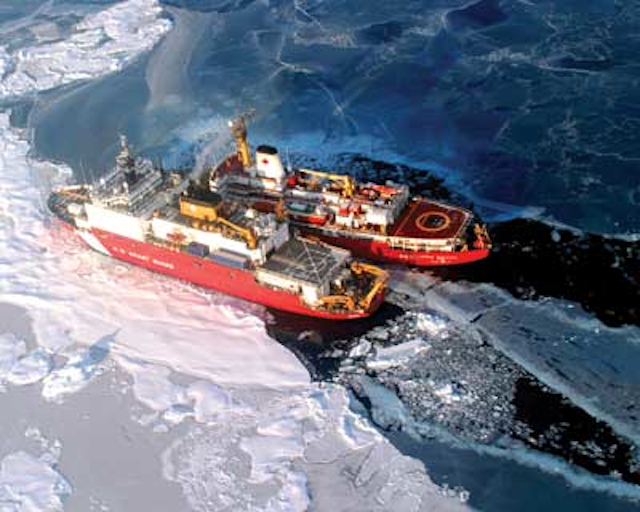 Healy and the Canadian Coast Guard icebreaker Louis S. St-Laurent completed a six-week mission to map the Arctic Ocean continental shelf. Photo courtesy US Geological Survey." title="US Coast Guard icebreaker Healy and the Canadian Coast Guard icebreaker Louis S. St-Laurent completed a six-week mission to map the Arctic Ocean continental shelf. Photo courtesy US Geological Survey.">
US Coast Guard icebreakerHealy and the Canadian Coast Guard icebreaker Louis S. St-Laurent completed a six-week mission to map the Arctic Ocean continental shelf. Photo courtesy US Geological Survey.
A new exploration campaign in the PL532 license is scheduled to start by the end of this year.
TheTransocean Barents has completed the Skrugard appraisal well 7220/5-1 in the Barents Sea about 200 km (124 mi) offshore Norway. The well in 399 m (1,309 ft) of water, reached TD of 1,740 m (5,709 ft). The appraisal well encountered a gas column of 25 m (82 ft) and an oil column of 48 m (157 ft) in the Middle-Lower Jurassic Stø and Nordmela formations.
Estimates confirm that Skrugard holds at least 250 MMbbl of recoverable oil and approximately 10 bcm (353 bcf) of associated and free gas. Statoil is considering a floating production unit to develop the field. A feasibility study recommended a facility with oil storage and offshore loading capability and with an oil production capacity of 95,000 b/d. Current thinking favors 14 subsea oil production wells with water and gas injectors providing pressure support
Together with the Havis field, recoverable oil reserves are now more than 500 MMbbl. Statoil President and CEO Helge Lund said Skrugard and Havis have opened up "a new petroleum province in the North."
The Skrugard and Havis fields are operated by Statoil Petroleum AS (50%), in partnership with Eni (30%) and Petoro (20%).
Meanwhile, the Norwegian Petroleum Directorate will map the geology of Norway's northeastern section of the Barents Sea beginning this summer and into 2013.
The goal of the seismic surveys is to provide data on potential oil and gas resources in the area. Last September, Norway and Russia signed an accord relating to maritime demarcation and cooperation in the Barents Sea and Arctic Ocean.
Atlantic Canada and Greenland
Husky Energy's North Amethyst satellite development offshore Newfoundland is producing in line with design targets at 37,000 boe/d. Husky has filed an application to amend the development plan for North Amethyst to include the deeper Hibernia formation. The field holds an estimated 130 MMbbl of oil, and features the first subsea tieback off Canada.
Development drilling will continue at North Amethyst this year in the Ben Nevis reservoir, and an infill well will be drilled at the main White Rose field to facilitate incremental oil recovery.
The company continues to evaluate use of a wellhead and drilling platform for future development in the White Rose region, and expects to award contracts to support pre-front-end engineering design (FEED) and FEED during the first half of this year.
Last summer, Husky Energy achieved first production from a two-well pilot program on the West White Rose field offshore eastern Canada. The program is designed to provide additional information in order to refine a full development plan for the field.
Meanwhile, Cairn Energy says the first phase of its exploration campaign offshore Greenland proved positive, although none of the eight wells drilled to date has led to a discovery.
Last summer, Cairn commissioned 3D seismic and geochemical seabed sampling surveys over its Pitu license, which covers a large part of the undrilled Melville Bay basin and adjacent ridge. Early processing of the 3D data has confirmed seismic amplitude anomalies evident from the existing 2D data.
The fully processed data should be delivered in the middle of this year, and will be used to mature prospects for drilling over both the mapped closure and various satellite structures identified downflank. The first exploration period ends on Dec. 31, 2014.
Cairn is also participating in a Shell-operated consortium that will drill up to 10 shallow stratigraphic cored boreholes in the far north of Baffin Bay.
United States
Buccaneer Energy has secured two permits for oil and gas exploration in the Cook Inlet offshore Alaska. The Alaskan Department of Natural Resources, Division of Oil and Gas, has approved Buccaneer's program of two wells each at the Southern Cross and Northwest Cook Inlet units during 2012-13. In connection with the Rivers and Harbors Act of 1899, the US Army Corps of Engineers issued a permit authorizing Buccaneer's use of jackupEndeavour-Spirit of Independence in the navigable waters of the Cook Inlet for the planned exploration activities.
The jackupEndeavour has undergone modifications at the Keppel FELS Shipyard in Singapore in readiness for the drilling campaign offshore Alaska. The winterized rig will feature two BOPs respectively rated at 10,000 and 15,000 psi (689 and 1,034 bar), allowing it to drill high-pressure horizons in the Cook Inlet. Drilling is expected to begin in the second quarter of this year.
Meanwhile, a fourth joint project to map the Arctic Ocean continental shelf by the United States and Canada was completed last year. The mission covered 5,600 mi (9,012 km) total and went 1,230 mi (1,980 mi) north of the Alaskan coast. The purpose of the survey was to determine the extent of the continental shelf beyond 200 nautical miles (230 mi, or 370 km).
The Bureau of Ocean Energy Management's (BOEM) proposed outer continental shelf oil and gas leasing program for 2012–2017 features three proposed auctions in the Arctic:
Beaufort Sea: One sale in 2015 with time to learn from any interim exploration and further analyze environmental issues, subsistence use needs, and infrastructure capabilities
Chukchi Sea: One sale in 2016, with time to learn from any interim exploration and further analyze environmental issues, subsistence use needs, and infrastructure capabilities – so that the lease sale can be tailored to balance these issues
Cook Inlet: One special interest sale including the entire planning area, which is initially scheduled for 2013, but may be moved to later in the program depending on industry interest in the sale.

More Offshore Issue Articles
Offshore Articles Archives
View Oil and Gas Articles on PennEnergy.com