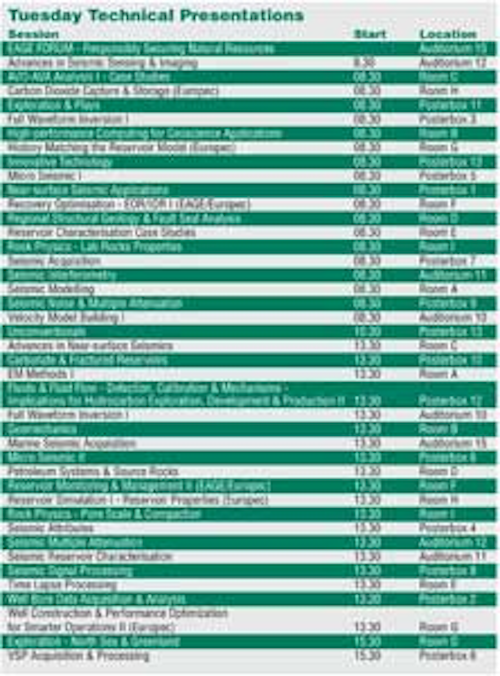 The 74th annual EAGE Conference and Exhibition incorporating for the eighth year SPE EUROPEC is scheduled to meet June 4-7 in Copenhagen, Denmark, under the theme "Responsibly Securing Natural Resources."
Attendance is estimated to reach 6,000 and the number of exhibitors is predicted to be near 330. At this writing, the exhibition hours are set for:
Monday, June 4 18.00 - 20.00 hrs
Tuesday, June 5 08.15 - 17.30 hrs
Wednesday, June 6 08.15 - 17.30 hrs
Thursday, June 7 08.15 - 16.30 hrs
The main sponsors this year are Maersk Oil, ExxonMobil, DONG Energy, Shell, Statoil, and Kuwait Petroleum Corp. Sponsors are BGP, Dolphin Geophysical, Total, INOVA, CGGVeritas, GeoTech, RXT, Viking, WesternGeco, Weatherford, Chevron, EMGS, ION, Geokinetics, BP, ENI, and PetroSkills.
EAGE is a professional association for geoscientists and engineers. All members of EAGE are professionally involved in geophysics, petroleum exploration, geology, reservoir engineering, mining, or civil engineering. The EAGE operates two divisions: the Oil & Gas Geoscience Division and the Near Surface Geoscience Division.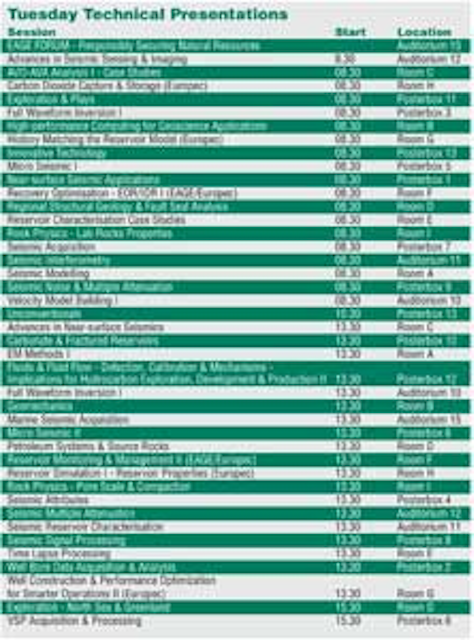 Within each of these general topics are specific presentations.
Looking at specific offshore geography on Tuesday, Advances in Seismic Sensing & Imaging has scheduled papers regarding the use of fiber-optics and acoustic sensors. AVO-AVA Analysis I looks at case histories where the technologies were applied including an offshore carbonate field, Schiehallion on the UK continental shelf, Barents Sea, and west of Shetlands. Explorations and Plays has presentations involving Baffin Bay offshore Greenland, Black Sea, and Caspian. The Regional Structural Geology topic includes modeling of the southern Brazilian continental margin and the Barents Sea. Reservoir Characterization Case Studies involves offshore Sakhalin as well as seismic and CSEM imaging in the North Sea. Fluids and Fluid Flow includes papers discussing Snøhvit, the eastern North Sea, and the Barents Sea. Marine Seismic Acquisition topics range from broadband towed streamer acquisition to taking acquisition-related data out of the returns. Reservoir Monitoring and Management, an EAGE/Europec combined topic, has information from the Ekofisk life-of-field seismic program to the use of real-time tracer monitoring offshore. The Seismic Multiple Attenuation presentation collection includes a look at variable-depth streamer data in both shallow and deepwater cases. The North Sea and Greenland Exploration presentation topics are directly related to offshore operations.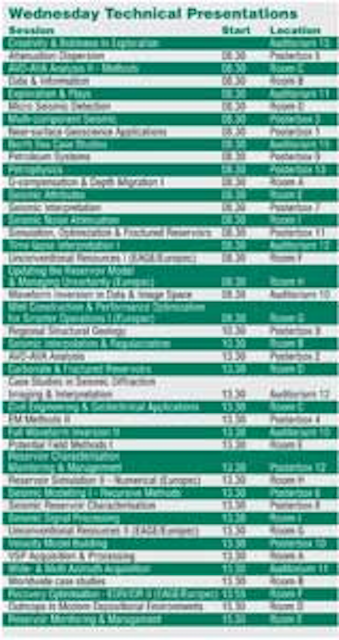 Wednesday, the Explorations and Plays session features a presentation about salt tectonics offshore Angola and a look at the equatorial conjugate margins of Africa and South America. A full session on Wednesday is devoted to North Sea case studies. The Time-lapse Interpretation session on this day brings insight into monitoring of Shell's Mars field in the Gulf of Mexico and on Schiehallion. EM Methods II looks at new ways EM data is being applied and ways to acquire that data; all of it marine-based. Wide- and Multi-Azimuth Acquisition is a popular topic and this session has information about case studies in deepwater offshore West Africa and multi-vessel coil surveys in the GoM.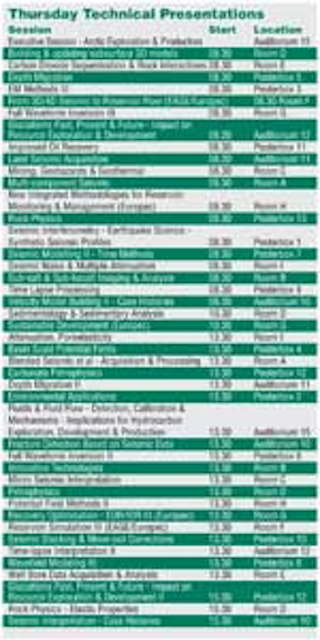 The last day of the event opens with an executive session on Arctic exploration and production. An entire session is scheduled to look at subsalt and sub-basalt imaging and analysis from the GoM to the Møre margin to the Faroes. Efficient simultaneous marine acquisition and evaluation is included in the Blended Seismic et al – Acquisition and Processing session. That is followed by Seismic Interpretation Case Histories from several parts of the North Sea. That brings the presentations to a close for the conference.
The other organized feature of the annual meeting is the exhibitions. The exhibition floor opening schedule is as follows:
Monday, June 4 18:00 – 20:00 hrs
Tuesday, June 5 08:15 – 17:30 hrs
Wednesday, June 6 08:15 – 17:30 hrs
Thursday, June 7 08:15 – 16:30 hrs
Conference highlights start with the invitation-only Chairmen's lunch on Monday, followed by the Opening Session, Awards Ceremony, and reception for all attendees. Tuesday's special event is a morning-long forum on Responsibly Securing Natural Resources. A number of representatives from operators, service companies, universities, and institutes are expected to participate in the forum. Then on Thursday morning, an executive session will be held on Arctic Exploration and Production. Session topics will range from engaging the local communities to the technical challenges, to the long-term environmental aspects of such exploration, drilling, and production. This, too, will feature a collection of operators, service company personnel, university staff, and institute personnel, but with specific Arctic region connections.
More Offshore Issue Articles
Offshore Articles Archives
View Oil and Gas Articles on PennEnergy.com