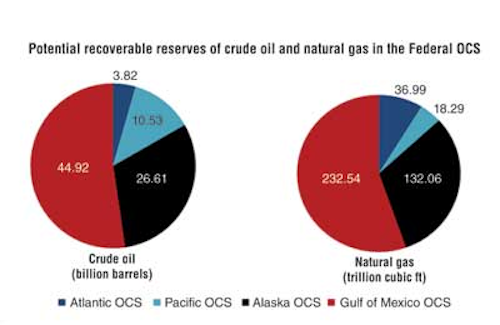 Technology advances key to success at depth
Dr. Phil Goddard
EIC Consult
As the offshore oil and gas sector congregates in Houston this month, it arrives at a time of renewed optimism. Only just over two years since the April 2010 Macondo disaster, it would seem that deepwater drilling and production in the Gulf of Mexico is both getting back on track and adjusting to the new regulatory framework.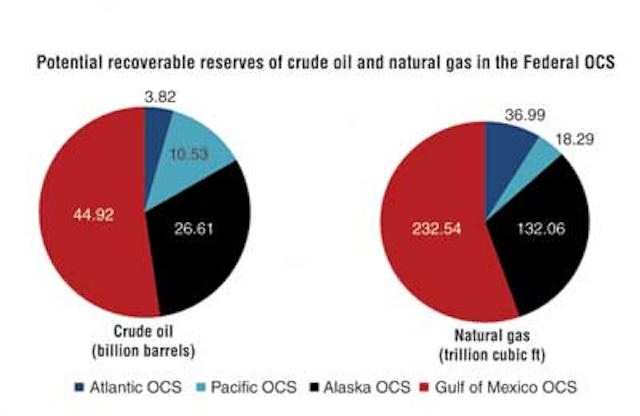 Potential recoverable oil and gas reserves in the federal OCS. (Data source: EIA, 2011)
EIC Consult, the market research and consultancy business of the Energy Industries Council (EIC), recently launched its inaugural report on the US energy sector. Drawing on project data from EIC DataStream, the EIC's online database which tracks over 9,000 energy projects worldwide, the USA Country Overview is the most comprehensive report of its kind for supply chain companies looking to do business in the US energy sector.
Number and potential value (in $ billions) of active and future upstream projects in the highest value US upstream markets. (Source: EICDataStream)
In addition to covering areas such as shale gas, LNG, natural gas, and renewables, the report has some interesting observations on the US offshore sector, primarily focused on the Gulf of Mexico.
Coming back from the brink
There's no doubt that the Gulf of Mexico remains the dominant region in US offshore production today. The Bureau of Ocean Energy Management (BOEM) estimates that 86 Bbbl of oil and 420 tcf of natural gas remain undiscovered in federal OCS (outer continental shelf) areas, with the majority of these resources concentrated in the Gulf of Mexico, followed by Alaska.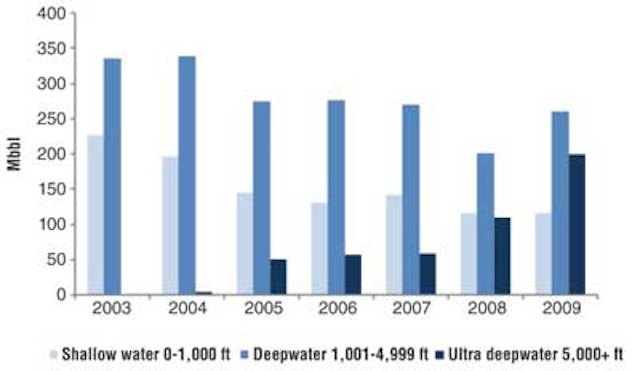 Offshore oil production in the federal Gulf of Mexico and the growth in ultra-deepwater oil production up to 2009. (Source: EIC Consult–US Project Opportunities)
According to the EIA (Energy Information Administration), there is an estimated 45 Bbbl of oil and 232 tcf of natural gas as potential recoverable resources in the GoM. Access to these huge resources, however, has been historically limited due to government regulations on drilling activity and technological challenges of drilling in huge depths and remote operating environments.
While recent technological innovations in deepwater drilling and production are overcoming the latter challenge (more on this below), the Macondo accident of April 2010 threatened to lead to even further limitations, raising serious questions as to the responsibility of operators and the efficiency and practices of the entire industry.
As part of the reforms announced by BOEM in late 2010 and following the initial six-month moratorium on deepwater drilling, operators must now meet higher standards regarding well-design, casing, and cementing when applying for drilling permits. Enhanced safety and environmental programs are now an official requirement for all offshore drilling operators and are enforced by personal facility inspections by BOEM personnel.
So to what extent has the Macondo disaster affected current drilling and production?
The EIC Consult report finds that there are currently 5,981 active leases in the Gulf of Mexico with over 130 new well permits having been granted since the new regulations came into effect in October 2010. This is despite claims that the new regulatory regime has placed an "unofficial moratorium" on drilling. With many more applications currently under consideration, offshore deepwater drilling is likely to regain the momentum it had prior to the Macondo disaster.
EICDataStream also identifies the Gulf of Mexico as a hot spot of activity again, with the potential investment value of active and future upstream projects in the region estimated at a combined value of $54 billion, over 71 projects.
Deepwater opportunities
While many viewed the Macondo disaster as likely to lead to an abrupt halt in deepwater drilling, it is interesting to note that of the 136 new well permits granted since the moratorium was lifted in October 2010, 39 permits have been granted in deeper water (as of December 2011). This matches the level of deepwater activity prior to Macondo, with the EIA estimating that 84% of proven federal OCS reserves are now in deepwater of over 300 m (1,000 ft).
Another positive sign that activities in deepwater developments are on course to recover to pre-Macondo levels prior was the November 2011 review by the Bureau of Safety and Environmental Enforcement (BSEE) of oil and gas leases in over 500 ft of water which were due to expire at the end of 2011. Nearly 98% of them – 1,381 leases – were extended for a year.
A number of deepwater projects are cited in the EIC Consult report – all with significant opportunities for the supply chain. These include the first deepwater plan cleared after the Macondo disaster – Shell's Cardamom oil field, which is expected to produce 140 MMbbl of oil, and which involves the construction of a complete subsea system.
BP's Mad Dog oil and gas field is one of the largest deepwater developments in the Gulf with an estimated 4 Bbbl of oil in place. In April 2011, contractor Technip gained the rights to provide a wet tree spar with water injection for the new field.
Chevron's Jack and St. Malo oil fields are at a water depth of 2,100 m (7,000 ft) and will be connected to three subsea centers tied back to a semisubmersible hub production facility. A 136-mi pipeline is under construction linking the Jack and St Malo fields to a platform in Green Canyon block 19.
Finally, there is Hess Corp.'s Tubular Bells oil field in Mississippi Canyon block 725 in over 1,500 m (4,900 ft) of water. Here, three subsea production wells and two water injection wells will be drilled from two subsea drill centers tied back to the wet tree Gulfstar spar production facility owned by Williams Partners.
Future deepwater projects in the Gulf include ExxonMobil's Hadrian oil and gas field, discovered in 2010; Anardarko's Heidelberg discovery in Green Canyon block 859 at a water depth of 1,600 m (5,341 ft); and Shell's Appomattox discovery in blocks 391 and 392 in the Mississippi Canyon.
Role of technology
There's no doubt that technological developments prior and post-Macondo have revolutionized deepwater drilling and production. Deepwater finds in the Gulf of Mexico, for example, have continued to expand the already large subsea infrastructure in place, composed of pipelines, wellheads, and connection systems. Subsea pipelines have also been adapted to endure the challenging conditions on the seabed including subsistence, erosion, and high pressures.
Producing wells are topped by subsea trees which monitor and control production, and multiple subsea wellheads in close proximity are often tied to a manifold connecting the wells to export pipelines or risers. Manifolds integrate the flow of hydrocarbons from several wells and manage the injection of water and chemicals during subsea operations.
The report cites the Perdido project operated by Shell, which was completed in March 2010 and featured one of the first subsea processing facilities. The facilities incorporate separation technology whereby hydrocarbons can be separated from water, mud, and debris at the sea floor, rather than on the more expensive platform facility.
As OTC gathers this year, it's clear that there are positive signs of a resurgence of deepwater drilling and production in the Gulf of Mexico.
Through industry innovation which is advancing new technologies that can extract resources efficiently and effectively, and through a rigorous but fair regulatory environment where safety remains the key priority, the future remains bright for the Gulf of Mexico with opportunities across the global supply chain.
The author
Dr. Phil Goddard is Director of EIC Consult, the Energy Industry Council's research and consultancy business. EIC Consult is the EIC's new market research and consultancy service, and generates country overviews, sector reports, and bespoke studies.
More Offshore Issue Articles
Offshore Articles Archives
View Oil and Gas Articles on PennEnergy.com