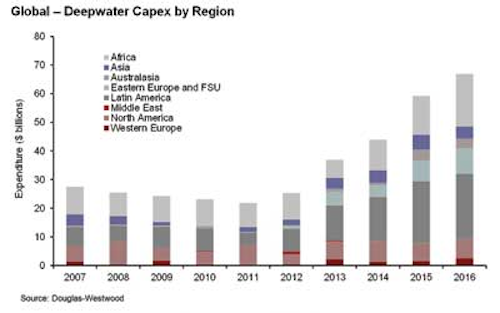 When it comes to offshore spending forecasts, we can think of no better source than our friends at energy analysts Douglas-Westwood.
In a recent report, written by Jennifer Harbour, they forecast a five-year global capex of over $232 billion for the 2012-2016 period – 90% more than the amount spent in the preceding five-year period.
"The 'Golden Triangle' of deepwater will dominate deepwater expenditure of the next five years with activity in West Africa, the Gulf of Mexico, and Brazil," Harbour writes. "African and Latin American developments are expected to drive the forecast spend, with African developments largely concentrated in Angola, Ghana, and Nigeria. Latin America is likely to experience substantial growth, exceeding Africa's deepwater expenditure towards the end of the forecast period. Activity in the region will be driven by Petrobras investing in development of its presalt Campos and Santos fields off Brazil."
Some other highlights from the report:
For oil companies, the overall outlook for 2012 is positive, with Barclays Capital estimating that worldwide E&P budgets will increase by 11%. The longer-term outlook indicates that subsea, predominately deepwater, developments will continue to play a major part in the portfolios of the major independent oil companies (such as Total, Shell, BP, and Exxon) and some national oil companies (such as Petrobras and Statoil)
Africa is one of the key regions of the deepwater "Golden Triangle" and is currently the largest region of deepwater capital expenditure. However, it is likely to be eclipsed by Latin America over the forecast period. Most of the major deepwater developments in Africa are located off Angola, Ghana, and Nigeria. Notable exceptions include West Nile Project (Egypt) and Windjammer (Mozambique)
Latin America is currently the second biggest deepwater region by total capex after Africa. Continuing development of the presalt basins off Brazil by Petrobras should see this region overtake Africa in 2013. Notable developments in Brazil include Lula (Tupi), Lula Northeast, Guara (Sapinhoa), and Jupiter
Petrobras, the Brazilian NOC, is the largest energy company in Latin America and the third largest in the world. It has reserves estimated at 16 Bboe and production of 2 MMboe/d. Over 40 deepwater prospects have been identified off Brazil since 2003 and Petrobras plan to deploy 50 FPSOs and semisubmersibles by 2020. In November 2011, Subsea 7 confirmed a $500-million, five-year deal from Petrobras to supply a deepwater flexible pipelay vessel for developments off Brazil. The new $350 million vessel is equipped to transport and install flexible flowlines and umbilicals in water depths of 3,000 m (9,842 ft)
The Macondo spill is likely to impact installations in 2012 due to the 18- to 24-month lead time for such projects. However, the outlook for 2013-2016 is promising as many prospective deepwater developments exist and activity is expected to recover by 2013. However, there is a risk that new safety and environmental regulations will make permitting in the Gulf sufficiently cumbersome to prevent or delay its full recovery
The Asian market began to recover in 2011 and is poised for significant growth over the next five years. Weather factors in parts of Asia support the use of FPSOs that can disconnect and head for safe ports. Future deepwater projects include the continuing development of the Krishna Godavari basin (India) especially the ultra-deep D6 Satellites fields, the Gehem and Gendalo fields (Indonesia), and Gumusut-Kakap (Malaysia)
Drilling and completion of subsea wells dominates deepwater spend during the 2012-2016 period. Forecast expenditure will build each year over, with expenditure on the drilling and completion of subsea wells to total $82 billion, more than double the previous five-year period.
Statoil spending on technology innovations
Statoil says it has singled out four business-critical technologies as key to achieving the company's growth ambitions.
The company also is boosting its R&D investments by 27% and starting to plan Norway's biggest center for improved oil recovery (IOR) technology.
Additionally, Statoil says that between now and 2020 it plans to maintain a high level of production on the Norwegian continental shelf while doubling its international production.
| | | |
| --- | --- | --- |
| | | "The oil and gas industry is facing new technological challenges that differ from those we have dealt with so far," said Margareth Øvrum, executive vice president for Technology, Projects, and Drilling. "We will find the resources of the future at great oceanic depths, in arctic areas where the conditions are extreme, and in new resources such as shale gas and shale oil, for example. Statoil is well positioned to lead the continuing development of the oil and gas industry." |
Statoil is now stepping up its technology efforts in order to boost production, reduce energy consumption, and support the company's growth ambitions, Øvrum said. Specifically, this will mean tougher technology priorities, closer cooperation, and the swifter implementation of technology.
Statoil's new technology strategy builds on the company's ambitions to boost production from 1.9 MMboe/d in 2010 to 2.5 MMboe/d in 2020.
The four prioritized technology areas are:
Seismic imaging and interpretation – will contribute to making further discoveries and boost the recovery rate by 2020
Reservoir characterization and recovery – to maximize value. Will contribute to the production a further 1.5 Bboe/d in reserves by 2020
Efficient well construction – to drill more cost-efficient wells: 30% shorter time on well construction and 15% cost reduction by 2020
Realize subsea compression by 2015 and complete a "subsea factory" by 2020 – to accelerate and boost production.
"We have identified four commercially critical technology areas where Statoil has a competitive advantage and where we have a long history of making the impossible possible," said Øvrum. "We have set ambitious targets for how technology will help us make further discoveries, boost recovery from existing fields, reduce costs, and bring about operational improvements in health, environment and safety."
Statoil is increasing its concentration in R&D and IOR.
"For 2012, we are increasing our R&D investments by 27% to NOK 2.8 billion ($465 million)," Øvrum noted. "We are also planning for a further increase in our R&D activities going forward."
More Offshore Issue Articles
Offshore Articles Archives
View Oil and Gas Articles on PennEnergy.com