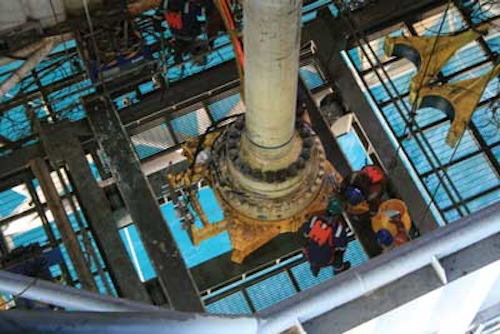 Capital investment across the UK continental shelf reached an all-time high last year of £7.5 billion ($12.4 billion), according to analysts Wood Mackenzie. Consistently strong oil prices continue to drive projects forward, despite the bombshell of the increased Supplementary Charge tax hitting the industry last March. Chief contributor to the record spend was the BP-led development program west of Shetland on the Clair, Schiehallion, and Loyal fields. Early this year, BP and partners also awarded Odfjell Drilling a $1.2-billion contract to drill some of the wells, using a newbuild semi under construction by DSME in South Korea.
Singapore-based EMAS Offshore and Construction will convert a vessel to an FPSO for DEO Petroleum's first UK project. This will serve on the $328-million Perth field Phase 1 development in the North Sea. The floater will have an oil production capacity of 30,000 b/d, supplied by Perth and other nearby prospects such as Gamma, where operator EnCore is due to drill a well this summer. First oil from the project is targeted for spring 2014.
Floater in prospect for Barents Sea oil find
Statoil has proven more oil and gas in license PL532 in the Barents Sea. A well on the Havis prospect, drilled by the harsh environment semiAker Barents, encountered a 128-m (420-ft) oil column and a 48-m (157-ft) gas column in the Sto and Nordmela formations. Havis is in 350 m (1,148 ft) water depth, and just over 3 mi (5 km) from last year's Skrugard find, but it appears to be an independent structure.
Early estimates suggest recoverable reserves in the range 190-315 MMboe recoverable, or 400-600 MMboe when combined with Skrugard. This total could rise depending on the outcome of a planned appraisal well on Skrugard.
Partner Eni Norge suggested the latest result could trigger a rapid development, and Statoil has already commissioned a feasibility study that recommended a floating production unit with oil production capacity of 95,000 b/d. This would be delivered via 14 subsea production wells, with water and gas injector wells providing pressure support. There are other prospects nearby that could be factored into the development.
Statoil is also investigating options for a new gas production hub via a floating spar platform on the Luva gas field in the southeast of the Norwegian Sea. This area is remote from offshore infrastructure – Luva and the nearby Snefrid South and Haklang finds are in block 6706/12 and 6707/10, 300 km (186 mi) offshore and 140 km (87 mi) north of the Norne field FPSO Also, the water depth of up to 1,274 m (4,180 ft) is deeper than for any field onstream in the Norwegian sector. Development could incur an investment of around $5.7 billion to recover 47 bcm (1,660 bcf) of gas and 0.8 bcm (28.25 bcf) of condensate over an eight-year field life. Production could start in 2016.
Statoil, Marathon add satellites
In the North Sea, Statoil continues to roll out fasttrack subsea projects, the latest being Svalin, an 8-km (4.9-mi) tieback to the Grane platform in 120 m (393 ft) water depth. Aker Subsea will provide two production trees, a four-slot integrated template structure with process distribution manifold, and associated subsea and topside control systems. Final deliveries are due in summer 2013. Aker is also supplying four trees and ancillary equipment for Marathon Oil's new Boyla field development in a similar water depth, which will be connected to the Alvheim FPSO.
Still on the subsea theme, Statoil has prioritized four technology areas that can help it attain its goal of lifting production to 2.5 MMboe/d in 2020. These include achieving subsea compression by 2015, and completing what it calls a "subsea factory" by 2020 to accelerate oil and gas output. Another proposal is to establish Norway's largest center for improved oil recovery at the company's R&D complex near Trondheim.
Frontier focus for UK licenses
Britain's Department of Energy and Climate Change (DECC) has awarded a second batch of offshore licenses under the 26th Seaward licensing round. The 46 permits were held back from the original awards in late 2010, pending environmental impact assessments. Some of the blocks are in little-explored areas far from mainstream offshore E&P activity.
Among the winners, Providence Resources' UK subsidiary Singleton gained a frontier license over six blocks in the Rathlin basin offshore Northern Ireland, and a conventional license that includes Marathon's undeveloped Dragon gas discovery off West Wales. The structure has been mapped as extending into Providence's adjacent Irish SEL 1/07 concession.
Hurricane Exploration, which has opened a new basement play west of Shetland, gained 10 blocks southwest of the islands and northwest of the Orkney Islands. Much of the acreage covers another hitherto overlooked play in the Devonian Orcadian basin. A short distance southeast, Suncor was awarded a two blocks off the far north of Scotland, in partnership with Noreco.
NWE-Mirrabooka (UK) picked up "Promote" (reconnaissance-type) licenses for five blocks off the Dorset coast in southern England, southeast of the producing onshore Wytch Farm oil field. In the same area, InfrStrata gained a conventional license for three offshore blocks, with a drilling decision due within two years. Closer to London off the Isle of Wight, Northern Petroleum secured two part-blocks containing an offshore extension of an onshore prospect mapped using seismic and well data.
Bacchus riser stretches drilling boundaries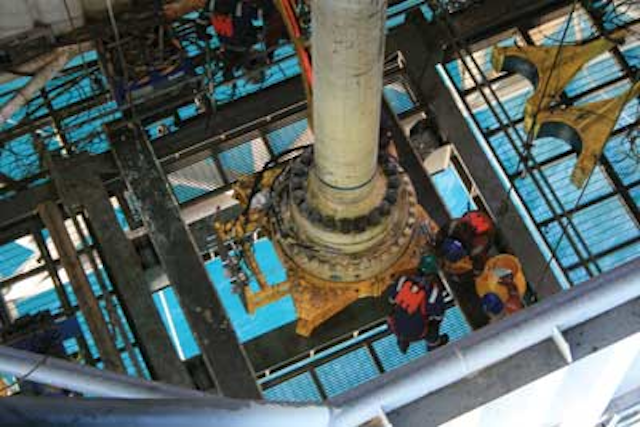 Bacchus riser installation.
Aquaterra Energy is claiming a "world first" for an installation of a 10,000-psi (689-bar), 20-in. (51-cm) ID full bore drilling riser. This has been designed to drill three subsea wells from the jackupRowan Gorilla VII on Apache's Bacchus field in the UK central North Sea. Aquaterra incorporated Merlin connectors supplied by Oil State Industries for the new system, and claims that these devices have not been used previously at that size or pressure for such an application. To withstand the pressure and anticipated loads, the joints were fully forged with a wall thickness of 2.5-in. (6.3 cm), and the overall dimensions of the connectors increased.
NPD unveils CO2 atlas
The Norwegian Petroleum Directorate (NPD) has compiled an atlas of subsurface locations in the Norwegian North Sea for potential storage of carbon dioxide (CO2). The mapped area could hold a total CO2 storage capacity of around 70 billion metric tons (77 billion tons).
NPD's opus is based on studies and data from over 40 years of hydrocarbon activity on the Norwegian continental shelf. It has mapped 21 geological formations for reservoir quality and the presence of sealing layers, and has taken into account both decommissioned oil and gas fields and producing fields expected to shut down by 2030 or by 2050. Project manager Eva Halland said the work had furthered understanding of prospective coastal areas, including the Utsira and Slade formations, which were found to be more complex than had been assumed.
More Offshore Issue Articles
Offshore Articles Archives
View Oil and Gas Articles on PennEnergy.com