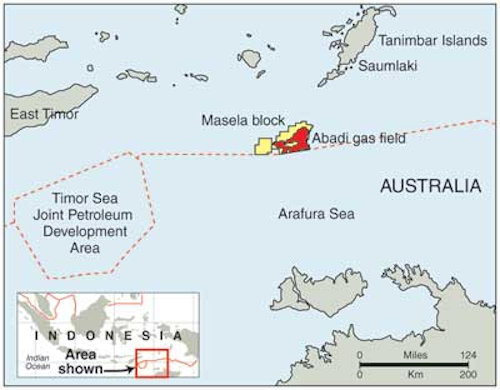 China claims sovereignty over the South China Sea islands and adjacent waters that reach almost to Borneo. These claims are disputed by Vietnam, Malaysia, Philippines, Brunei, and Taiwan. This political question hangs over the oil and gas exploration and production business in the Asia/Pacific and retards development in some potential exploration spots. That also is at odds with the increasing demand for energy from the area.
Reflecting on the raw data of Southeast Asian exploration success rates, discovery sizes and finding costs, analysts suggest that other factors affecting petroleum operations in the area include:
More but smaller discoveries over the past decade or so resulting in declining reserves additions in the face of rising demand
Discovery costs are rising faster than in other parts of the world and that affects economic development decisions
The Asia/Pacific region is large with complex geology and equally complex politics.
Today, the biggest prospects in the region are in deepwater; for example the Pearl River mouth, Indonesia, and remote areas like West Papua.
Indonesia
Investment in the oil and gas sector in 2012 is projected to rise by 23.7% to $18.3 billion from this approximately $14.9 billion in 2011, says the Indonesian Energy and Mineral Resources Department.
As of 3Q 2011, oil and gas investment has reached $12.7 billion, $11.2 billion of which went to upstream operations.
"The realization of upstream investment has been above the target due to several accelerated oil and gas activities, such as Cepu block investment, infill drilling activities, as well as other projects," said Gde Pradnyana, head of the Public Relations, Security and Formality Division of the Executive Agency for Upstream Oil and Gas Business Activities (BPMIGAS).
According to Pradnyana, BPMIGAS will focus on increasing oil and gas exploration investments in 2012. Enhanced oil recovery (EOR) activities will also be improved because reserves in existing fields are starting to be depleted. As of today, EOR activities have a depletion rate of 30 to 40%.
The government has secured $106.9 million in investment commitments for production and exploration from nine auction winners of the first phase of 2011 upstream oil and gas direct offer. The Director General of Oil and Gas at Energy and Mineral Resources Ministry Evita Herawati Legowo said the government auction aimed to invigorate oil and gas the exploration and production activities.
The new offshore working areas are Northeast Madura (East Java), East Simenggaris (onshore/offshore, East Kalimantan), North Ganal (Makassar Strait), Babar Selaru (Arafura), Obi (Halmahera), and Semai IV (West Papua).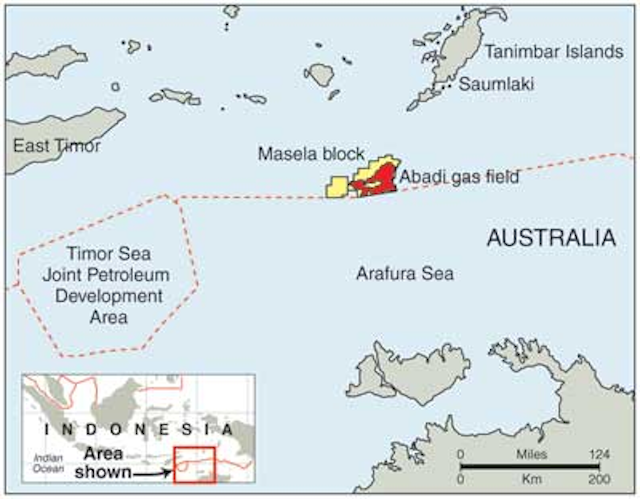 INPEX Masela Ltd. has transferred to Shell Upstream Overseas Services (I) Ltd. a 30% interest in the Masela block offshore Indonesia in the Arafura Sea. INPEX, as operator, also is planning to award the front-end engineering and design work for the floating LNG development in the first half of 2012. The block covers 3,221 sq km (1,244 sq mi) in water depths from 300 to 1,000 m (984 to 3,281 ft).
The combined three-year exploration commitment from the tract winners is in the form of a geophysical and geological study worth $6.75 million, a 2D seismic survey on 3,100 sq km (1,197 sq mi), 3D seismic on 1,530 sq km (4,452 sq mi), and five exploration wells.
The Minister of Energy and Mineral Resources, Darwin Zahedy Saleh has asked oil and gas production sharing contractors to increase their exploration budgets, citing the lack of exploration as the main cause of dwindling national reserves.
Malaysia
Malaysia is one of the more active operations areas in the Asia/Pacific region in both drilling and production. Looking forward on work schedules, ExxonMobil Exploration and Production Malaysia Inc. has contracted Malaysia Marine and Heavy Engineering Sdn Bhd to fabricate topsides and platform jackets for the Telok gas development. ExxonMobil says the produced gas will go via a new 25-km (15.5-mi) long pipeline to the existing Guntong E platform for processing. A total of 14 development wells are projected for the two platforms, and platform installation is scheduled to begin in 3Q 2012. First production is expected in 1Q 2013.
Petronas Carigali has entered into a Small Field Risk Service Contract (SFRSC) for pre-development and development of the Balai Cluster fields offshore Sarawak. These are marginal oil and gas discoveries in the area of the Balai and West Acis discoveries, in water depths of around 60 m (197 ft). Pre-development of the Balai Cluster is due to begin later this year, and last up to 18 months. Activities will likely include geological and geophysical studies, drilling and testing of appraisal wells, and procurement of related facilities and equipment, at a total cost of $200-250 million. Production from all fields in the cluster should start within 24 months from commencement of the development activities, which will include drilling of wells, installation of platforms, topsides and pipelines, and tie in of the new facilities to existing Petronas infrastructure where appropriate. The estimated total cost of the development phase is $650-700 million.
McDermott International Inc.'s Malaysian subsidiary has a subsea contract for deepwater offshore engineering and construction, including transportation and installation of subsea infrastructure for the Kikeh subsea expansion project. The contract from Murphy Sabah Oil Co. Ltd. calls for the engineering, procurement, construction, installation, and commissioning of pipelines and an umbilical and subsea hardware package. Engineering work on the project has begun, and is expected to be completed in 3Q 2012.
Dril-Quip Asia Pacific PTC Ltd. has a $39-million contract to supply drilling and production equipment for the Kikeh dry-tree spar. Dril-Quip will provide a drilling riser, top tensioned production risers, tensioners, tieback connectors, specialty joints, surface wellheads, and production trees. Delivery is scheduled to begin in 2012.
Kikeh is 120 km (75 mi) northwest of Labuan, Malaysia, in 1,350 m (4,400 ft) of water, and is Malaysia's first deepwater oil discovery.
On the drilling front, Lundin and Petronas Carigali are most active. Most notably, Lundin has drilled on the Janglau prospect, the PM307 Production Sharing Contract, the Batu Hitam prospect, and its Cempulut prospect in block SB303 offshore Sabah. Petronas has found oil on the Wakid structure offshore Sabah and has contracted two Songa Offshore rigs for drilling programs.
Vietnam
Vietnam is also active. Prospects look bright for development of the CRD oil and gas/condensate discovery in block 07/03 off Vietnam, according to partner Pan Pacific Petroleum.
Fred. Olsen Production, in a joint venture with Marubeni Corp., has signed a letter of intent with PetroVietnam Technical Services Corp. to build and install an FPSO for Thang Long and Dong Do fields.
The FPSOLewek EMAS has produced first oil from the Premier Oil-operated Chim Sáo field off southernVietnam. This is EMAS Production's largest FPSO to date. The vessel is on a $1-billion charter contract with Premier. The contract carries a primary term of six years, with six renewable one-year extension options.
The company has also completed front-end engineering and design studies for the Dua oil field as a tieback to Chim Sáo, and the government sanction process has started. Premier's Cá Rông Ðó discovery, appraised earlier this year, recently moved into the development evaluation phase. Offshore northern Vietnam, Premier will shortly spud the Quá Mít Vàng exploration well in block 104-109/05 to test the hydrocarbon potential of a basement structure on the margin of the Song Hong basin.
First crude/wet gas also has flowed from the Te Giac Trang field (TGT) in the Nam Con Son basin off southern Vietnam. The facilities comprise an FPSO, two wellhead platforms on the H1 and H4 areas, and a subsea pipeline system providing transportation of hydrocarbons, gas export, gas lift, and water for injection. Produced crude heads via the pipeline system to the FPSOArmada TGT 1, designed to process and store 55,000 b/d of oil which is exported via tankers to regional oil refineries. Oil output from the field should plateau at around 55,000 b/d and gas at 30 MMcf/d.
The Hoang Long Joint Operating Co. continues to drilling production wells in the H4 area of the TGT field and has commissioned platform topsides in preparation for start-up in August 2012.
China
With its demand expected to grow rapidly over time, China is pushing forward with its exploration and production work. Much of this is being done outside the country, however, and there is relatively little domestic offshore work. Nevertheless, there are estimates that the South China Sea may hide 200 Bbbl of oil, as well as 2,000 tcf of gas.
The most recent news has centered on spills at offshore production operations. There was a spill in Bohai Bay at Penglai 19-3 field and near the Jinzhou 9-3 field. The BoZhong 28-2 South oil fields suspended operations because of a malfunction with the single-point mooring system on theHaiyangshiyou 102 FPSO. In all cases, operations are back to normal.
In fact, there are new field start-up plans offshore China. Preparations are under way for the WZ 6-12 and WZ 12-8 West oil field development in the Beibu Gulf to start flowing before the end of 2012. The overall project was around 8% complete at the end of September. A fabrication contract for the platforms has been signed with China National Offshore Oil Corp. (CNOOC) subsidiary COOEC; the offshore installation contract is in the final stages of negotiation; and development programs are being put together for 2012 and 2013. Three of four planned appraisal wells are due to be drilled from the WZ 6-12 wellhead platform following its installation this spring.
CNOOC has brought onstream the offshore Lufeng (LF) 13-2 adjustment project in Pearl River Mouth basin, in average water depths of 132 m (433 ft). Facilities and production operations are linked to the existing LF 13-2 wellhead platform and the LF 13-1 platform. Presently three wells are online with another five to follow. Production should build to a peak of around 33,000 b/d during the second half of 2012.
Husky Energy has submitted a development plan for the Liwan 3-1field to the Chinese government authorities for regulatory approval and a gas sales agreement is in place. Husky says the project is on schedule for first gas delivery in 2013/2014.
Thailand
The biggest news to come from offshore Thailand is Coastal Energy's series of successful wells at Bua Ban North. The most recent is the A-11 well drilled to delineate the Lower Miocene (M100 reservoir) and to appraise the deeper Miocene (M500 reservoir). M100 contained 47 ft (14 m) of net pay with 29% porosity and M500 showed 9 ft (2¾ m) of 26% porosity sands. This compares to 32 ft (9¾ m) at 25% and 5½ ft (1.7 m) at 25% for A-01. Prior successful wells include the horizontal development well A-10; the A-09 well that confirmed a connection between Bua Ban A and Bua Ban B fields; and the A-02 through A-06 oil wells. Coastal also found oil at Songkhla H.
Philippines
The Philippines is one of the more active exploration areas in the Asia/Pacific region.
Galoc Production has a new 3D seismic survey over 184 sq km (71 sq mi) of Galoc field and the Galoc North prospect. Inversion and interpretation are scheduled to be complete in 2Q 2012.
Otto Energy Ltd. says it has completed a 3D seismic acquisition survey in SC 69 offshore Visayas, Philippines. The survey covers 210 sq km (81 sq mi).
TheBGP Explorer has a 3D seismic data acquisition program for Otto Energy Ltd. offshore the Philippines in service contract 69 in the Visayan basin. Exploiter Pte Ltd is operating the vessel to acquire about 210 sq km (81 sq mi) of coverage. A 2010 2D survey identified two reef structures, Lampos and Lampos south, adjacent to the Calamangan trough. The "success case" estimates total oil in place between 22 MMbbl and 713 MMbbl, with a mean of 290 MMbbl The 3D work meets the service contract commitment for the sub-phase, says Otto.
More Offshore Issue Articles
Offshore Articles Archives
View Oil and Gas Articles on PennEnergy.com