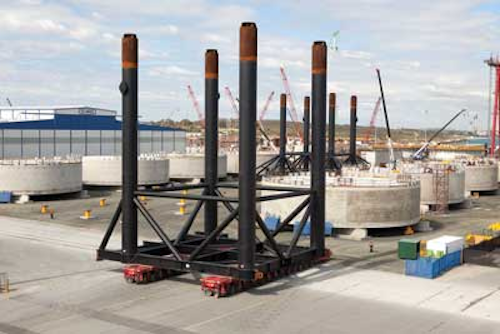 Wendy Laursen
Special Correspondent
Enthusiasm for Australia's offshore oil and gas developments remains strong despite the competitive threats posed by a lack of local capacity and the introduction of a carbon tax.
Oil and gas developers in Australia are struggling with the lack of infrastructure along the country's isolated north-western coastline; the lack of available human resources; and, most recently, with government policy.
Eight large LNG projects are currently under way, more than has ever been attempted in one country before, and Australia has limited manufacturing capability and a population of just 22 million. Trained people are scarce, attractable only by very high salaries and the promise of regular trips back home. Labor market specialists Pitcrew Consultants predicts that, at best, recruiting efforts will only satisfy the resource needs of half of the currently planned projects.
Yet, the potential rewards are great. The value of LNG exports is expected to grow from around A$10 billion per annum now to over A$40 billion ($40.9 billion). When the eight projects are completed, Australia will be supplying 10% of China's gas needs, 30% of Japan's needs, and 30% of Korea's needs.
Shell took final investment decision on its Prelude floating LNG project in May 2011, Chevron took the decision for Wheatstone in September, and Inpex took decision for Ichthys in January. Final investment decision for Browse is imminent.
Environmental legislation
The newest legislative challenge for Australia's offshore oil and gas industry is a carbon tax. Assuming leadership as a minority government in September 2010, Prime Minister Julia Gillard's Labor party agreed to implement carbon pricing to gain the support of the Australian Greens party. That was a time when global recovery from the 2008-09 financial crisis looked more positive, and the legislation could be repealed if Labor loses the next election, creating uncertainty for long-term investors.
A fixed carbon price of $23/metric ton of CO2 emitted has been set for three years starting July 1, 2012. Australian Petroleum Production and Exploration Association (APPEA) chief executive David Byers says that Australia is imposing a cost on industry that will not be borne by competitors, and which adds an extra burden on to the existing lack of regulatory consistency. "APPEA encourages the government to now take the opportunity to remove the 230 or so other policies and programs regulating greenhouse gas emissions in Australia," he said.
Mitch Hooke, CEO of the Minerals Council of Australia, predicts that the carbon price will rise to A$36.10 ($36.90) when the flexible price phase commences, increasing to A$43 ($43.90) by 2020. This contrasts with the government's modelling of A$24.60 ($25.10) rising to A$29.40 ($30). The money spent will have no real environmental impact when China is projected to be emitting 49 million metric tons of carbon a day in 2020, says Hooke – extinguishing Australia's emissions reductions in exactly 28.5 hours.
Right place, right time
Despite the complaints of industry, John Harris, director, global gas at energy strategists IHS CERA, believes that carbon pricing legislation will have limited impact because it adds a relatively small amount to the overall cost of a project. "At current long-term contract indexation, with prevailing oil prices, all Australian LNG projects are economic," said Harris. "In Africa, where gas may be associated, projects can have lower break-even costs, but they are more distant from Asian markets."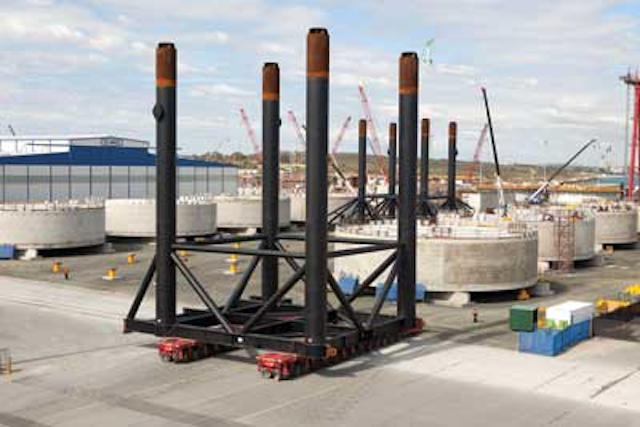 Topsides for Gorgon's LNG wharf project at the Australian Marine Complex.
It is Australia's prime location that Roy Krzywosinski, managing director of Chevron Australia, chose to focus on when he spoke at the Commonwealth Business Forum late 2011. "You could say that Western Australia is 'in the zone,' Krzywosinski observed. "The international Energy Agency expects natural gas demand in the Asia/Pacific region to grow at three times the global rate over the next 25 years, and this rapid growth in demand is causing a modern day gas rush."
Chevron has approximately 150 tcf of un-risked natural gas resources around the world and 60 trillion of these are located in Western Australia. The company's investment in Gorgon and Wheatstone amounts to A$72 billion ($73.6 billion) and Krzywosinski believes that despite the regulatory and bureaucratic hurdles, Australia is still a good place to invest. "There's no doubt that one of the key reasons we are here is because Australia offers a relatively stable and positive political environment," he said.
Environmental compliance
Australia's first LNG project, the North West Shelf Venture, began shipping LNG in 1989 and it has since been followed by Darwin LNG which began production in 2006. Now Gorgon is the most advanced LNG mega-project currently under way.
The CO2 injection project for Gorgon represents an investment of approximately A$2 billion ($2.04 billion) and involves injection of the CO2 naturally occurring in Gorgon gas into a containment reservoir around 2.5 km beneath Barrow Island. This will reduce the project's overall greenhouse gas emissions by approximately 40%. Once injection operations are at full capacity in 2015, between 3.4 and 4 million metric tons of CO2 will be injected annually.
The quarantine management system in place for Gorgon is the world's largest non-government initiative and consists of over 300 procedures, and guidelines to protect the biodiversity of Barrow Island and its surrounding waters. Enforcement is strict.
New business model
First ground was broken for Chevron's Wheatstone project in December. Offshore, subsea manifolds will be installed in water depths up to 260 m (853 ft). The gas processing platform will be in 70 m (229 ft) of water and about 225 km (139.8 mi) from the coast. It will be Australia's largest offshore facility with a topsides weight of 35,000 metric tons, and the platform's steel, gravity-based sub-structure will be 100 m (328 ft) high.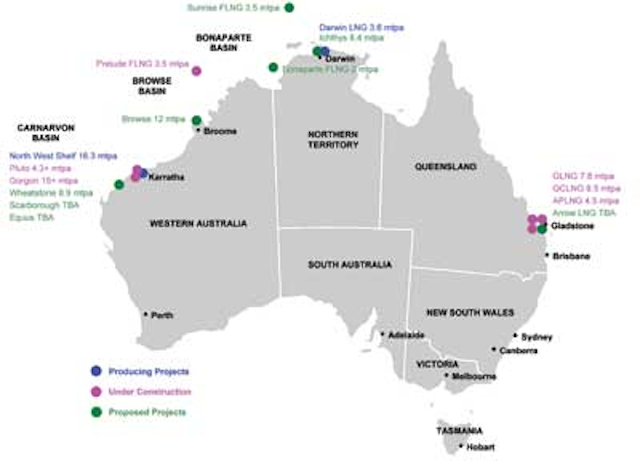 An overview of Australia's offshore LNG projects, planned and under development.
The pipeline from the platform to shore will be Australia's largest diameter gas pipeline at 44 inches. The trunkline will cross the shore via micro-tunnelling to avoid impact on mangroves. A three-meter (almost 10-ft) diameter tunnel will run for 2 km (1.24 mi) under the beach and about 40 km (24.86 mi) of the trunkline will also require secondary stabilization to protect it against cyclone induced disturbance.
Wheatstone will initially produce nearly 9 million metric tons of LNG annually with production coming from four gas fields, but the project has a potential capacity of 25 million metric tons.
Krzywosinski notes that the Wheatstone project represents Australia's first natural gas infrastructure hub that has attracted third-party natural gas. "This unique project is a game changer for the industry," Krzywosinski observed. "It will enable the future development of Chevron's vast natural gas resources, as well as third-party natural gas located offshore Western Australia."
The Apache-operated Julimar and Brunello fields will feed into Wheatstone's hub. First production is scheduled for 2016, and gas will flow from up to 20 subsea production wells. These will be connected to three production manifolds, which in turn will be connected by pipeline to the Wheatstone platform by twin raw gas production lines.
Apache has a number of projects under way in the region. In the Carnarvon basin, along with Julimar and Brunello, Apache has approved the development of its Balnaves oil field and expects to be producing as much as 30,000 b/d of light crude from 2014. An FPSO contract was signed with Bumi Armada in September, and a tendering campaign is under way for the major equipment packages and installation contract.
First production is also expected from Apache's Coniston oil field in 2013. Coniston will tieback to the Van Gogh field FPSONingaloo Vision. All major subsea equipment contracts have been placed and installation contract tender evaluation is under way. The drill rig Atwood Falcon has been engaged for this and the Balnaves 2012 and 2013 drilling campaign.
Reindeer has just become operational as Australia's first greenfield gas plant in nearly 20 years. Reindeer gas is produced via an unmanned, minimum facility wellhead platform located in 65 m (213 ft) of water. Gas and liquids are exported from the platform to the onshore Devil Creek gas plant via a single 105-km (65-mi) pipeline.
More hubs under way
Woodside's Browse project is being developed as another LNG hub which will commercialize three gas and condensate fields: Brecknock, Calliance and Torosa. Heritage environment and engineering studies are under way ahead of a targeted final investment decision in 2012. FEED studies are underway and tenders have been issued for the construction and installation of the central processing facilities topsides and jackets.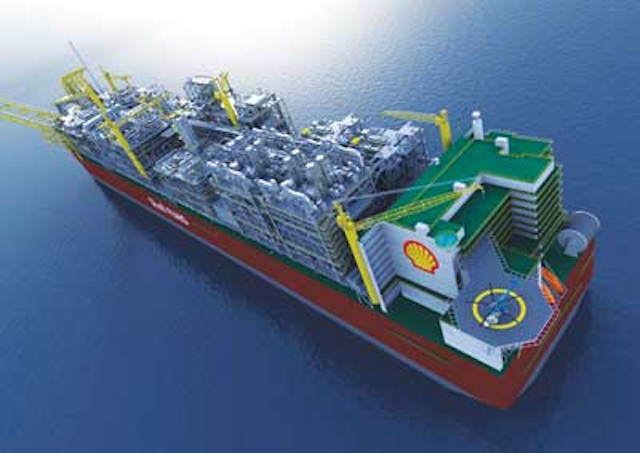 Shell's planned Prelude FLNG facility will be 488 m (1,600 ft) long, and is being built at Samsung Heavy Industries' Geoje shipyard in Korea.
The company's North Rankin redevelopment project is expected to be completed in 2013. The North Rankin B jacket has been launched and piling activity to secure it to the seabed is under way.
First LNG from Pluto is expected in March 2012 and Woodside continues to target expansion in discussions with other resource owners for the development of additional trains at Pluto. A further six exploration wells are currently being spudded to support the hub.
Human resource challenges
As part of the Browse development, a shore-side LNG precinct is planned for James Price Point, 60 km (37.2 mi) north of Broome, and part of the process involved negotiations with landowners. Progress was made in June 2011, when the indigenous Goolarabooloo and Jabirr Jabirr peoples accepted a land deal worth over A$1 billion ($1.02 billion). Packages for education, training and employment were included and Woodside's operations at Broome already include indigenous staff.
"Browse represents a major opportunity for Australia to meet the world's growing demand for cleaner forms of energy," said Dr. Michael Hession, Woodside's senior vice president for the Browse project. "It is likely to be a major part of Woodside's growth as an energy supplier. We are also working closely with traditional owners to make sure that Kimberley Indigenous people can realize the economic and social development opportunities from this project."
Infrastructure requirements
First production is expected from BHP Billiton's Macedon gas field in 2013. The development involves four offshore production wells supplying a 90-km long, 500-mm (56-mi, 20-in.) diameter wet gas pipeline to an onshore gas treatment plant.
A lot of modularization is involved in the construction of infrastructure for Australian oil and gas projects, due to a general shortage of fabrication facilities and the remoteness of Australia's northwest. A lot of module fabrication work is undertaken in countries such as Malaysia, Singapore, and Indonesia since there is no mandated local content. There is, however, a requirement to comply with specific levels of Australian industry participation in order to receive certain concessions.
The Australian Marine Complex (AMC) in Perth is experiencing strong demand for its manufacturing capabilities as a result of Gorgon. AMC is a center for excellence in fabrication, assembly, maintenance, and technology servicing the marine, defense, oil and gas, and resource industry. Its common user facility (CUF) includes the world's most technologically advanced floating dock; self-propelled modular transporters to move vessels or infrastructure; a deepwater port; specialist load-out wharfs; extensive laydown and assembly areas; and several state-of-the-art fabrication halls.
A CUF is planned for further north on the Pilbara coast to support projects such as Wheatstone and Browse. Anketell Port and Port Hedland have been selected as potential locations for the facility which will include wharves, lay down areas, and repair, maintenance and loadout facilities.
Darwin is a well established port and does not suffer from the same infrastructure challenges as northwestern Australia; so, despite lobbying from the west, it was chosen by Inpex as the site for the onshore gas processing facilities of the Ichthys project. An 885-km (550-mi) subsea gas pipeline will link it to the offshore facilities.
FLNG revolution
While much of the infrastructure for Australia's offshore gas projects will be delivered as modules from overseas, Shell's floating LNG (FLNG) facility at Prelude is a notable exception. It will be 488 m (1,600 ft) long and is being built in its entirety at Samsung Heavy Industries' Geoje shipyard in Korea, one of the few places in the world capable of building such a large vessel. Fully ballasted, the FLNG facility will weigh around 600,000 metric tons – about six times that of an average aircraft carrier.
In 2009, Shell awarded a global contract to design and build multiple FLNG facilities for a period of up to 15 years to the Technip-Samsung Heavy Industries consortium. Detailed design and construction is now underway after FID was taken on Prelude in May 2011. This detailed design work is currently taking place in Paris.
While the construction of the facility itself won't start for some time yet, Shell has already cut the first steel for the project. This began with the first manufacturing of wellheads in Malaysia in early September by FMC. Preparations are also under way for development drilling of seven wells in the field. These wells are expected to be completed before the facility is towed to the location.
The consortium has awarded a number of contracts. These include Kawasaki Heavy Industries for the marine boilers; Air Products for the heat exchangers; SBM for the turret mooring system; and GE for the steam turbine driven compressors.
The Prelude FLNG facility will use Shell's dual-mixed refrigerant liquefaction technology which is already being successfully used at Sakhalin 2. Over 15 years of R&D went into the design of Shell's FLNG technology, and more than 100 new patents have resulted. Some new developments include:
Design of a membrane LNG tank in the FLNG facility that can withstand sloshing forces when only partly full
Rigid loading arms that have an extended operating envelope to enable loading in up to 3.5 m (11.5 ft) swells and which can accommodate the fact that both the facility and product carrier will be moving
Design of flow assurance for efficient operation of wells and LNG processing in close proximity to each other
Ensuring the mooring is able to withstand severe weather and can stay on station even during a category 5 cyclone
Marinisation of processing equipment such as absorption columns and main cryogenic heat exchangers.
"Proving that it's possible to process gas at sea will be important for the LNG industry as it can allow gas resources that were previously considered too costly or too difficult to develop to be monetized," said Bruce Steenson, Shell Australia's vice president of Prelude and Technical. In Australia alone, "stranded" gas resources are estimated by to be 140 tcf.
Shell is focusing on building the organization needed to operate Prelude. In 2011, a number of leadership and technical roles were recruited for commencement in 2011 and 2012. Some more key roles will be recruited in 2012 and 2013 with the bulk recruited in 2014 and 2015.
"Shell's view is that because of the unique mix of processing, offshore, and marine skills needed to operate the FLNG facility, we will need to train employees specifically for working on the facility," Steenson observed. "As such, we will be pioneering international training for FLNG technology through a consortium to be known as the Global Centre for Floating LNG Learning & Research, in partnership with Curtin University and Challenger Institute in Western Australia. Employees will also be sent to various locations around the world, including other Shell LNG facilities, to get the necessary training before returning to Australia ready for the start of operation of the facility."
Production is expected to commence around 2017 and Shell will be investing some A$30 billion ($30.6 billion) in Australia over the next five years, making it one of Australia's largest single investors.
FLNG has now been selected as the preferred technology for Woodside's Sunrise development in the Timor Sea and the company is currently negotiating with government stakeholders. Additionally, Australian gas producer Santos is planning to use FLNG at Bonaparte, a joint venture with GDF Suez. This project is expected to commence construction in 2014.
Looking forward
It is estimated that Western Australia has 64% of Australia's crude oil resources, 75% of its condensate resources, and 58% of its LPG resources. According to Western Australia's Department of Energy and Resources, the state's offshore petroleum-bearing provinces are larger than the Gulf of Mexico; and, unlike mature areas such as the North Sea, most remain under-explored.
A similar situation exists in Australia's south, and BP is currently evaluating the oil and gas potential of the Great Australian Bight. A seismic survey covering an area about the size of New South Wales is under way. But it is already attracting opposition from environmental and fisherman's groups. It would appear that this rough, deep expanse of ocean is set to pose more of the same challenges for Australia's oil and gas industry.
More Offshore Issue Articles
Offshore Articles Archives
View Oil and Gas Articles on PennEnergy.com