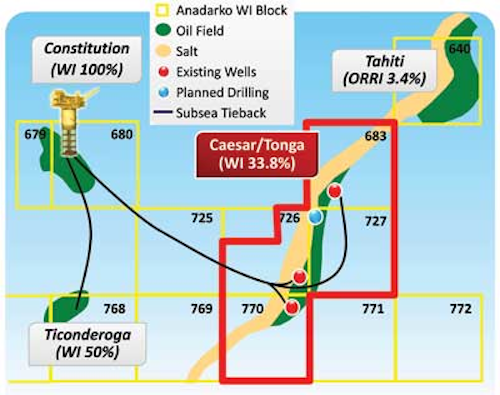 A recent analysis by EIC Consult predicts that deepwater drilling in the Gulf of Mexico "is likely to regain the momentum" it had before the Macondo incident halted activity in April 2010.
The report says there are 5,981 active leases in the GoM, and following the issuance of the new permitting regulations, more than 130 new well permits have been granted, mostly in waters greater than 5,000 ft (1,500 m). Plus, there are many more applications pending.
Specific projects cited in the report through EIC DataStream include Shell's Cardamom oil field, the first deepwater plan to be cleared after the Macondo disaster; Chevron's Big Foot deepwater oil field; BP's Mad Dog oil and gas field; Anadarko's Lucius oil and gas field where appraisal drilling took place in July 2011; and future projects such as ExxonMobil and Anadarko's Hadrian oil and gas field where first production is expected to begin in 2014.
EIC Consult is the market research and consultancy arm of the Energy Industries Council.
Caesar/Tonga development sees first production
First production is flowing from the deepwater Caesar/Tonga development, says operator Anadarko Petroleum Corp. The company expects production to reach about 45,000 boe/d from the first three subsea wells, with a fourth well expected to be completed later this year in the Phase 1 development.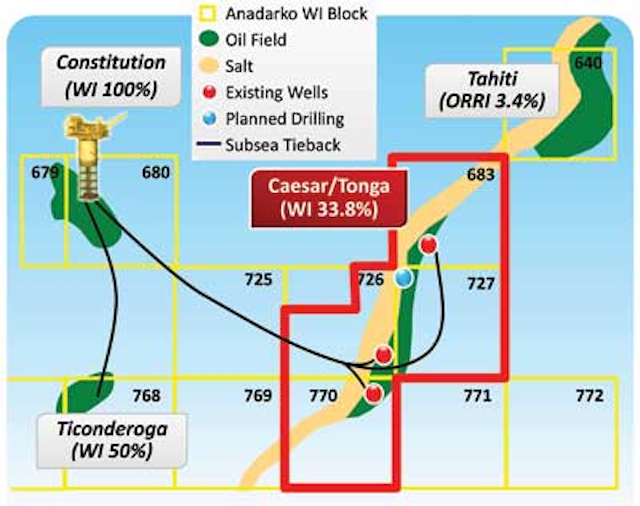 First production is flowing from the deepwater Caesar/Tonga development located in Green Canyon blocks 683, 726, 727, and 770.
The Caesar/Tonga development is making use of the Constitution spar floating production facility, and represents the first application in the GoM of steel lazy wave riser technology. The development is located in blocks 683, 726, 727, and 770.
The Constitution spar is located in Green Canyon block 680 in about 5,000 ft of water. It began production in 2006 with a capacity of 70,000 b/d of oil and 200 MMcf/d of natural gas. In 2009, Anadarko began making modifications to the topsides of the Constitution facility to accommodate production from the Caesar/Tonga area, approximately 10 miles to the east.
Anadarko operates the Caesar/Tonga development with a 33.75% working interest. Co-owners in the development include Statoil Gulf of Mexico LLC (23.55%), ShellOffshore Inc. (22.45%), and Chevron U.S.A. Inc. (20.25%).
Anadarko finds oil with Heidelberg appraisal well
Meanwhile, Anadarko says it has also found oil in the Heidelberg-2 appraisal well in Green Canyon block 903. The well was drilled to TD of 31,030 ft in 5,000 ft of water and encountered 250 net feet of oil pay in high-quality Miocene sands.
"The successful penetration of high-quality, oil-bearing sands confirmed the continuity of the reservoir, and validated our geologic model, and initial resource estimate of more than 200 MMbbl of oil," said Bob Daniels, senior VP, Worldwide Exploration. "We plan to immediately side track the well to evaluate the down-dip extent of the field, and plan to initiate pre-FEED (front-end engineering and design) activities to prepare for sanctioning a development project."
Anadarko operates the block with a 44.25% working interest. Co-owners include Apache Deepwater LLC (12.5% working interest), Eni (12.5% working interest), Statoil (12% working interest), ExxonMobil (9.375% working interest), and Cobalt International Energy, L.P. (9.375% working interest).
UGA receives $1.3-million grant for Deepwater Horizon research
University of Georgia marine scientist Samantha Joye and colleagues Patricia Medeiros and Christof Meile have received a $1.3-million grant from the Gulf of Mexico Research Initiative to further understand the ecosystem impacts of the 2010 Deepwater Horizon oil spill.
The three-year grant will enable UGA researchers and scientists from 13 other institutions to better predict and respond to the occurrence of future spills.
Joye will serve as the associate science director for the project, titled Ecosystem Impacts of Oil and Gas Inputs to the Gulf (ECOGIG).
Raymond Highsmith, executive director of the University of Mississippi's National Institute for Undersea Science and Technology, is the lead investigator.
Joye said: "This research program will provide a comprehensive assessment of the water column and benthic impacts of the Deepwater Horizon oil spill and also will allow us to begin to document the trajectory of ecosystem recovery."
Project objectives include:
Comparing the effects of biological and physical processes with the effects of dispersant applications on the transfer of oil between surface waters, deepwater and sediments
Defining how sedimented oil impacts microbes and invertebrates (such as clams and tubeworms) on the seafloor and in the water column
Monitoring for signs of recovery in ecosystems impacted by the blowout
Developing tools and techniques to track hydrocarbons as they are biologically processed by microbes and other organisms.
Other ECOGIG executive committee members are Christopher Martens and Andreas Teske, University of North Carolina, Chapel Hill; Annalisa Bracco and Joseph Montoya, Georgia Institute of Technology; Chuck Fischer, Pennsylvania State University; Ajit Subramanium, Columbia Lamont-Doherty Earth Observatory; and Uta Passow, University of California, Santa Barbara.
Additional participating ECOGIG institutions are the University of Southern Mississippi; Florida State University; Temple University; Oregon State University; University of Maryland; University of Texas, Austin; and the J. Craig Venter Institute.
MoreOffshore Issue Articles
Offshore Articles Archives
View Oil and Gas Articles on PennEnergy.com