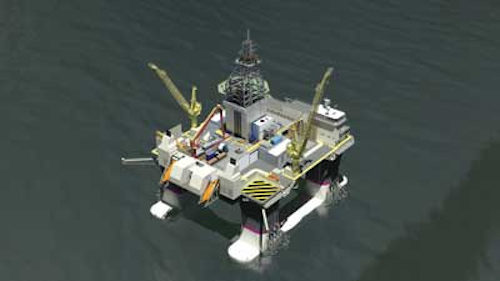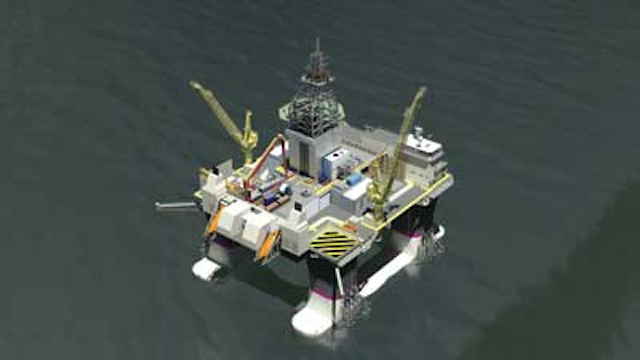 Statoil's Cat D rig.
Statoil has ordered two more "Category D" semisubmersible rigs from SongaOffshore for medium-water depth operations Offshore Norway. This is a new concept "workhorse," designed primarily for lower-cost drilling and completion of production wells on mature fields and for tiebacks to existing infrastructure. One of the rigs will serve on Statoil's Norne, Heidrun, and Aasgard licenses in the Norwegian Sea, and the other will be targeted at year-round activity in the Barents Sea.
The Category D design allows for operation in water depths of 100-500 m (328-1,640 ft), and subsurface drilling down to 8,500 m (27,887 ft). Statoil ordered its first two units from Songa last summer – all four should enter service during 2014/15. The estimated value of the latest contract is $1.33 billion per rig for a fixed charter of eight years, with four three-year extension options. DSME in South Korea is building both rigs, with winterization features to accommodate planned work in the Barents Sea. Aker Solutions will deliver the drilling packages.
Statoil is now promoting another new concept, the Category J jackup, for use on surface and subsea wells on mature Norwegian fields in water depths of 70-150 m (229-492 ft), and with a drilling reach of 10,000 m (32,808 ft). According to chief procurement officer Jon Arnt Jacobsen, this new design is needed because "upgrade and adaptations on many of the existing rigs appear too costly for our requirements." These include improving recovery from existing fields, and faster development of new ones – Category J should deliver wells 20% more efficiently than conventional rigs, the company claims.
In this case, however, Statoil is proposing that license groups should take on ownership of the rigs. Tenders for a minimum of two units will be issued in July. Contracts will probably be awarded later this year with a view to delivery during the first half of 2015.
PSA calls for action on disused wells
Petroleum Safety Authority (PSA) Norway is pressing operators on the Norwegian shelf to tidy up their temporarily abandoned wells, some of which, it claims, are in poor shape. Certain wells have been disused for decades, the oldest dating back to 1970. Most will never be re-entered.
PSA identified a total of 193 wells that were neither active nor permanently plugged. Of these, 62% had intact double barriers, and a further 29% were acceptably safe under specified conditions. The remaining 9% were deemed unsafe. Last year the association requested the eight operators involved to present action plans – as a result, all the wells in a serious condition are now plugged, or will be, and work is under way to ensure integrity of the remaining wells. But the PSA acknowledged that the speed of the response effort would depend on available rig capacity.
One of the operators, Statoil, has since announced plans to P&A wells on the Troll Oseberg Gas Injection (TOGI) subsea complex and the Glitne field in the North Sea.
DONG commits to HP/HT Hejre
DONG E&P and partner Bayerngas have sanctioned development of the high-pressure, high-temperature Hejre field in the Danish North Sea. The proposed investment of $2.2 billion makes this the largest new project in the sector for many years, said DONG CEO Anders Eldrup. Additionally, the company will allocate $360 million for expansion of the onshore terminal at Fredericia to process oil from Hejre and other fields.
Technip and DSME will jointly supply the field's fixed wellhead platform and associated facilities under an EPC contract. The platform will comprise a 6,500-t jacket and an 11,500-t topsides, scheduled for delivery during 2014-15. The facility will process up to 76 MMcf/d of gas and 35,000 b/d of oil, with production sent through tie-ins to existing pipelines for onward transport to Denmark.
Strong showing for Barryroe re-entry
Providence Resources may have exceeded expectations with the first well in itsOffshore campaign around Ireland's shores. The semisubmersible GSF Arctic III drilled well 48/24-10z to appraise the old Barryroe discovery, 50 km (31 mi) off southern Ireland in the North Celtic Sea basin. Initial results from wireline logging confirmed 41 ft (12.5 m) of payzones containing light oil and gas, and no sign of a hydrocarbon/water contact. The company planned to follow up with a 10-day flow test.
Offshore western Ireland, Providence is one of ExxonMobil's partners in frontier license FEL 3/04, containing the potentially giant Dunquin prospect. The partners have approved a program of well design and equipment procurement ahead of a first exploratory well in spring 2013.
UK survey says drilling, production in decline
Three large-scale projects west of Shetland are helping to sustain UKOffshore investment, which totalled $13.5 billion in 2011, according to Oil & Gas UK's latest activity survey. However, the longer-term outlook is less rosy.
Many operators have voiced concerns over the imposition of petroleum tax rises last March. This may partly explain the recent slump in UK exploration drilling, with only 15 new well spuds last year. But it does not account for last year's 18% drop in UK production to 1.8 MMboe/d, with new volumes coming onstream the lowest-ever in the sector's history. Although UK output should rise slightly this year to 1.85 MMboe, the picture over the next five years is one of decline.
Oil & Gas UK's chief executive Malcolm Webb outlined the challenges facing this mature province – "rising costs and the need to inject more capital to sustain the existing production base." UKOffshore investment may have trebled over the past decade, he added, but returns in the form of production have fallen by two-thirds in the same period.
The survey suggests up to 24 Bboe remains to be extracted from UK fields although current plans suggest only around 10 Bboe will be developed. The association continues to press for a stimulus in the form of stabilization of the UK's fiscal regime, an extension of the field allowance structure to promote further field development, and action on tax relief for decommissioning costs. Talisman is one of several operators voicing concerns over abandonment liabilities, which it claims is hindering planned sales of its mature assets.
Floater in frame for Shetland area fields
Hurricane Resources is working with EPCOffshore on development scenarios for its Lancaster oilfield discovery West of Shetland, which it believes could hold 200 MMbbl recoverable. It currently favors a phased development involving subsea wells connected to an FPSO, with the oil offloaded to a shuttle tanker. But further appraisal drilling is needed to improve understanding of the structure and potential flow rates from a basement horizontal well.
To the southwest, the company has identified another basement prospect called Lincoln, which appears to have similar geological characteristics, and could contain 150 MMbl recoverable. Hurricane has drawn up a prospective well location. In the same region, the stranded Strathmore accumulation, discovered by Hess in a sandstone formation, could figure in a coordinated field development.
MoreOffshore Issue Articles
Offshore Articles Archives
View Oil and Gas Articles on PennEnergy.com