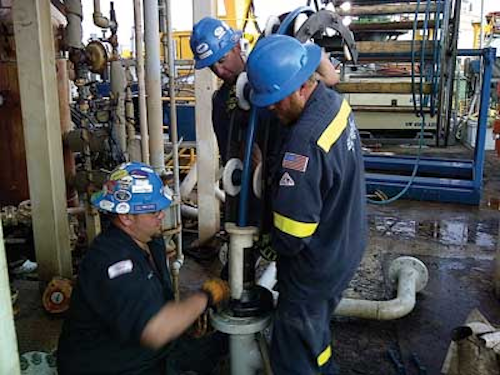 David Pugh
Jason P. Foster
Blue Fin Services LLC
Procedure can raise production, sustain life-of-field
Extending from the onshore shale plays to the deepwater Gulf of Mexico, new technology and science give promise to discoveries and production in unconventional oil and gas reserves. At the same time, historical GoM production is becoming depleted, and those wells are overshadowed by newer, more lucrative fields now accessible using the new technologies.
The challenge now is to research, develop, and deploy techniques to assist in the revitalization of infrastructure, enhance depleting shelf production, and contribute to GoM regional hydrocarbon longevity.
One technique, Slipline Rehabilitation, is a relatively new practice in extending oil and gas artery infastructure. Due to innovative composite material design and installation procedures, sliplining uses existing steel pipeline infrastructure and incorporates composite tubing. Modern composite material is structurally flexible, allowing an annular tube to negotiate dramatic pipeline degree changes such as those encountered in riser bends.
In addition, the molecular composition is more corrosion resistant than the industry standard steel pipe.
Also, composite piping weighs considerably less than steel, while possessing equal pressure limitations to that of steel in particular applications.
Blue Fin Services LLC recently engineered and executed a slipline procedure in GoM waters for an independent oil company.The client noted depleting production on one particular satellite well offshore Texas in state waters. This eventually resulted in a well shut-in due to reservoir pressure depletion.
The operator evaluated several solution variables in an effort to bring the well back online. While the most prevalent design called for installation of a conventional gas lift system using a new flowline, the costs analysis breached assest capitalization and that idea was determined to be uneconomical.
As a final push for solution, a slipline rehabilitation approach reduced the original construction costs by more than 50% by running 1.25-in. composite piping inside the original 4-in. flowline to create bidirectional flow. Blue Fin had success with similar composite piping solutions and experienced showed how the composite piping could rehabilitate nearly condemned flowlines and create a new conduit for product flow in the original direction and in same production quantities.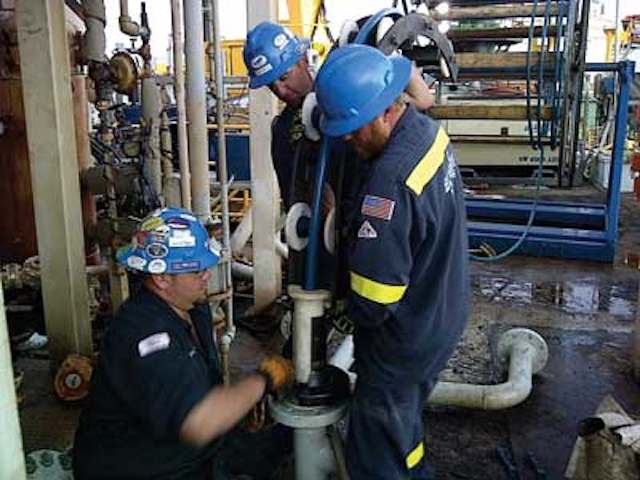 Crew works to install 1.24-in. slipline into 4-in. piping.
Initially, the composite pipe selection was evaluated and modeled by Bluefin with the help of the manufacturer to meet design specifications. Once procurement was solidified, a procedure was engineered to use an exisiting 4-in. flowline that connected the satellite well to a central gathering facility aproximately 6,500 ft (1,981 m) west of the problem reservior. Reports on this satellite well indicated that the produced oil contained a high percent of paraffin with a problematic WAT (wax appearance temperature). This, combined with the possibility of pipeline damage from a series of prolific hurricane seasons, created feasability concerns.
The first challenge was to qualify structural integrity and to confirm obstruction-free product flow. Once analyzed, a progressive pigging treatment procedure was designed along with a custom solvent system. Chemical solvents remediated the paraffin and asphaltene accumulation, while a custom-blended friction reducer aided in lubricity, reduced pipe wear, and assisted in installation of the composite piping.
To ensure proper installation of the composite piping, Blue Fin designed and fabricated custom pulling pigs. Despite multiple unknown pipe schedule sizes on the riser and flowline sections, the pigging procedure was modified to create a flexible pig that could overcome the differing schedules of pipe.
After remodification, the pulling pigs were injected into the line with a high tensile strength synthetic cable connected behind. Once the synthetic cable reached the opposite outpost, the pulling head on the composite piping was connected to the cable. The solution package also included redundant pressure control equipment to aid in spill prevention and to assure back pressure. With installation and tie in completion, a pre-stretch technique confirmed composite piping conformity, and commissioning procceded.
An eight-hour hydrotest was completed successfully in accordance with DOTD regulations (CFR 49, Subpart 192) after the slipline was run.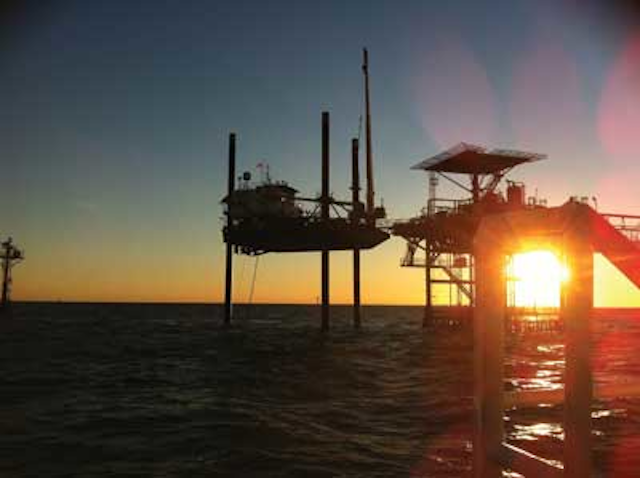 Piping technique can help extend life-of-field for declining GoM producing wells.
Gas was then delivered through the internal 1.25-in. composite piping, originating by supply at the main gathering faciltity and delivered to the satellite well. Once gas supply was diverted to the gas lift system through production casing, production flow moved through the annular space between the exterior of the composite piping and the ID wall of the 4-in. flowline. The bidirectional operation revitalized production, taking a shut-in well to 200 b/d with a costs savings of $600,000 compared to the original solution estimate. The procedures and engineered design did not change the environemntal impact, and received approval from the Texas Railroad Commission.
Techniques like the slipline process can help keep GoM shelf production viable. Grandfathered assets often have various issue such as deteriorating infastructure and low reservoir performance. Combined with the current investment climate, this creates challenges for operators. Even in the scenerio where recently discovered ultra-deep gas in the Miocene and older age sections of shallow and coastal waters of Louisiana become viable (Davey Jones, Blackbeard, etc), infastructure will be a major project requirement. Where existing infastructure is in place, slipline rehabilitation may reduce project costs and push schedules forward, ultimately allowing production to be brought online faster.
MoreOffshore Issue Articles
Offshore Articles Archives
View Oil and Gas Articles on PennEnergy.com