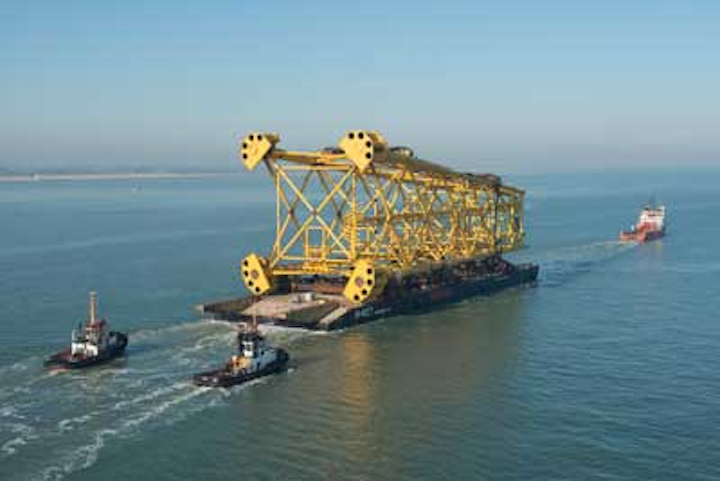 Jeremy Beckman • London
Statoil and partner Petoro have sanctioned Norway's second subsea gas compression project. The proposed $505-million project for the Gullfaks field in the North Sea follows approval earlier this year for subsea compression at the Åsgard complex in the Norwegian Sea. Work on both schemes should be completed in 2015.
Around that time, natural pressure in the Brent reservoir at Gullfaks South will be reduced. To maintain plateau production compression will be needed. The solution is to install two 5 MW wet gas compressors in a subsea template at 135 m (443 ft) water depth. Both compressors will be tied in to existing templates and pipeline systems 15 km (9.3 mi) from the Gullfaks C platform, where associated power and control modules will be fitted.
Framo Engineering is the EPC contractor for the compressor station and the topside power and control systems for Gullfaks C. Nexans will supply the 16-km (9.9-mi) power and control cable from Gullfaks C to the subsea compressor station. "Thanks to this technology, combined with conventional low-pressure production in a later phase, the recovery rate for gas from Gullfaks South Brent can be increased from 62-74%," said Jannicke Nilsson, Statoil's head of operations in the North Sea west region.
Valemon jacket heads to southern Norway
The jacket for one of Statoil's new North Sea platforms is due to be installed this summer on the Valemon field. Heerema Vlissingen in the Netherlands completed construction of the 9,150-metric ton (10,086-ton) jacket in May. During assembly, challenges included maintaining the weight of the structure below the maximum lifting capacity of the Heerema crane vesselThialf. At the offshore location, the jacket foundations will be strengthened with reinforced concrete to minimize impact in the event of collision with a vessel. The Vlissingen yard also built the 210-mt (231-t) topsides wellhead module.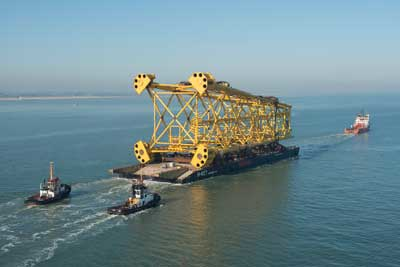 The Valemon jacket following launch from Heerema Vlissingen.
Statoil has awarded Maersk Drilling a $605-million charter for a new jackup to drill the wells at its Dagny/Eirin oil and gas fields in the North Sea. Earlier this year the partners opted for a fixed processing platform for the development, with the gas exported to the Sleipner complex and the oil offloaded to tankers. A final investment decision is due around the turn of the year.
The rig will be a Gusto MSC C170 design, the third to be built by Keppel FELS in Singapore. It is designed for harsh North Sea conditions, in water depths up to 150 m (492 ft). Features include offline pipe handling, and an enlarged cantilever reach designed to improve drilling efficiency. Statoil estimates total investments for Dagny/Eirin at $4.09-4.91 billion.
Bids flood in for UK blocks
Fiscal incentives to the industry in the UK's March Budget may have had an immediate impact. The recently closed 27th offshore licensing round drew a record number of applications – 224 – for the 418 blocks on offer. This is 37 more than the previous high logged under the previous licensing round. This year's submissions comprised bids for 192 Traditional licenses, 25 in the Promote category, and seven for Frontier licenses.
Denmark's government too is hoping to stimulate fresh activity. It plans to initiate a seventh licensing round next year, the first since 2005-06 when 14 licenses were issued. As with previous rounds, the acreage offered will be offshore west of 6° 15' eastern longitude. Although the area is mature – the focus in recent years has been on late-mid Jurassic sandstone plays – some oil companies have been evaluating prospects in Paleogene strata just above the chalk and in younger Neogene layers, according to the Danish Energy Agency (DEA). Last year a new player in the sector, Sweden's PA Resources, discovered oil and gas with its first two wells on the Broder Tuck and Lillejohn structures.
DEA also plans to stage a "mini-licensing" round covering a limited area around the DONG-operated Siri and Nini fields in the North Sea, after receiving an unsolicited bid for an exploration license in this region. The government is keen to prolong the life of local offshore production infrastructure via tiebacks of new discoveries.
Operators unveil floater plans
Ithaca Energy has brought onstream Athena in the UK central North Sea, its first operated greenfield project. Oil production through the BW Offshore-supplied FPSO has already reached a peak of 22,000 b/d, with flow in each of the four wells boosted by electric submersible pumps. Water injection will feature too, supporting reservoir pressure in order to sustain production rates. The oil is offloaded to tankers for shipment to a terminal at Nigg, northern Scotland.
Another floater, the FPSOEnQuest Producer, is under construction for EnQuest's redevelopment of the Alma and Galia fields in the UK North Sea, previously known as Argyll and Duncan. Kuwait-owned Kufpec, thought to have been in negotiations to buy Ithaca earlier this year, is taking a 35% interest in the project and has committed to invest around $500 million. Capex has been revised upwards to cover increased scope, in order to prolong the fields' producing lives. Their combined remaining reserves are estimated at 29 MMboe. Development calls for drilling of seven producer wells and two water injection/disposal wells, with facilities on the vessel to process high water cut levels of up to 95%.
In the Norwegian North Sea, Marathon has submitted a proposal to tieback the 23 MMboe Bøyla discovery in license PL 3340 28 km (17 mi) north to the Alvheim FPSO. The original plan was a joint development with the nearby Caterpillar structure, but this tie-in is now deferred pending further evaluation. Bøyla will require two production wells and one water injector connected to a new subsea manifold, and flowlines to the FPSO, at an overall cost of $867 million. Production should start in late-2014.
Marathon has become operator of Vilje, the first tieback to the Alvheim floater, succeeding previous incumbent Statoil. A second development phase is under way tying reserves from Vilje Soouth into the Vilje manifold.
Beryl review pays dividends
Apache Corp. has got off to a flying start with its second mature field overhaul in the UK North Sea. Following its turnaround campaign on the declining Forties field complex, the company took on operatorship last year of ExxonMobil's Beryl field complex in the central North Sea, and began assessing prospects for new oil pockets. First payback has come with the B72 well, drilled as a deviated well from the Beryl Bravo platform, and logging a total of 619 ft MD (305 ft TVD) of net oil pay in three separate Jurassic reservoir units. The well was completed in the Beryl-I reservoir, and started producing at a rate of 11,625 b/d of oil and 13.1 MMcf/d of gas.
Jim House, regional VP and Managing Director of Apache North Sea, said: "We're very excited about this well because we've found virgin reservoir pressure in two of three zones containing more than 300 ft [91 m] of net true vertical pay. This is one of the best wells drilled in the past 10 years in the Beryl field and we expect it to open up further development opportunities." The company plans to acquire a new 3D seismic survey this summer, the first on the field since 1997.
More Offshore Issue Articles
Offshore Articles Archives
View Oil and Gas Articles on PennEnergy.com