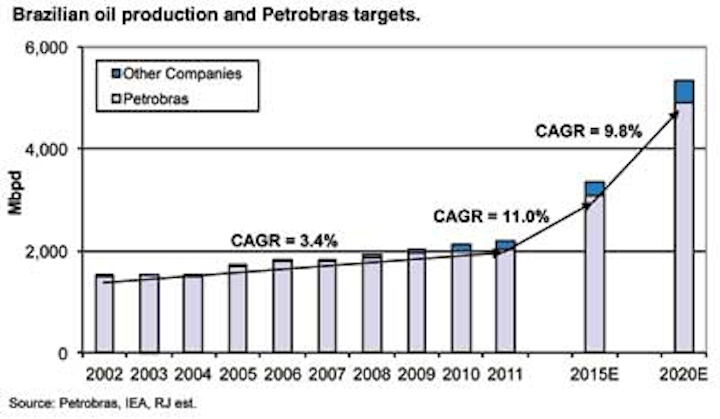 Eldon Ball
Senior Editor, Technology & Economics
For Petrobras and other operators offshore Brazil, success seems to come almost without exception. With the growing number of potentially prolific discoveries, coupled with those already under development, it is no great stretch to predict that production – and exports – will grow significantly for the foreseeable future.
A recent report by energy analysts Raymond James & Associates, reaches just that conclusion, and not without reason.
For example, Petrobras in June announced yet another oil discovery with its third Sul de Guará region well. The Santos basin well, drilled in the presalt cluster, is 320 km (~200 mi) offshore São Paulo state is in 2,202 m (7,224 ft) of water in the southern part of the Sapinhoá field. Cable tests on well 1-BRSA-1045-SPS (1-SPS-96) confirmed 27º API oil from carbonate reservoirs below the salt.
The well is being deepened to 5,058 m (16,594 ft) to define the lower limits of the reservoir. Following that, a formation test to determine productivity is slated according to the Mandatory Exploration Program with the Rights Transfer Contract.
Meanwhile, in May, Statoil together with operator Repsol Sinopec and partner Petrobras confirmed the potential of presalt block BM-C-33 in the Campos basin. The total estimated resources of the block amount to more than 700 MMbbl of light crude and 3 tcf of gas. The estimate includes the Seat, Gávea, and Pão de Açúcar discoveries.
"The updated volumes for the presalt discoveries confirm the high potential in the Campos basin and it also strengthens our confidence in our position in the presalt Kwanza basin in Angola," said Tim Dodson, executive vice president for Exploration, Statoil.
"The development of BM-C-33, including the Pão discovery, in 2,800 m (9,186 ft) of water will represent exciting new challenges for the partnership and the industry. Statoil's exploration strategy focuses on high impact wells and the deepening of core areas."
Statoil holds a 35% interest in the consortium with Repsol Sinopec Brazil as the operator (35%) and Petrobras (30%). The consortium is preparing an appraisal plan to be presented to the Brazilian National Agency of Petroleum, Natural Gas and Biofuels (ANP).
The high impact Pão de Açúcar well, as announced earlier this year, encountered a hydrocarbon column of around 500 m (1,640 ft). The well is located 195 km (121 mi) offshore the state of Rio de Janeiro.
Likewise, OGX, the Brazilian oil and gas company responsible for the largest private-sector exploratory campaign in Brazil, in April identified the presence of hydrocarbons in carbonate reservoirs in the Albian section of well 1-OGX-79-RJS, in block BM-C-39, in shallow waters of the Campos basin. OGX holds 100% interest in the block.
The well encountered a hydrocarbon column of approximately 150 m (492 ft) in carbonate reservoirs of the Albian section with about 64 m (209 ft) of net pay. Well OGX-79, known as Itacoatiara, reached final depth of 2,030 m (6,660 ft).
"This discovery demonstrates OGX's maturity, with exceptional results occurring in parallel in the Company's exploration and production divisions, and it confirms our expectations for the unexplored potential of the Campos basin," commented Paulo Mendonça, General Executive Officer and Exploration Officer of OGX. "This accumulation, Itacoatiara (OGX-79), expands the Waikiki Complex, and together with the Tubarão Martelo field and Peró and Ingá accumulations," Mendonça added.
Raymond James analysts Pavel Molchanov and Emiliano Wachs, writing in their June 4 report, expect Brazil to eventually surpass Mexico as the highest volume oil producer in Latin America. "Having grown its domestic oil production by an average of 3.4% per year between 2002 and 2011 – despite a markedly slower performance over the past few years – Petrobras has laid out a highly ambitious target of 11.0% annualized growth in 2011-2015, with sustained expansion thereafter through 2020," they say.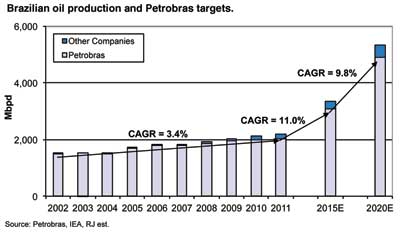 "Alongside support from the Western majors and oil service providers, Petrobras' aggressive capital spending program and project development pipeline imply that Brazil is likely to surpass Mexico as the number one oil producer in Latin America by mid-decade. Of course, such a robust growth curve is not without its risks, including project delays, presalt development risk, capital markets risk, and political risk. For all these reasons, we wouldn't be surprised to see Petrobras' production targets being toned down somewhat in the coming years – and our Petrobras model 'discounts' the 2015 guidance by 17% – but it's still safe to say that Brazil is set to be one of the few major oil producers (OPEC or non-OPEC) with material production growth over the next 5-10 years."
They note that growth in Brazilian oil production is partly being offset by its rising oil consumption – driven by some of the similar macro trends as in China and India. Thus, while Brazil's oil exports should increase, it will not be to the extent implied by headlines.
Another restraint to rapid production growth is the fact that historically large-scale energy infrastructure projects have been prone to delays (and cost overruns), the analysts note. This is especially true offshore, where execution risks are inherently greater. Given that all of Brazil's major oil developments are offshore, delays are to be expected. In particular, the fact that many of the projects will rely on FPSO vessels is a potential source of delays. Also, Brazil wants to develop a domestic oil service industry and requires an increasing amount of domestic content.
Nevertheless, as the analysts note, Petrobras is a rare example of a truly well-managed NOC – in sharp contrast to, for example, Pemex's bureaucratic nightmare and PdVSA's hyper-politicized micromanagement. The Brazilian government not only provides substantial autonomy to Petrobras but also ensures relatively transparent terms for international minority investors.
Given the ongoing string of successes, the political stability of the country, and the efficiency and technical expertise of Petrobras, the goal of increasing its production by an annualized 11.0% from 2011-2015, with sustained expansion thereafter through 2020, does not seem out of reach.
More Offshore Issue Articles
Offshore Articles Archives
View Oil and Gas Articles on PennEnergy.com