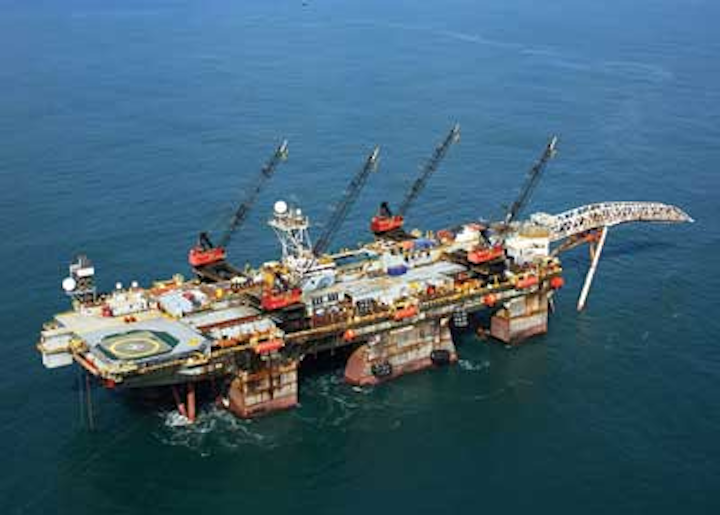 Jessica Tippee
Assistant Editor
Venezuela is projected to become Latin America's third-largest producer in the next five years. According to energy analyst Infield Systems, three gas developments are expected to begin production by 2016. The following is an overview of the developments offshore Venezuela, French Guiana, and Guyana.
Venezuela
Eni and Repsol have signed a gas sales agreement with Venezuela's state oil and gas company Petróleos de Venezuela S.A. (PDVSA), and the Minister of Petroleum and Mines of Venezuela to develop the giant Perla gas field.
Perla is in the Cardón IV block of the Gulf of Venezuela 50 km (31 mi) offshore in 60 m (197 ft) water depth. Discovered in 2009, five wells have been drilled. As Latin America's largest-ever gas discovery, Perla holds an estimated 17 tcf of gas. Production is scheduled to begin in 2013.
Cardón IV is licensed and operated by Cardón IV S.A., the joint operating company owned by Eni (50%) and Repsol (50%). PDVSA owns a 35% back-in right to be exercised in the development phase. At that time, Eni and Repsol will each hold a 32.5% interest in the project, which will then be jointly operated by the three companies.
Once the final investment decision for Phase 1 is made, light offshore platforms will be installed and linked to an onshore central processing facility. Cost for Phase 1 is estimated at $1.5 billion.
Under the gas sales agreement, the total commitment quantities are about 8.7 tcf, according to planned production phases: Phase I at 300 MMscf/d, Phase II at 800 MMscf/d, and Phase III at 1.2 bcf/d. The agreement will be in place until 2036.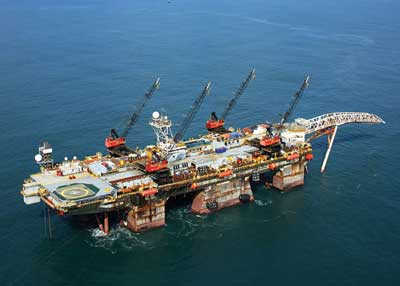 PDVSA has contracted theCastoro 7 pipelay vessel for offshore activities for the Dragon-CIGMA export gas pipeline. Photo courtesy Saipem.
As part of the Delta Caribe Oriental project, PDVSA has contracted Saipem to transport and install the Dragon-CIGMA (Complejo Industrial Gran Mariscal Ayacucho) gas export pipeline. The 110 km (68.3 mi) long, 36-in. (91-cm) sea line will connect the Dragon gas platform, about 50 km (31 mi) off Venezuela's northeast coast, to the CIGMA complex near Guiria, in the Gulf of Paria, Sucre state. TheCastoro 7 pipelay vessel will perform most of the offshore activities, which is scheduled to be completed in early 2013.
PDVSA has contracted Technip to provide EPC management of Venezuela's first offshore gas development. The Mariscal Sucre Dragon and Patao fields which will supply the gas are 25 mi (40 km) north of the Paria peninsula, off the country's northeast coast. Technip's scope includes detailed engineering both for the Dragon platform, to be installed in a water depth of 427 ft (130 m), and associated subsea facilities, construction management, and offshore transportation and installation facilities.
The Mariscal Sucre Dragon field is around 25 mi (40 km) north of the Paria peninsula, state of Sucre, at a water depth of 328-427 ft (100-130 m). The Mariscal Sucre project includes four gas fields: Dragon, Patao, Mejillones, and Rio Caribe.
In October, Gazprom signed a memorandum of understanding with PDVSA which could lead to a joint venture to develop the Robalo gas field in the Gulf of Venezuela. Under the MOU, PDVSA will supply Gazprom with proposals on the co-operation terms and conditions as well as geological data for the project. The memorandum also envisages negotiations on the project scheme, shareholding structure, and other issues related to the development. The parties expressed interest in furthering their co-operation to other projects in the petroleum sector.
French Guiana
Shell has contracted the drillshipStena IceMAX for two wells offshore French Guiana. The first well will appraise last September's Zaedyus-1 discovery, test deeper objectives, and will be followed by another exploration well. The exploration well intersected 72 m (236 ft) of net oil pay in two turbidite sand systems. According to Tullow Oil, the result proves the Jubilee play is mirrored across the Atlantic from West Africa.
Shell also plans to acquire two large 3D seismic surveys – a 4,700-sq km (1,814-sq mi) Eastern Slope survey; and a 620-sq km (239-sq mi) Cebus survey over either side of the Cingulata fan system containing Zaedyus and other mapped turbidite fans. The other partners in the permit are Total, Tullow Oil, and Northpet, which is owned 50% by Wessex and Northern Petroleum.
Guyana
The jackupAtwood Beacon has spudded Repsol's Jaguar-1 well on the Georgetown Petroleum prospecting license. According to partner CGX Energy, the well will be drilled to a depth of 6,500 m (21,325 ft) to test the Turonian geologic zone, which has proven to be prolific offshore West Africa and Brazil. Drilling is scheduled to be completed this summer. Stephen Hermeston, president and CEO of CGX, commented that the Jaguar-1 well will be "the deepest well drilled to date in the Guyana Suriname basin."
CGX Energy's Eagle-1 well failed to find commercial hydrocarbons. The well was drilled on the Corentyne Petroleum prospecting license. The well reached TD of 4,328 m (14,200 ft) in the upper Cretaceous Maastrictian geologic zone on an 8½-in. diameter hole, using synthetic oil-based mud drilling fluid.
Eagle-1 encountered oil and gas shows through the objective Eocene and Maastrichtian geologic zones and, probably also in the Oligocene, although this is yet to be confirmed. Unfortunately, logs confirmed that the sandstone reservoirs were water-bearing.
However, CGX says the result indicates an active petroleum system where generated hydrocarbons have migrated through the pre-Miocene section drilled by the well. The company had budgeted for a 60-day drilling program, but weather delays and mechanical issues extended the program by 30 days, pushing the estimated cost of up from the budgeted $55 million to $71 million. As a result, CGX will need to raise around $20 million of extra funds in the near term.
More Offshore Issue Articles
Offshore Articles Archives
View Oil and Gas Articles on PennEnergy.com