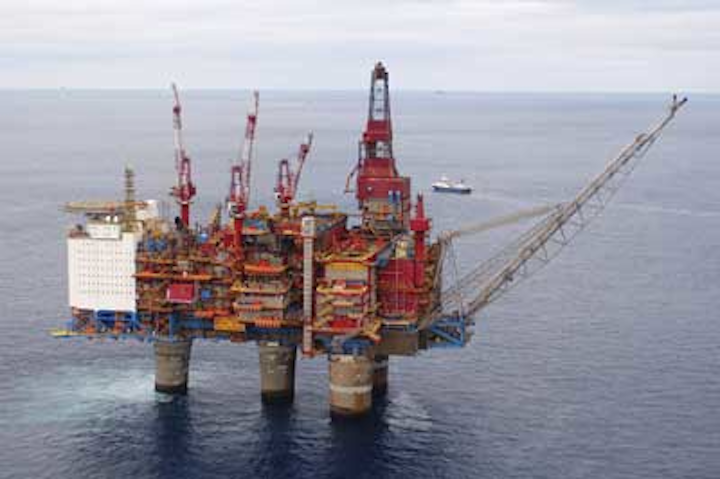 Jeremy Beckman • London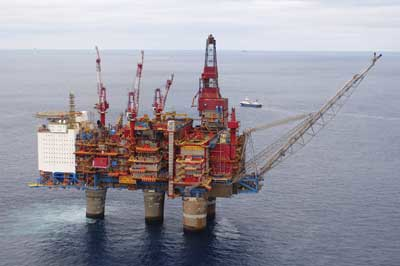 Statoil plans to install subsea compression 15 km (9.3 mi) from the Gullfaks C platform (photo: Oyvind Hagen).
Statoil has reached a new landmark of 50% average recovery from its operated fields offshore Norway. "This is the magic number," said Karl Johnny Hersvik, Senior VP for Research and Development, speaking at OTC last month. "And we're not satisfied with 50%. But it means we're into the realms of squeezing the last drop from the reservoir," he added, claiming that the average recovery figure for fields worldwide was 35%.
Norway's positive fiscal regime encourages technological risk taking, he said, but Statoil also has 3,000 specialists working on 300 improved oil recovery projects at all levels of development, and the company plans to open a new 1,800-sq m (19,375-sq ft) state-of-the-art IOR center in Norway next year.
According to Siri Espedal Kindem, Senior VP Technology Excellence, half the company's production now comes from its 480-plus subsea wells, and the plan is to continue extending development farther from shore and in deeper, colder waters. Statoil's first subsea production came from the Gullfaks field in the North Sea in 1986, and this is also the setting for its latest subsea gas compression project. It recently commissioned Framo Engineering to design facilities for installation 15 km (9.3 mi) from the Gullfaks C platform, under a scheme that could eventually involve a combination of subsea compression and conventional low pressure production. Gullfaks' recovery rate is well above the average at 62%, but the enhancements could push this figure to 74%.
Rig hired for Barents Sea oil search
Statoil's overriding goal is to lift its global production above 2.5 MMboe/d by 2020, and current and future Norwegian mega-projects will have a big part to play. One of these could be in license PL532 in the Barents Sea, where the company has discovered 400-600 MMbbl of recoverable oil over the past year in the Skrugard and Havis structures. The partners hope to widen the net by drilling back-to-back wells from December onwards on four other prospects in the area, using the drilling rigWest Hercules. They aim to conclude the program by summer 2013.
Another big-hitter will be the Johan Sverdrup field development, spanning two licenses in the southern North Sea. Statoil operates one of these, PL265, and has been designated project operator in the run-up to concept selection in late 2013, followed hopefully by submission of a development plan a year later. Both sets of licensees plan further appraisal drilling this year. The main issues, according to Statoil's project director Oivind Reinertsen, are to narrow down the recoverable volume range and uncertainty, and to explore solutions that could assist a flexible development based on standard technology. The field extends over 180 sq km (69 sq mi), with variations in the thickness of the oil-bearing strata.
Lundin Norway, which operates license PL501, has been awarding major contracts for the Edvard Grieg project in the same region, known as the Utsira High. Kvaerner Stord has a letter of intent for the EPC contract for the platform topsides installations, with Aker Egersund assembling the 4,500-metric ton (4,960-ton) process module and Apply Leirvik the living quarters. Lundin has also contracted Saipem for marine installations. The latest estimated for the development cost, including wells, is $4 billion.
Go-ahead for Solan project west of Shetland
Premier Oil has clearance from the UK authorities to kick off the Solan oilfield development west of Shetland. This is the company's first outright greenfield project in the UK sector as operator, although partner Chrysaor Resources was responsible for early reservoir evaluation and concept studies. Solan was originally discovered in the 1990s by Amerada Hess, but was long considered too small and remote for an economic development (the nearest producing field is BP's Schiehallion, 25 km to the north).
Chrysaor originally had in mind an articulated tower concept, but following Premier's farm-in as operator, the focus has been on a more conventional fixed platform with processing facilities, hosting production from four subsea producer and water injector wells. These should deliver 40 MMbbl of oil over the field's lifespan, with an initial production rate of 24,000 b/d on start-up in late 2014. Oil will be stored in a 6,500-ton subsea tank with 300,000 bbl capacity, according to analysts Britboss, for offloading to shuttle tankers. Associated gas will either be used for fuel on the platform or flared. Burntisland Fabricators in Scotland will build the topsides and jacket, with Heerema performing installations and Awilco the development drilling.
Earlier this year, Premier Oil opted out of the potential Fyne area oil development in the northern North Sea after disappointing appraisal and exploration drilling. Partner Antrim Energy has since applied to reassume operatorship of the surrounding license P077, and has commissioned a study from Atkins Oil and Gas for a small floating spar platform. This would have production capacity of around 15,000 b/d. Antrim is considering a phased development to generate early production revenue, which could be used to add water injection and further production wells. The first-phase program will likely involve re-completion of existing wells on northwest and central Fyne. Over time, the spar could be re-deployed on other fields in the Greater Fyne area.
Steep increase in Siri repair cost
DONG Energy says the cost of a permanent repair to the damaged Siri platform in the Danish North Sea has risen from its original estimate of $352 million to $617 million. During a routine inspection in 2009, the company discovered cracks in the nose of the subsea oil storage tank. Production had to be shut down for five months until a temporary repair solution could be implemented.
The company will install steel cable stays between the platform legs and a new tripod guide seabed structure to support the wellhead caisson. DONG says the chosen solution remains valid, despite the cost increase, as the Siri area holds upside for new development in the area. Aside from Siri, the platform hosts production from the satellite Cecilie, Nini, Nini East, and Stine fields.
More Offshore Issue Articles
Offshore Articles Archives
View Oil and Gas Articles on PennEnergy.com