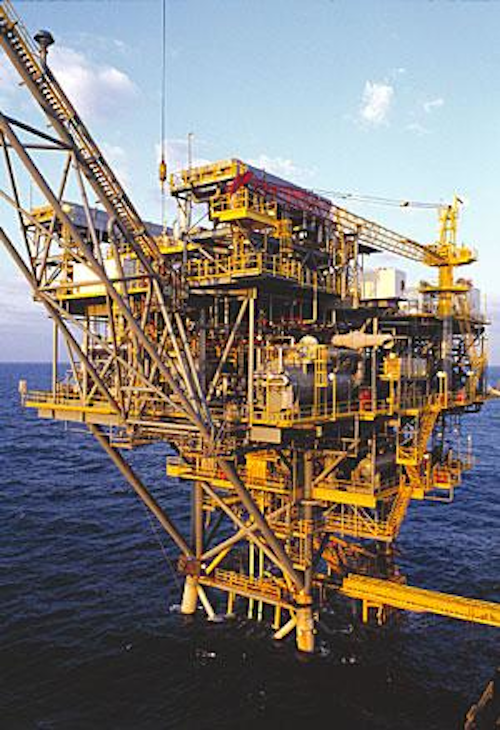 Canyon Express nears first gas
The Canyon Express platform in Main Pass block 261 is now complete and will begin operations once pipelines connect it to the 10 participating wells. The new production-handling platform 60 mi south of Mobile Bay, Alabama, will handle gas production from 35,000 acres of leases dedicated to the platform.
Canyon Station, a fixed-leg platform in 300 ft of water, was completed at the end of June. The jacket was installed in October 2001, followed by the deck and all of the topsides equipment in May.
Phil Wright, president and CEO of Williams' energy services unit, which owns the platform, said, "The deck is set, the generators are running, and we're raring to go."
The facility will treat, process, and handle natural gas and gas liquids from 10 subsea deepwater wells 55 mi away in the Camden Hills, Kings Peak, and Aconcagua fields in 5,000 to 7,200 ft water depth. BP-operated King's Peak on DeSoto Canyon block 177, Elf-operated Aconcagua on Mississippi Canyon block 305, and Marathon Oil Co.-operated Camden Hills on Mississippi Canyon block 348 are the three fields involved. The project will be tied back 53 mi.
Williams is using a recovery process developed by Houston-based Paragon Engineering to provide flow assurance for the deepwater wells. Platform capacity is 500 MMcf/d, and gas can be delivered onshore via three pipeline outlets.
Sonsub's Innovator ROVs I3 and I12, working from the MSV Maxita, recently assisted with the installation of hydraulic leads on the Canyon Express project. The ROVs were able to latch onto the 800-lb leads and fly them to their locations for installation. Sonsub Innovator ROVs I10 and I11 assisted during the world record pipelay set at 2,175 m for Canyon Express.
Both Innovators, working off SaiBos's FDS, conducted over 200 dives and logged over 3,500 hours. The I11's longest dive was 201 hours, and the I10's was 143 hours. The ROVs handled touchdown monitoring as far as 650 m behind the vessel, bathymetry and pipe tracking survey, and supporting the setting of mud mats and inline sleds.
The fields are linked into the Canyon Express gathering system, which is operated by TFE and jointly owned with Marathon, BP, Pioneer Natural Resources Co., and Nippon Oil Exploration.
The new platform will be fed by two 12-in. diameter flow lines owned by the Canyon Express producers. First deliveries through the platform are slated to begin in September.
Subsalt exploration deadline extended
The Minerals Management Service has extended the deadline for companies exploring for oil and natural gas underlying sheets of salt on the outer continental shelf in the Gulf of Mexico.
MMS Director Johnnie Burton said the incentive provides flexibility to the industry that will ultimately allow the development of these oil and gas resources.
Gas exploration under salt sheets can be expensive and time consuming because the salt sheets interfere with analysis of the geophysical data. The extension provides leaseholders additional time to complete analysis of the complex geophysical data in areas under salt sheets before having to choose a location to drill a well. The MMS estimates that 6-16 tcf of gas may lie beneath the salt sheets and could yield 200-500 bcf of gas production between 2008 and 2010.
In other MMS developments, the department has designed an online ordering system that allows online research of well logs for download onto a customized CD-ROM. The system makes available online all well logs that are available to the public. About 170,000 logs with run dates of December 1995 and prior are available to the public at www.gomr.mms.gov. The new service is part of a move away from paper records, which after August, will no longer be available, the MMS said.
The user can search the online index for a specific well log by entering a specific area and API number, lease number, block number, well name, or log type.
Pemex lets equipment, jackup contracts
Pemex has tapped Halliburton Energy Serv-ices to supply $44 million in drill bits and directional drilling, measurement-while-drilling, and logging-while-drilling (LWD) services for the Cantarell Bloque Sur field project. This field, Mexico's largest, is in the southern Bay of Campeche. Several of Halliburton's technologies will be used to complete the 55-well project, of which 25 are complete wells and 30 are well deepenings. Technologies up for use in the field are Sperry-Sun's triple combo system, which includes the bi-modal acoustic LWD sonic tool, and Security DBS' underreamers, bi-center bits, FM2000, and SE fixed cutter bits, and the X Series and Energy Balanced Series roller cone bits.
Houston-based Pride also got the nod from Pemex, this time for the Pride Wisconsin and Pride California. The pair of jackups was contracted for 1,641 days, beginning in August, for $60 million. In March, the Mexican oil company signed up three other Pride jackups under a $150-million contract.
The Pride South Carolina has begun operations under a 1,338-day contract that Pemex awarded in March. It joined the other two jackups, the Pride Nevada and Pride Louisiana, which were contracted in March for about four years. Those vessels have been at work off Mexico since April.
Red Hawk, Boris get go-ahead
Kerr-McGee Corp. has sanctioned development of the Red Hawk area in Garden Banks block 877 in the deepwater Gulf of Mexico. The Red Hawk natural gas field, with estimated proven reserves exceeding 250 bcf, will be developed using a mini-floating production facility in more than 5,300 ft of water.
"Use of a mini-floater reduces the threshold reserve size for a stand-alone economic development in the deep waters," said Luke R. Corbett, CEO.
Facility construction is slated to begin in October with development drilling expected to begin in early 2003. First production at Red Hawk is anticipated in 2Q 2004. Operator Kerr-McGee holds 50% interest, and Ocean Energy 50%.
Moving east in the GoM, BHP Billiton has sanctioned development of its Boris field in Green Canyon block 282. Discovered in October 2001 in 2,400-ft water depth, production will be sent 5 mi away to the ChevronTexaco-operated Typhoon facility to be processed. First oil is expected by year-end 2002. Boris gross reserves are estimated at 10-35 MMboe. Operator BHP holds 50%, and partners ChevronTexaco and Noble Energy each hold 25%.