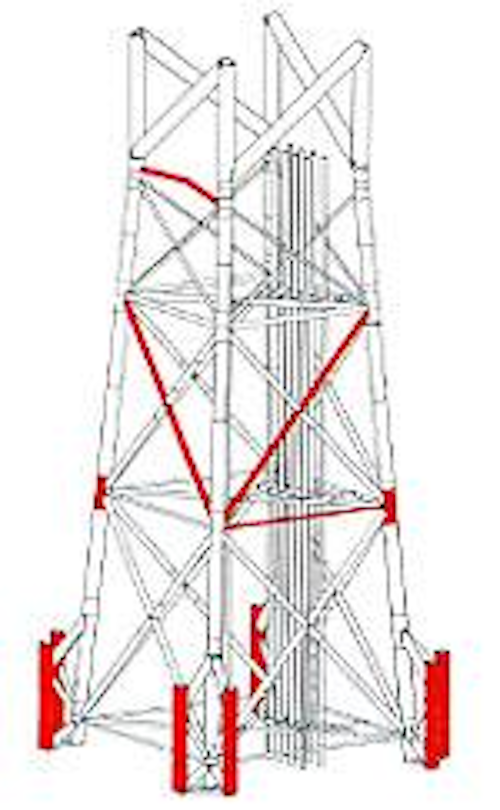 Danish offshore contractors and suppliers are seeking to gain ground in overseas markets. Increasing numbers are attending the world's major trade shows for the first time under a Danish banner. At Offshore Northern Seas in Stavanger, for example, 27 companies will exhibit at the Denmark stand, compared with 16 at ONS 2000.
Following positive feedback from the group that attended the Offshore Technology Confer-ence in Houston in May, a 16-strong contingent has already signed up for space at next year's event, under the banner of Danish Offshore Solutions. In 2001, 22 companies also represented Denmark at Offshore Europe in Aberdeen, leading to contracts or high-level contacts for several participants in the North Sea, Brazil, and China.
The Danish Marine and Offshore Technology Group, many of whose members participate in these events, is a growing organization currently comprising 27 companies based mainly in northern Jutland and Esbjerg on the west coast. These are Denmark's main centers for offshore engineering and support for the Danish North Sea fields. However, there are also specialist companies on the main Danish islands to the east, particularly in the area north of Copenhagen, where the state oil company Dansk Olie og Naturgas (DONG) is based.
Export consultants TofKo Business Develop-ment is the coordinating force behind the group and its trade show missions, with backing from the Danish Trade Council, which was created in January 2000 by the Ministry of Foreign Affairs. According to TofKo's Mogens Tofte Koch, these ventures took time to emerge, following the closure of numerous Danish shipyards in the late 1980s and 1990s that led to many associated companies in the smaller cities in Denmark going to the wall.
"Our job is to find new business areas for the suppliers and sub-suppliers that have kept going," Koch said. "When I took a Danish group to Aberdeen for the first time in 1999, we had a small stand of around 12 square meters, just to test the waters. Some of the companies had business as subcontractors to Mærsk Oil and Gas, but they were not very active in selling to the offshore sector, especially those in northern Jutland, where some companies didn't speak much to each other. In fact, there are a lot of important, innovative companies up here, such as the fabricator Bladt Industries, but they have tended to keep quiet about it."
DONG's current project to expand development of the Siri area in the Danish North Sea will provide new opportunities for local offshore suppliers. But Koch points out that 70% of his members also serve Norway's offshore sector, and they expect to capitalize on the surge in Norwegian development activity foreseen for 2003. To that end, Koch is also keen to acquaint oper-ators such as Norsk Hydro and Phillips with the Danish supplier companies through seminars that could be organized by the Danish embassy in Oslo.
Esbjerg is also a base for several US oil company operators and well engineering contractors.
"Our idea is to promote greater contact with these companies," Koch says, "who may know of our members' skills, but perhaps are more comfortable working with their home-based suppliers." Some of the specialist capabilities that could be of interest include platform abandonment (the NKR Demolition Group) and subsea flowline engineering (PURteknik).
Fabrication trends
There are also moves to establish a wind turbine sub-supplier group in Aalborg to capitalize on the wave of offshore wind farms being erected off northern Europe. One company that has recently entered this market is Bladt, an offshore, marine and civil engineering contractor with a track record offshore dating back to 1977. Mærsk has been its prime oil company client, but in recent years it has increasingly won orders for Norwegian projects, such as steel structures for Valhall and Grane.
Bladt's premises in Aalborg extend over an area of 165,000 sq m, and include a 12,000-sq-m covered yard and a 9-m deep quay with direct access to the sea. These are suitable for fabricating jackets weighing up to 5,000 tons, process modules up to 2,000 tons, flare towers, bridges, deck structures, spools, and helidecks.
For the BP Norge Valhall water injection project, Bladt supplied main contractor Aker Stord with 1,900 tons of high-strength steel structures for the mezzanine deck and the drilling module, also providing a skid deck for the drilling rig. Strict welding tolerances of 1-2 mm were stipulated for the skid beams.
Recently, Bladt was awarded the lookalike monotower platforms for DONG's Cecilie/Nini field tieback to Siri, and it is also working on two jackets for the latest phase of Mærsk's Halfdan development. Previously, the company was engineering, procurement, construction, and installation contractor for the first phase of Halfdan, delivering a 5,000-ton platform with 1,600 tons of piles and 700 tons of steel structures for sea fastening.
Since 1999, Bladt has also manufactured wind turbines, and has just secured its first two contracts for offshore installations. One involves fabricating 10 steel tube monopiles, each 4.5-m long, 3-4-m in diameter, and weighing 300 tons, to support two 2.3-mw turbines that will be installed off Samso, Denmark. The piles will be driven 20 to 25 m into the seabed, with the turbines due to be operational by the end of this year.
The other job involves building and installing a 600-ton transformer platform for another Danish offshore wind farm at Rodsand in the far south. The completed structure should sail out to its location next April, where it will be set on a concrete foundation. The transformer platform will bring in electricity direct from the shore via subsea cables.
Structural reinforcement
Densit, a member of the FLS group, is a manufacturer of specialized high-strength cement-based products, mainly to use in process, security, and offshore industries. Offshore work has been a rapidly growing business over the last five years, providing various offshore solutions. Its Ducorit range of grouting materials has been developed specially for this sector.
Ducorit is used for structural strengthening, repair and upgrading of existing platforms, and installation of new platforms - all by means of grouting. Typical items to be strengthened are braces, joints, pile-sleeve connections, and damaged or corroded members. Different properties are attained through adding aggregates such as quartz sand or bauxite. The end-product, according to Densit, is a high level of compressive strength, varying from 110 Mpa/16,000 psi for Ducorit S1 to 210 Mpa/30,400 psi for Ducorit D4. The products also exhibit low shrinkage rates, with the result that the grout and surrounding steel remain in physical contact after curing. And the material composition, combined with the low water/cement ratio, eliminates the risk of thermal cracking or deterioration.
Densit has performed remedial work on several North Sea installations. One involved repairing two tubular members that had been rendered flat by a collapse in hydrostatic pressure. They had to be re-inflated with internal water pressure until sufficient inner volume had built up. Subsequently, 300 tons of Ducorit S5 were poured in. Finite element analysis later revealed that the repaired members' new capacity exceeded their original strength.
A more recent assignment involved strengthening the legs of the Baltic Beta platform operated by Petrobaltic 80 km offshore Poland. High-strength concrete was poured into each of the platform's three legs. The concrete dispersed throughout the structure by gravity. Due to the complex design, the concrete first had to be pumped 60 m up to the top of the leg structure, then 135 m down into the horizontal pipes.
The platform is 20 years old and operates in an area of the Baltic Sea prone to strong winds and high waves.
In 3Q, Densit will be involved in the installation of Statoil's new platform Kvitebj rn. The innovative concept for the substructure at Kvitebj rn involves two separate jacket parts that will be joined 145 m subsea by a grouted connection. The joints will be heavily loaded by extreme fatigue forces when exposed to the harsh environment off the coast of Norway. The Ducorit material by Densit was chosen to provide the strongest possible grouted connection.
Elsewhere, Densit has worked on installations in the Gulf of Mexico and offshore Indonesia, and is currently looking for partner contractors in other shallow water arenas such as the Caspian Sea, Iran, and Egypt. Recently, Densit adapted Ducorit for grouting offshore wind farm monopiles. More than 60% of all offshore wind turbines are supported on the Densit foundation solution.
FPSO boilers
Aalborg Industries produces a wide range of hot water, steam, and thermal oil-fired boilers for offshore and marine use. The latter include the modular Mission series, which have operating capacities ranging from 0.75 to 110 t/hr.
The newest addition is the Mission D-type boiler suitable for large steam capacities (45-110 t/hr). Main components are a steam and water drum connected by a generating tube bank, a fully water-cooled furnace with membrane walls, and a convection system comprising straight pin tubes with bent pins that provide a high heat transfer coefficient and a low pressure loss. Large downcomers mounted externally ensure good circulation at all loads.
According to Marketing Manager Hans Henrik Jensen, "The Mission concept is easier for the fabrication yard to install than our old range, because it comes pre-mounted. There are only three items to assemble, compared with 110 previously. We have also introduced connection points to ease assembly further. Another advantage of the Mission range is that we offer our own design of burner for gas or oil-firing. Our competitors generally do not provide both the boiler and burner."
Large capacities of steam or hot water are required for petrochemical processes onboard FPSOs and FSOs. This is the main market the company is targeting offshore, either for newbuildings or retrofitted installations. Its reference list includes the Petrobras PXVIII, the Captain FPSO in the UK North Sea, TotalFinaElf's current Amenam/Kpono development offshore Nigeria, and a new floater under construction by Samsung.
On FPSOs, boilers are used typically for heating crude prior to separation, tank cleaning, driving pumps, and power generation. Aalborg Industries can tailor boilers to individual needs, i.e., an integrated boiler and inert gas system, a new boiler with a steam-to-steam generator, or repair and conversion of an existing boiler.
"Boilers are not the most important item on an FPSO," Jensen says, "however, the crew needs educating on how to use them. We provide a process-based control system, which provides control either on the boiler itself or remotely from a PC in the engine room. This can be used to generate trend curves that tell you how well the installation is performing."
Downhole tractors
Welltec, based in Allerod, north of Copenhagen, was formed in 1994 to develop well tractors for horizontal well intervention tasks such as perforation, production logging, open hole logging, and drill pipe recovery. Tools can also be deployed from coiled tubing. Its first system, designed for Statoil's Gullfaks and Statfjord fields, earned Welltec an achievement award at OTC in 1997 and 1998. Currently, it offers 12 tractor devices for different casing sizes, slim-hole wells or coiled tubing operations.
The basic system comprises the following:
Surface communications and motor control panels used to communicate with the tractor, allowing it to alternate between tractor and logging mode
Surface diagnostic displays to communicate events downhole to the operator.
A wireline cable conveys power for the integrated electric motor to drive a hydraulic pump. The latter drives hydraulic fluid in a closed-loop system through the drive sections, each of which is in line and pumped out with 180° phasing, with two wheels in each direction. These wheels are powered independently and boosted by a proprietary drive system.
Each drive section is phased to ensure 360° wheel coverage inside the well bore or pen hole. The hydraulic compensator section equalizes internal pressure with well pressure and temperature. Once power-up has been initiated, all wheels are deployed hydraulically out of the tool body and automatically rotate, driving the tractor forward.
Welltec's biggest customer is the Hibernia field off Newfoundland, which features a high number of extended-reach wells. Its tractors have set numerous claimed world records on this project, including deepest tractor perforating operations, deepest bottom-hole sampling on wireline, and longest cumulative distance covered in a single well. Other recent applications include Midgard, Norne, and Heidrun off mid-Norway, the UK North Sea, Nigeria, Western Australia, and the Gulf of Mexico.
The company is researching new applications, such as smart or semi-smart wells, where there is a demand also for mechanical manipulation of sliding sleeves. It is also working on ways to speed up open hole logging runs to help operators save money on rig time.