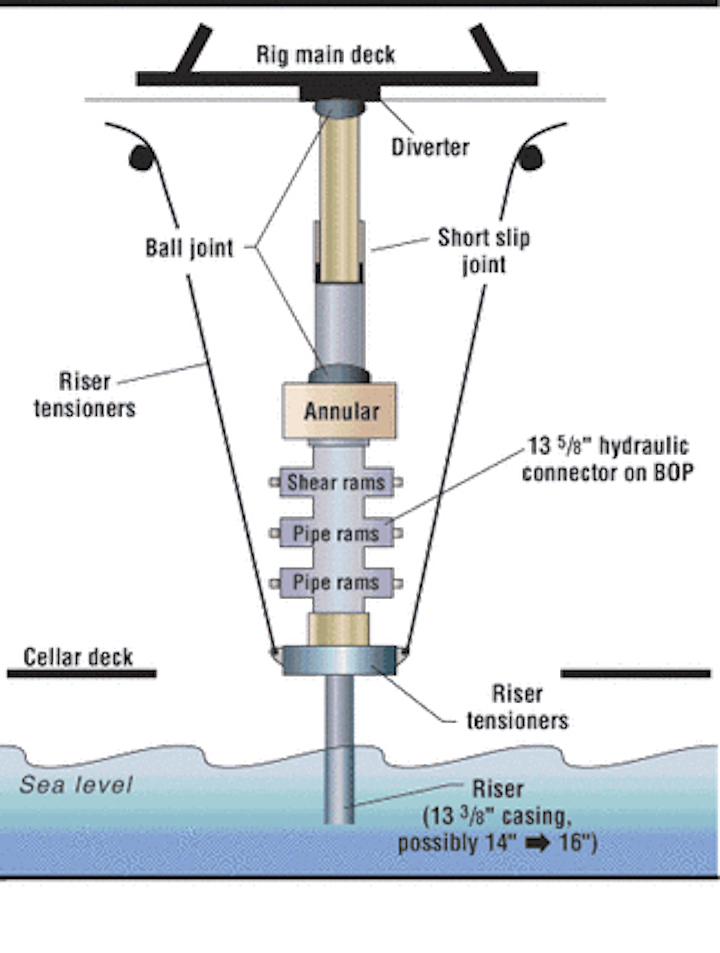 William Furlow
Senior Editor
Surface blowout preventers (SBOP) are allowing second and third generation semisubmersible drilling units to operate in water depths previously consigned to fourth or fifth generation drilling units. Although this technology has been limited to southeast Asia's calm waters, Shell is planning to deploy the technology on deepwater marginal fields and exploration plays in the Gulf of Mexico.
Unocal was the first operator to resurrect the use of SBOP systems for exploration drilling off Indonesia in the latter half of the 1990s. The idea is not new and predates the development of the subsea BOP, which was created to allow floating vessels to drill beyond jackup water depths. What is new is the concept of using this system for challenging deepwater Gulf of Mexico projects.
Shell's first experience using surface BOPs occurred during a two-well deepwater exploration program off Indonesia in mid-2000. Unocal was contracted to drill the wells using the Transocean Sedco Forex rig Sedco 601. The wells were a success on a time and cost basis. Graham Brander, Senior Drilling Engineer with Shell International E&P, said this sparked an interest in the surface BOP concept throughout Shell.
Shell's operating unit in Brunei then contracted the Sedco 601 to drill three exploration wells. The project again saved substantial time and money. Work for two further deepwater surface BOP projects was also underway at Shell's operating unit SSB/SSPC in Malaysia.
An unconstrained SBOP system was installed on the Stena Clyde. Not only did Shell save money and time on these wells, Brander said the company gained information it could use in further developing the surface BOP design and expanding the technology to other areas of the world.
Cost/time savings
The savings from using an SBOP come in a variety of areas:
There is a major savings in using a second or third generation rig, versus a higher rated drilling unit. Brander said day rates on the lower rated rigs runs from $60,000 to $85,000. This is a fraction of the $145,000 to $200,000 charged for fifth generation rigs, which are typically used for wells in the 5,000-ft plus range.
The efficiency of the drilling operations with an SBOP is increased since there is no need to run the BOP through the water column to the seabed. SBOP units operate with a much lighter 13 5/8-in. BOP and riser, rather than the 18 3/4-in. systems common in deepwater.
There are a greater number of smaller 2nd and 3rd generation rigs on the market, meaning that availability should not be a problem - now and in the future.
Brander said more wells can be drilled because of these efficiencies, which means that for the same exploration budget, additional well projects can be undertaken. Depending on the specifics of the project, Brander said Shell estimates the SBOP system could save 20-50% over conventional deepwater well costs. These savings have the added effect of improving the economics of marginal deepwater fields. This is the aspect Brander said Shell finds exciting.
There are a large number of what he calls "pockets of hydrocarbons" in deepwater that cannot be economically accessed using conventional drilling. If the SBOP system could be successfully introduced in the Gulf of Mexico it could exploit some of these smaller reserve pools.
Coming to the Gulf
At this time, the only region where SBOPs are being used is in the calm waters off Malaysia, Brunei, and Indonesia. On the Brunei wells, Shell used an SBOP design that was rigidly fixed to the moonpool. The system could move vertically, but not laterally. This design required a benign metocean environment and could not hope to operate in the Gulf of Mexico.
A new design, Brander calls the laterally unconstrained SBOP was developed and used in the field on the Malaysia project. This design is capable of moving in all directions and reducing bending loads on the BOP and riser. It also can be used on a variety of rigs because it makes use of the existing riser tensioning system in the moonpool.
"We are looking at different operations in different parts of the world," Brander said. Rather than having one rig equipped with the SBOP system, it would be more efficient to have a transferable system that could be used on different rigs in different markets.
Shut-off and disconnect
In addition to being transferable, the laterally unconstrained SBOP design will include a subsea shut-off and disconnect device (SSODD), Brander said. This would allow the rig to shut in the well at the seabed in case of an unscheduled disconnect.
The valve, as it is currently conceived, would include two sets of rams - a shear ram and pipe ram. These would be controlled by an acoustic signal sent from the surface, and backed up by manual remotely operated vehicle (ROV) activation.
Brander said it is important to eliminate complex umbilical connections between the surface and mud line in order to keep the system simple and cost-effective. The subsea assembly would include accumulator bottles, which could be recharged via ROV, if the ram is activated. It would also avoid the environmental risk involved in dropping a riser full of drilling fluid and cuttings in the event of a disconnect.
The device will be designed with the Gulf of Mexico subsurface in mind. Brander said the system will have a riser and BOP large enough to handle the casing strings and pressures encountered when drilling in the low pore pressure/fracture gradient zones of the deepwater Gulf.
Combining innovations
Brander said to realize the full savings of this system, it would need to operate with a smaller riser, which means smaller tubulars. To ensure these wells can reach total depth, Brander said Shell will rely on expandable tubulars, which go into the hole one size and are then expanded to provide a larger ID.
Other technologies will be incorporated in this program. Brander said pre-installed mooring systems can reduce the amount of time the rig is under contract. These moorings can be installed by one anchor-handling vessel, rather than a rig. He said the concept Shell is developing for the Gulf of Mexico, which incorporates all of these technological advances, would be applied elsewhere if successful.
Fasttrack systems
Under the current schedule, Brander said this system will be introduced in the Gulf of Mexico by November 2002. He admits this is a fast track approach, but the goal is to take advantage of the savings SBOPs represent as soon as possible. "We have to be aggressive, because there are so many gains we can get out of it," he said.
Still, it is not just Shell who has to accept the technology. Brander said the company is working with a number of groups, including partners and the US Minerals Management Service, which regulates Gulf of Mexico technology deployment, for environmental and accident risk reasons. Currently, Shell is focusing its efforts on the technology. Selection of the proper well application and administrative hurdles will be addressed later in the process. Brander said SBOP should not be seen as a panacea. SBOP technology will have its place on certain projects, but will not be the answer in all cases.
Currently, Shell sees SBOP and accompanying technologies, such as expandable tubulars and pre-installed moorings, as a potential solution for exploiting marginal fields in deepwater.