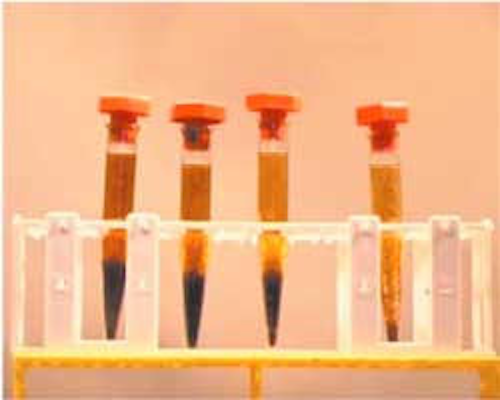 A number of interesting technologies and a wide range of beneficial products for the oilfield have been developed. Some of these products are specialty surfactants that have gained widespread market acceptance and are used in every oil-producing region of the world.
One of the new technologies is Uniqema's Hypermer™ high molecular weight polymeric surfactants. This technology was originally developed for industries outside the oilfield, but to meet market requirements for high levels of dispersancy and emulsification, 17 products from this line were developed for the petroleum industry. Dispersion technology is used in a number of applications in the oilfield industry, including anti-foulants, asphaltene and wax dispersion, and the distribution of solids in drilling mud systems.
Hypermer's range of polymeric dispersants brought about a step change in dispersant technology, as new analytical techniques focused molecular design on the interaction between solid and surfactant molecules. The technology is based on extended chain polymerics designed to enhance steric hindrance in flocculation between dispersed molecules as well as a number of key core anchor chem-istries selected to cover a wide variety of solid contaminants.
Polymeric surfactants create extremely stable emulsions in drilling operations. These surfactants feature repeating hydrophilic and hydro- phobic units - designed to produce emulsions of high stability and controllable droplet size.
Solubilizing oily substrates
A new application as a solvent has been developed for the ArivaSol carrier fluid. Tests show that it can solubilize oily substrates found in most drilling, pipeline, and refinery facilities as well or better than aromatic solvents - with a much better environmental profile.
It has a very high Kauri-Butanol (KB) value of 247. The KB value is a measure of solvent performance that relates to the ability of the compound to bring oily substrates into solution. Its performance is substantially better than "green" solvents currently on the market.
An added benefit is that it is readily emulsified with the types of surfactants that are often used as major components. This allows it to be put to maximum use in environmentally friendly aqueous cleaning systems (see accompanying table).
This new technology is the result of an effort to create a minimal environmental impact carrier fluid for oilfield chemistry. The carrier fluids show ready biodegradability (84% in 28 days - OECD 301B - modified), no bioaccumulation (log Pow 2.9 - OECD 117) and low aquatic toxicity (resulting in an overall UK OCNS category E). Tests show that it is non-fish-tainting. The product has wide regulatory clearance including EINECS (Europe); TSCA (USA); CEPA; DSL (Canada); MITI (Japan); AICS (Australia); and PICCS (Philippines).
Enhanced separation
Based on advanced polyamine chemistry, the new demulsifier product has found use in oilfield applications. This technology, named Kemelix D600, is a newly designed concentrated polymeric alkoxylate that offers oilfield production operations enhanced separation of oil and water and other important benefits in dewatering and desalting operations.
According to Dr. Marty Utterback, Commercial Development Manager for Uniqema's oilfield business in the Americas, the goal behind the development of this technology was to increase the efficiency of demulsifier formulations, compared with conventional products.
The polyamine that is the foundation of this product is spherical in nature, as opposed to the linear nature of other surfactants. This spherical polyamine chemical "architecture" offers unique performance properties that cannot be found with other surfactant chemistries.
Although it has been developed primarily to produce superior flocculation and dehydration properties, the design of the molecule enables it also to act as an extremely rapid water dropper under certain operating conditions. Field-testing has shown that for offshore crude oil processing platforms, most notably in the North Sea and Gulf of Mexico locations, D600 will effect rapid water separation.