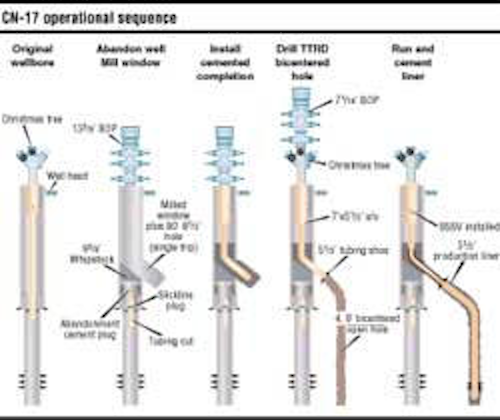 New methods still face technical challenges
In the North Sea, cemented completions and through tubing rotary drilling (TTRD) are considered emerging methodologies. The North Cormorant drilling team has performed six cemented completions and four TTRD seeing a variety of benefits. TTRDs are now almost regarded as standard technology on the North Cormorant platform. Other platforms in Shell Expro's Northern field unit have also applied these technologies to good effect.
Cemented completions
In a cemented completion, the completion tubing is run into the drilled open hole section and cemented in place. With this method, the cement effectively replaces the production packer. This method saves cost by eliminating the requirement to perform a traditional liner cementation and clean-up operation. It also eliminates liner hanger, production packer, and other completion accessories.
Currently, nine cemented completions have been performed in Shell Expro's Northern Business Unit, including six on the North Cormorant Platform.
TTRDs
Through tubing rotary drilling involves slim-hole sidetracks (typically 4 1/8-in. to 5-in. holes), which are drilled through the completion tubing using a slim-hole whipstock and drilling tubulars. TTRD eliminates the need to recover the completion tubulars in order to perform a sidetrack. Short, step-out sidetracks (up to around 4,000-ft) can be cost effectively executed in this manner. Currently, five TTRD wells have been drilled on Shell Expro's Northern Business Unit including four on the North Cormorant Platform.
Well design evolution
The design of North Cormorant sidetrack well CN-17 evolved with information about the well condition. Originally planned as a TTRD well on the platform, a routine caliper survey was performed months in advance to assess the condition of the tubing for future TTRD operations.
The caliper results showed the tubing to have insufficient wall thickness remaining to sustain the wear imposed by TTRD operations and still meet the pressure integrity and design life criteria required.
Since the production tubing had to be recovered, the design team began to focus on a standard 8 1/2-in. hole sidetrack exiting out of a 9 5/8-in. packstock window.
However, reviewing the available options showed a better way. Using a cemented completion method to cost effectively change out the tubing could be completed as a TTRD well. This design concept became known as through cemented completion rotary drilling (TCCRD).
Operations sequence
The TCCRD operational sequence proposed for CN-17 is as follows:
Offline set slickline plug and cut tubing
Skid over well with main rig
Recover completion tubulars/set abandonment cement plug
Set 9 5/8-in. whipstock
Mill window and 80 ft of new formation with drill ahead mill
Run and cement new completion into open hole
Drill out shoetrack and TTRD drill 4.9-in. bi-center hole to section TD
Run and cement 3 1/2-in. liner in place
Perforate well conventionally.
Benefits
There are a number of benefits favoring this TCCRD concept over a conventional sidetrack. The method saved significant time and cost over a conventional completion. Due to the nominal open hole section and cementation requirements being considered here, the risks associated with this particular cemented completion were significantly lower than normal.
A string of slim 2 7/8-in. and 3 1/2-in. pipe was already racked in the derrick, and all specialist TTRD equipment including 7 1/16-in. blowout preventers (BOPs) were already onboard from the previous TTRD well. This sequence allowed the operations team to effectively program a two-well, back-to-back TTRD campaign with all the inherent logistics and learning advantages possible.
Favorable risk comparison costings for the TCCRD scenario further supported the benefits over a conventional sidetrack. These sidetracks can be planned with dogleg severities of 12 - 20 deg /100 ft, compared to around 8 deg/100 ft with conventional sidetracks. This in turn can offer possibilities of deeper kick offs, shorter hole sections with knock on commercial and operational advantages. Other benefits include eliminating lost-in-hole charges for downhole TTRD equipment, estimated to be 60% of conventional equipment. In addition, this brings together two drilling and completion techniques into a single well, underlining the maturity of these methods.
Design considerations
Another advantage of replacing the tubing first was that it could be re-designed to optimize the TTRD well, which would be drilled through it. No components giving rise to unwanted inside diameter (ID) restrictions were specified, and the length of 7-in. tubing at the top of the well was increased to 3,200-ft. This would allow the 3,106-ft open hole section to be drilled with a 3 1/2-in. drill string at surface in a single bottom hole assembly run without requiring a dedicated trip to respace out the 2 7/8-in. drill pipe beneath it.
Recovering the tubing first allowed a standard 9 5/8-in. trackmaster whipstock to be used on this occasion as opposed to a specialized through tubing whipstock. A Smith Red Baron drill-through mill was successfully programmed for the first time in the UK sector to both mill the window and drill a short section of Shetland formation.
Cemented completion methodology
The cemented completion was then run into the short, open-hole section and cemented in place ready for drill out using cemented completion methodology. Only a short cement isolation section back into the 9 5/8-in. window was required on this occasion and so carried less criticality in terms of top-of-cement and bond quality than a standard cemented completion across the reservoir.
The completion was drilled out using a 3 1/8-in. motor and 4.5-in./ 4.9-in. bi-center bit combination. Although this was able to drill out the shoetrack and 56 ft of new formation, the power output was not sufficient to effectively drive the bi-center bit; stalling was frequent. This assembly was tripped, and a more powerful 3 3/4-in. motor subsequently was picked up to drill over 2,000-ft of open hole. Although more efficient at making hole, averaging a gross 28-ft/hour, the directional characteristics of this combination were unable to achieve the planned 15 deg/100-ft doglegs.
Inclination unsuitable
The well subsequently fell behind on planned azimuth and inclination. A maximum inclination of 80 degrees was achieved, rendering it unsuitable for conventional wireline perforating. The well was drilled another 827-ft to TD depth using a 3 1/8-in. motor and regular 4.5-in. PDC bit combination, successfully hitting both targets. This combination demonstrated a potential dog leg severity of 18-20 deg/100-ft. Equivalent circulating density management was slightly compromised by the smaller hole size in this final section, but the critical liner cementation was re-engineered with revised parameters to accommodate this.
With new tubing run in the hole, the usual TTRD concerns for tubing wear were significantly less on this occasion. However, as per standard procedure, a 5 3/8-in. ID wear ring was specified at the base of the BOPs to eliminate wear on the Christmas tree, located immediately below. This flange had already been used for four TTRD wells and had developed a 1/8-in. wear groove on one side. This would be changed out on the next well.
Technical challenges
Recovery from problem situations such as well control, stuck pipe, or failed primary cementations are more challenging and time consuming in TTRD wells, due to unfamiliarity with options, equipment availability, and unusual wellbore geometry.
On CN-17 for instance, following failure of the primary liner cementation, a remedial cementation was successfully performed inside the 3 1/2-in. liner using 1.66-in. Hydril CS jointed tubing and a TAM inflatable cement retainer. This operation also included a clean out trip with a 2 1/8-in. motor. Cement bond log results confirmed the remedial cementation to be effective. The well was subsequently perforated with coiled tubing to bring it online as an oil producer.
Remedial clean-up trips
Unwanted clean-up trips are aspects of cemented completions that the operations team has also been striving to eliminate. The technique is designed such that the cement is displaced with a top cement plug and seawater. Essentially only a drift run should then be required prior to perforating the well. However, about two-thirds of cemented completions to date have required some form of remedial clean out with drill pipe or coiled tubing to allow perforation guns to pass. It should be noted that even with a remedial clean up, the technique is still significantly more cost effective than a standard liner and completion operation.
Prevent cement bypass
However, elimination of this extra trip continues to be a focus for the team. Cemented completions planned in the near future will have specially designed cement plugs with specific geometry and material specifications to prevent cement bypass, thus optimizing the method. In addition, a new super retarder tested primarily for re-injection of cement slurries into cuttings re-injection wells will be specified in the displacement fluid to indefinitely retard any bypassing cement slurry.
Conclusion
Cemented completions and through tubing rotary drilling are generally regarded as emerging methodologies in North Sea drilling and production operations. The North Cormorant drilling team has persevered with these methods further than most other North Sea operators, performing six cemented completions and four TTRD wells over the last two years. The benefits have already been demonstrated, but the technical challenges still remain. Well CN-17 had its own challenges on the way to becoming the UK sector's longest TTRD well. It also provided an opportunity to combine both cemented completions and TTRD methodologies into a single well by first installing a cemented completion before drilling a TTRD well through it.
Acknowledgement
Fraser Lawson is KCA Deutag Senior Drilling Engineer and Fred van Nieuwenhuizen Shell Expro's Senior Well Engineer. KCA Deutag is lead drilling contractor to Shell Expro's Northern Business Unit (NBU) and manages drilling operations for all nine NBU platform rigs. Shell UK Exploration and Production (known as Shell Expro) is operator in the UK sector of the North Sea for Shell, ExxonMobil and other co-venturers.