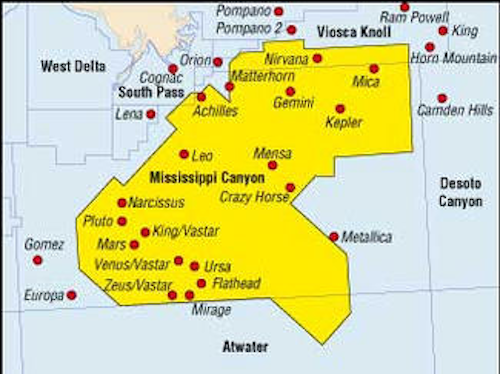 Sonsub concludes Banjo work
Sonsub completed offshore activities for Coflexip Stena Offshore's Banjo and Seahawk project in the Gulf of Mexico. Sonsub's HOS Innovator spread, consisting of the DP II HOS Innovator vessel and the Innovator® 9 ROV, worked on this project in two campaigns. In Phase I, it installed 58 concrete mats at six offshore crossing locations, and in Phase II, it assisted the CSO pipelay vessel CSO Deep Blue in setting initiation anchors and acoustic arrays as well as completing grid surveys, monitoring pipeline touchdown, and completing pipeline as-built surveys.
Hawkes, Timber Wolf wells P&A'd
ExxonMobil completed the Hawkes and Timber Wolf exploration wells in the Mississippi Canyon area of the Gulf of Mexico. Both wells, about 20 miles northwest of the Crazy Horse discovery, discovered hydrocarbons in Miocene reservoirs.
ExxonMobil, which holds 100% interest in the blocks covering the Hawkes discovery and 89% in four blocks at Timber Wolf, plans further seismic studies and appraisal drilling.
Operator ExxonMobil drilled the Hawkes well in Mississippi Canyon 509 No. 1 in 4,174 ft water depth to 23,143 ft. The well was temporarily plugged and abandoned. The Timber Wolf well, Mississippi Canyon 555 No. 1, was drilled in 4,749 ft water depth to 23,105 ft and was also temporarily plugged and abandoned. ExxonMobil is partners in the block with Marathon Oil and Woodside Energy.
ExxonMobil also drilled the Keltics prospect in Mississippi Canyon 912 and 956. The Mississippi Canyon 912 No. 1 well in 6,695 ft water depth was to test the Miocene section 10 miles southeast of the Crazy Horse discovery.
TGS buys out survey partners
TGS-Nopec Geophysical Co. acquired 100% ownership of more than 14,600 sq km of 3D seismic data, 435,000 km of 2D seismic data, and all associated derivative and interpretation products in the Gulf of Mexico in a $32 million deal. While TGS-Nopec has always held exclusive marketing and distribution rights to the multi-client data and products involved in this transaction, ownership was previously shared with partners through various joint ventures. Under the new agreements, TGS-Nopec relinquishes its minority interest in the 1,700-sq km Green Canyon-Atwater 3D survey to CGG. TGS-Nopec now fully owns and controls the Mississippi Canyon 3D survey as well as 2D data from over 30 separate surveys located throughout the Gulf of Mexico.
Magnolia development blossoms
Conoco and Ocean Energy will develop the Magnolia field in nearly 4,700 ft water depth in the Gulf of Mexico. Initial estimates call for the $600 million deepwater development project in Garden Banks 783 and 784 to deliver 150 million BOE. Operator Conoco holds 75% and Ocean Energy holds 25%. The Magnolia Field was discovered in May 1999, and two appraisal wells confirmed the field's commerciality. A platform capable of supporting a completion rig will be installed in summer 2004. "The Magnolia facilities will strategically position Conoco by providing early infrastructure in a very active part of the deepwater Gulf of Mexico to handle the tie-in of future production," said Rob McKee, Conoco E&P Executive Vice President.
Torch buys Smit Express
Torch Offshore bought the Smit Express from Smith International for $9.75 million. The 520-ft vessel was slated for conversion to a DP-2 offshore construction vessel. It will be renamed the Midnight Express, and it should be delivered into the Gulf of Mexico by April. Conversion should follow, with full integration of equipment, the lay system, and the vessel, with sea trials scheduled for mid-2003. The purchase, Torch CEO Lyle Stockstill said, brings the company "one large step closer to meeting our long-term strategic goal of entering the deep and ultra-deepwater flowline market."
Progress at Llano
Drilling and evaluation of its fourth well at the Llano Field in the deepwater Gulf of Mexico is complete, PanCanadian Energy said. Glomar Arctic I drilled Garden Banks 385 No. 1 to a measured depth of 24,813 ft. Logging results confirmed 400 ft of net pay. Co-venturers aim to complete the initial concept selection phase of work in the first half of this year.
Executive Vice President of Exploration Gerry Macey said, "The well has the best reservoir quality encountered to date on the structure." Co-venturers are operator Enterprise Oil, ExxonMobil, PanCanadian, and Amerada Hess.
Independents going deep in Gulf
Independents need to combine information and technology to give themselves the best opportunity for success in the Gulf of Mexico, said Spinnaker CEO Roger Jarvis. "The average well has gotten deeper, it's gotten more expensive, and it's riskier," Jarvis said, speaking to the Houston chapter of the Society of Petroleum Engineers. "Today, the independent in the Gulf of Mexico is all about the deep shelf." Spinnaker has drilled a lot of discoveries and also more than 30 dry holes in the last few years. "We're drilling a lot of deep wells when others can't, and we're doing that because rig rates are down," he said.