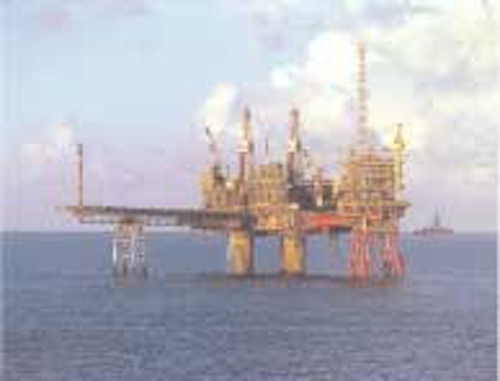 Norway restricts license acreage
Following advice from the Norwegian Pollution Control Authority, the Nordland VI fishing waters off mid-Norway have been excluded from the country's 17th licensing round. Thirty-two blocks have been tabled in the Norwegian Sea, some in deepwater, others close to the producing Norne Field. Statoil, which operates Norne, was disappointed that more attractive, gas-prone blocks were not included. Norsk Hydro was more sanguine, although the ruling on Nordland VI has obliged it to suspend a planned well close to the Lofoten Islands.
Norsk Hydro was due to spud an important appraisal well on the Ormen Lange gas field this month. The well would be in an undrilled part of the northern half of the 80 km long reservoir. Norske Shell is currently drilling another potentially giant gas prospect, named President, that is located off mid-Norway. Shell will use the semisubmersible Transocean Winner.
In the Norwegian North Sea, Hydro made a small discovery last Christmas with an exploratory well on Visund South. Light oil and condensate were encountered in middle and early Jurassic zones - possibly around 40 million BOE, according to analysts Wood Mackenzie. The well was then plugged by the Transocean Arctic semi without testing.
Kristin to Aker
Aker Stord has won the main contract for the sole major project on Norway's books this year, Kristin. The NKr5 billion order covers design and procurement of the semisubmersible plaform hull and the topsides, including the utilities, process and riser modules, and flare boom. Stord will fabricate the utilities and process modules, and subsequently hook these up along with the remaining topsides modules. It will then take charge of hull/topsides mating. Operator Statoil is due to issue tenders later this year for construction of the hull, living quarters, riser module, and flare boom, with fabrication due to start next January. The project's start-up target is October 2005.
Beryl hub emerging
Some operators are looking to Norwegian field tiebacks to sustain their UK North Sea facilities - Marathon's Brae and Shell's Brent are in this band. ExxonMobil's Beryl, however, is emerging as a hub for new developments on the UK side of the central North Sea boundary. Recently, the company commissioned a new 2,500 tonne gas compression module for the Beryl A platform to handle 180 MMcf/d from Skene, 9 miles to the south. The field has been developed for
BP may also exploit Beryl for its proposed Maclure development, which also lies in block 9/19. Maclure would be tied back to Kerr-McGee's Gryphon A FPSO, 5 km to the west, producing initially 12,000 b/d of oil and 3.5 MMcf/d of gas. The floater would process the oil, the gas being piped to Beryl. But Kerr-McGee is also considering diverting Maclure's gas to its newly onstream Leadon Field FPSO in the same quadrant, for reservoir drive. Supplies would feed through a spur from a probable new gas line linking Leadon and Beryl.
Gryphon A will also host Tullich, a Kerr-McGee discovery 8 km to the south in block 9/23a, which was extensively appraised last year. The operator puts reserves at 35-40 million BOE. These will be developed in two phases, the first due for completion by August, based on four horizontal producer wells in 370 ft water depth.
Halfdan sustaining Danish production
Danish North Sea production is set to decline over the next three years, but not to the extent previously foreseen. In its latest update, the Danish Energy Agency predicts a drop from 125.8 million bbl this year to 114.5 million bbl in 2005. By that time, Mærsk's Halfdan Field will have overtaken the Dan complex as the leading contributor, providing 29% of Denmark's production. Operator Mærsk recently initiated a third phase of development on Halfdan, with Sembawang and local contractor Bladt building a new process module for the existing production platform and a bridge-linked accommodation platform.
State oil company DONG seems more interested in Norway; however, it has agreed to purchase Norwegian independent for around NKr417 million. If this buy is approved by Norway's government, it will net DONG minority stakes in producing fields such as Glitne, Gyda, Tambar, and Ula. DONG also applied for exploration licenses in last year's Norwegian North Sea licensing round - awards are imminent.
Germany's RWE-DEA has also bought a small independent, Highland Energy, which has UK gas sector interests. Among these are the Windermere platform in the southern sector - Highland took on operatorship from Wintershall - and various other fields such as Cavendish, which Highland had been striving to commercialize.
UK investment holding steady
Britain's Energy Ministry insists UKCS production could hold steady at 4 million BOE through 2005, despite analysts' warnings of a decline. Its forecast is based on a survey last summer of the investment intentions of 30 oil and gas producers. This was commissioned by the UK Department of Trade and Industry and the UK Offshore Operators Association.
Oil prices at the time were a heady $25/bbl, but the subsequent fall has not, so far, impeded the flow of new UK developments. Four were approved late last year with a combined outlay of £1.44 billion: BP's Clair, West of Shetland, Shell's Penguins in the Northern North Sea, Chevron Texaco's Alba South/Caledonia in the central sector, and BG's Juno Field cluster in the southern gas basin. Beyond 2002, the report predicted further investments throughout the shelf totaling £3-3.5 million annually.
Another drum-beater study conducted by industry-funded body LOGIC, claims that 13 billion BOE is still extractable, both from the UK's 200 producing fields (10 billion BOE) and fields yet to be discovered (3 billion BOE).
Dutch gasfield development quickens
Wood Mackenzie's latest review of The Netherlands sketches a relatively sound development picture. Ten new offshore projects are in progress, with combined reserves of 2 tcf. Another 12 could be initiated over the next two years, with a reserves haul of over 1.5 tcf. The largest new projects are NAM's three-field Neptunus scheme and TotalFinaElf's K/1-A. Two in the 'probable' category are NAM's K/15-FK and Clyde's Q/1-A, both discovered in 2001.
Infrastructure continues to proliferate in mature areas, allowing 300-400 bcf finds like these to be developed ever more quickly. Distances to trunklines are shorter than in other North Sea gas provinces - further justifying the finding costs. On the other hand, this trend also suggests that higher risk exploration prospects in less mature acreage are being neglected.
There have been no new entrants to the Dutch sector recently, aside from Gaz de France, which basically took on all the mature assets run by TransCanada pipelines, and before them, Occidental. Wood Mackenzie says more could be done to attract a wider group. For example, lowering the level of license participation by state-owned EBN, along the lines recently adopted in Norway. On the other hand, there has been no strong lobbying from the existing Dutch shelf players for this to happen.