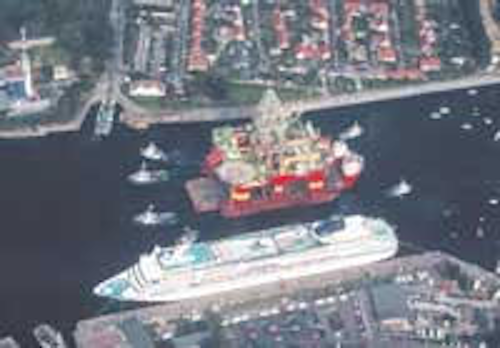 The newbuild semisubmersible drilling rig Stena Don was delivered to Stena Drilling in Norway after a challenging voyage through the Baltic Sea from the Kværner Warnow Werft yard in Germany. The journey involved negotiating the narrow Drogden Channel between Denmark and Sweden, where the water depth is only seven meters.
This transport called for a dry tow rather than a wet tow, and Kværner Warnow Werft contracted Boa Offshore to provide barge and ballasting services. For the operation, the yard used the Trondheim-based contractor's Boa Barge 20, which has dimensions of 146.3 meters by 36 meters by 9 meters and a rounded bow. To provide the clearance to pass through the Drogden Channel, the rig had to be placed on the barge so that it could be supported by its transverse horizontal braces.
This meant the pontoons, which were parallel to the side of the barge, were partly submerged in the sea. In this way, they provided the additional buoyancy that was required to achieve a draft sufficiently shallow to allow passage through Drogden.
As it was not possible to install both pontoons in the drydock, the rig was lifted off the supports in the drydock onto the barge minus the starboard pontoon. Once the rig had been floated out of the drydock, the starboard pontoon was moved into position alongside the barge, which was then ballasted down to enable the pontoon to be mated with the rig.
The confines of the yard made it impossible to turn the barge around, so it was towed stern-first from Warnemunde. Tow-out for the approximately 230-km journey was provided by Fairplay Towage. For the float-off operation, Boa chose a site northwest of Ven Island in Denmark. When the barge arrived, the stern was ballasted down and grounded until the rig was free-floating.
Once the required clearance between the transverse horizontal braces and the supports on the barge deck was achieved, the rig was towed off over the stern of the barge. Fairplay then towed the rig through the Skagerrak and around the southern coast of Norway to Stavanger where the barge was refloated and towed back to Warnemünde for deck cleaning. Boa also performed the preparation of the ballast procedures for the transit to Øresund and for the float-off operation, as well as checking and approving all operational procedures and ballast procedures prepared by Kværner Warnow Werft, Hestnes says.