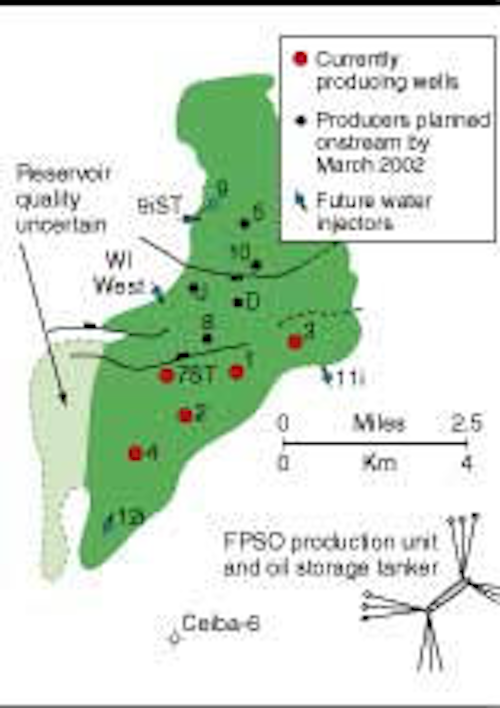 Africa's leading independent, Energy Africa, is pinning its expansion hopes on frontier plays. Equatorial Guinea has transformed its production capability. Now it is aiming for similar returns off Congo-Brazzaville and Namibia.
The Cape Town-based company was listed in 1996 on the Johannesburg and Luxembourg Stock Exchanges. Its principal shareholder is South African refiner/marketer Engen, with 57%. The remainder is owned mainly by South African, US, and British finance institutions.
Over the past six years, Energy Africa has amassed interests in exploration and production licenses in 12 African countries. But its most significant move was agreeing to partner Triton Energy in Equatorial Guinea offshore blocks F and G. Their discovery of the Ceiba Field in 1999 and subsequent early development brought swift dividends - Energy Africa's production rose 45% last year to over 23,000 b/d. This and subsequent finds in block G pushed the company's market capitalization to $280 million.
Following the resignation of two senior directors in December 2000, the company has a relatively new management team, headed by Chairman Dato' M. Idris Mansor, Managing Director Rhidwaan Gasant, and Chief Operating Officer Adrian Nel. The board's stated aim is to double or even treble in size, through further acquisitions or discoveries, largely in Africa. (Through Engen, it also inherited a stake in the Alba project in the UK North Sea). Lately, the company has diversified farther east and north, acquiring exploration acreage in Uganda and offshore Morocco, where it operates one permit.
Operating production is not an ambition at present: "We prefer to stay lean and mean," says Adrian Nel. But the company does have operations capability in exploration. It retains a drilling manager and 20 geoscientists in Cape Town.
Ceiba went onstream in November 2000, via four producer wells tied back to the Sendje Berge FPSO. Water depth is 700 meters. Production peaked at 46,000 b/d last February, before declining due to lack of pressure support. The partners were aware water injection would be needed, and a program is being implemented.
The Sendje Berge was an available hull, and contractor Berg-esen Offshore was in a position to undertake a rapid conversion. This suited the partners, which both wanted early oil from Ceiba. But the vessel was not equipped for water injection. This January, therefore, it was due to make way for a replacement FPSO, the Sendje Ceiba. This has been designed to handle water injection at 135,000 b/d, and it will also provide enhanced fluid handling capacity - 160,000 b/d, compared with 60,000 b/d for the Sendje Berge. The new vessel will export its oil through a subsea pipeline to a turret CALM buoy, installed in 67 meters water depth. This will in turn offload to shuttle tankers. The new export system should be operational some time this summer.
In the meantime, development drilling is continuing, using the semisubmersible Transocean Sedco 700. Eventually, 14 producer wells and four water injectors will be in service. Concurrently, exploration has been maintained in both blocks. Initial results were not promising - of three wells drilled in Block G and one in Block F, two intersected oil columns in poor quality reservoirs, while the other two were dry. However, the data acquired was usefully integrated with 3D seismic acquired over the two blocks in 1999. New targets were identified and subsequently drilled, leading to the Okume and Oveng discoveries in Block G last summer.
Okume-1, spudded 15 km northeast of Ceiba, intersected 52.5 meters of oil-bearing sandstone. Two appraisal wells followed in quick succession. Okume-2, 1.3 miles southwest of Okume-1, in 1,815 ft water depth, encountered 153 ft of net pay, and then flowed 8,460 b/d on test. Okume-3, 1.7 miles northwest of Okume-1, in 2,080 ft water depth, recorded 137 ft of net pay. Both wells were sidetracked, and reservoir quality was excellent in both cases, according to Nel. The oil gravity, at 36-37°API, was also lighter than Ceiba's 28°API crude. Further appraisal wells are planned this year.
Results from Oveng-1, 20 km northeast of Ceiba and 4 km east of Okume, were on a par with those from Okume-1. Oveng-2, drilled a mile southeast of Oveng-1 in 700 ft water depth, encountered 200 ft of net oil pay and 145 ft of net gas pay. Oil quality was similar to Okume's.
Re-interpretation of the 3D seismic was recently completed in Houston. Analysis has revealed numerous other 50-250 million bbl prospects in Block G, some of which lie close to Okume and Oveng. A continuous exploration-drilling program is planned for 2002, and the results will determine whether Okume and Oveng are developed independently or as part of a cluster development incorporating other discoveries.
Moho resumption
Offshore Congo-Brazzaville, Energy Africa is a 4% partner in the Haute Mer permit, operated by TotalFinaElf. Nkossa, onstream since 1995 through a concrete production barge, remains the sole producing field, averaging 53,100 b/d of oil and 12,250 BOE/d of LP in 2000-2001. Reservoir performance was below expectations, but attempts to fill spare capacity on the barge by developing the Moho-Bilondo discoveries to the west as subsea satellites have so far failed.
"Moho-Bilondo is not a straightforward field. It comprises four distinct reservoirs - two are deep accumulations in the Albian, of the Nkossa type, while the others are shallow-lying reservoirs in the Tertiary. This obviously complicates development, on top of which, the oil is of varying quality - low API in the Tertiary, higher within the Albian. A lot of technical considerations have still to be sorted out, which is the main reason why development has taken so long," Nel said.
Results from an appraisal well, spudded on Bilondo last November, will determine whether the development goes forward. The partners are hoping to prove reserves of over 200 million bbl. Development would cost around $700 million.
The partners also plan to test the Nkoumbi prospect, a large Tertiary channel in structural closure, situated just north of Angolan Block 14, operated by ChevronTexaco. Following recent resolution of a long-standing maritime boundary dispute between the governments of Angola and Congo-Brazzaville, these waters are now open to exploration as a joint development area.
Late last year the jackup High Island V was due to spud an exploratory well for ChevronTexaco in Angolan Block 9 on an Albion raft structure, in 70-80 meters water depth. Energy Africa is a 15% partner. "This is the first test of the conventional Pindar play in the Kwanza offshore basin for a long time," Nel points out. "It's a shallow well with a planned total depth of 1,500 meters. If successful, it could lead to testing of several similar-looking structures with upside potential."
LNG for Kudu?
Off Namibia, Energy Africa has retained its 10% equity in the Kudu gas field, despite lack of progress over development. However, after years of on-off negotiations with potential customers, an investment decision is in sight.
Operator Shell has switched its focus to the global LNG markets, based on the LNG FPSO concept recently launched by its research division in The Hague. The concept was proposed last year for the Sunrise development in the Timor Sea, and Shell believes it could work also in Kudu. First, however, the partners need to prove up at least 7 tcf of reserves to make an LNG scheme viable. To this end, 3D seismic was recently acquired over the acreage, and two appraisal wells, Kudu 6 and 7, should be under way. Water depth is 180 meters. If results meet expectations, feasibility and engineering studies would be initiated. For LNG supplies to begin as planned by 2006, development would need to be sanctioned by end-2002. The cost to Energy Africa could be $75-95 million. Any surplus gas might feed into a pipeline dedicated to a proposed power generation scheme in Namibia, and also to industrial users in the Western Cape. These were the Kudu partners' original targets.
Outside Equatorial Guinea, Gabon provides half of Energy Africa's production in the continent. Here it established a joint venture in 1997 with the Gabonese government and various African investors. Assets include interests in six production licenses and back-in rights to 22 others, some in deepwater.
Energy Africa is a partner with Amerada Hess in the shallow water Azobe permit, which adjoins producing acreage onshore. According to Nel, Amerada is applying its sub-salt experience in the Gulf of Mexico to a current drilling program on Azobe. "There are big salt over-hangs in the area, which have made exploration very difficult in the past, causing the wells to miss their targets. But we're very excited this time round. If any of our wells are successful, we could pursue development very quickly."