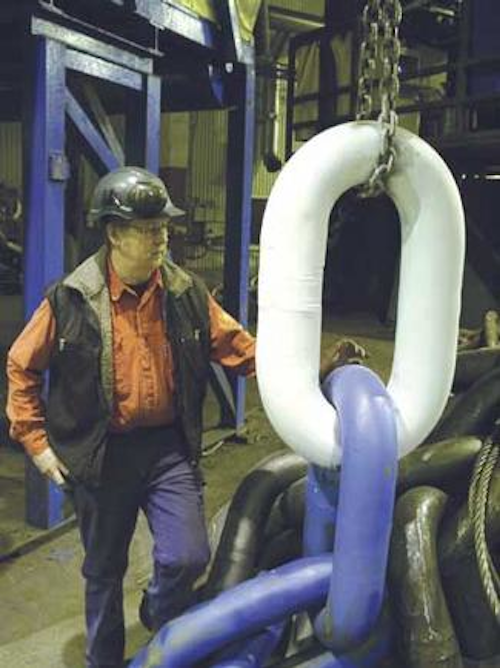 Scana Ramnäs is to manufacture 1,500 tonnes of 5.75-in. chain for the Spar platform for Murphy Oil's Front Runner development in Green Canyon block 339 in the Gulf of Mexico. The company is in the beginning stages of the project, after receiving the order from main contractor McDermott in May.
The chain will be part of a combined mooring system designed by McDermott, and Scana Ramnäs is manufacturing the grade 4 chain to McDermott's specifications to be certified by ABS. McDermott is the general contractor handling the engineering, procurement, construction, and installation of the Spar.
"This is what we often see at these depths," said Johan Falkland, managing director at Scana Ramnäs, speaking of the chain and wire rope approach. The combination of chain and wire rope reduces the weight associated with lengthy stretches of chain normally needed for deepwater applications. Front Runner is in 3,500 ft water depth.
The order is similar to Scana Ramnäs' earlier contract with McDermott for chain for the Medusa field in 2,200 ft of water in Mississippi Canyon block 582, also in the GoM. Falkland expects the Front Runner chain to be completed by the end of 2002 for delivery to the Gulf of Mexico.
Scana Ramnäs also has a letter of intent for 6,000 tonnes of grade 4, 138-mm chain for the Kristin field semisubmersible in the Norwegian Sea.
Applications of Scana's chains include moorings for mobile drilling rigs and long-term moorings for FPSOs, Spars, and catenary anchor leg mooring buoys.
Future weight savings
Looking to the future, Falkland said he expects the company to dedicate attention to weight savings and increased use of grade 4+ steel, which provides 22% higher yield strength than grade 4 steel. The deeper the water, he added, the more the chain's weight becomes an issue. Scana Ramnäs is interested in finding ways of decreasing weight while retaining the chain's existing strength, or even increasing it.
Future work may see strides toward the next generation of steel, Falkland said. Concepts exist, but the industry must also support technological progress toward methods of saving weight and strengthening the steel, he said.
This year, the company has also introduced a five-year guarantee against loose studs to eliminate repair costs to its customers. In 1991 it introduced its asymmetric stud design combined with stud expansion (following proof loading). Inspection of rig chains at that time revealed a frequency of loose studs in the range of 30-70%, leading to repair costs of up to $224,000 per unit. Scana Ramnäs claimed, however, that its new design had cut the frequency of loose studs in a typical mobile offshore rig chain to a fraction of 1%. The stud expansion design has since been refined periodically.
For more information, contact Johan Falkland, Scana Ramnäs. Tel: +46 220 22000, fax: +46 220 35837, email: johan.falkland@scana.no.