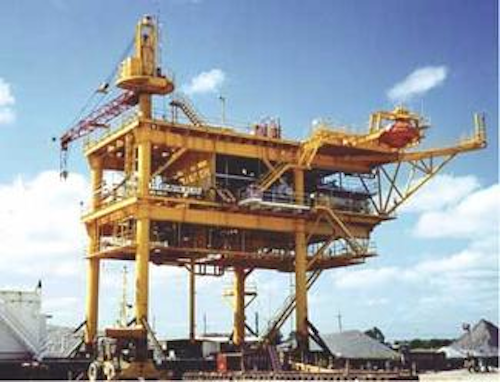 Jennifer Pallanich Hull
Gulf of Mexico Editor
The oil and gas industry must focus on matching the supply of decommissioned platforms with the need for structures in new projects.
A maturing Norwegian continental shelf (NCS), with aging platforms heading for decommissioning, served as a backdrop for an investment recovery seminar during Offshore Northern Seas in Norway.
"Reuse of equipment can be more environmentally friendly than recycling," said Brian Darbyshire, head of unit for Trade Partners UK of the International Oil and Gas Business Directorate.
Reusing the platforms can also give a competitive edge to a marginal field, he said. The issue of investment recovery off Europe is not one that has drawn a lot of attention because so many of the platforms in the North Sea are still in use, though the fields are maturing. Regulations need to be studied, he said, because some new technology is more environmentally friendly than existing technology, which raises questions about potential reuse of old equipment.
"Where there is a practical case for reuse, we would like to see reuse," he said. "When all the options have been exhausted, and nothing can be reused, then we can look at recycling."
"Decommissioning, if nothing else, is incredibly complicated," said Tim Watson, director of 4Rs Decommissioning Consultants.
"It's the obvious, easy option to take it to Teesside and scrap it U but for the community, that's the worst option."
There have been some changes in the rules of decommissioning and in the tax rules associated with platform reuse, he said.
State Secretary Brit Skjelbred of the Norwe-gian Ministry of Petroleum and Energy said the ministry is considering incentives geared to platform reuse on the NCS, but did not elaborate.
Tax breaks will help, but other issues require attention.
"It's a problem finding a ready market for equipment that is coming offline," said Peter Read, environment and decommissioning consultant at Parsec Engineering.
The inability of the Maureen platform, designed for reuse, to find any takers, and the amount of time the Ekofisk platforms were on the market is "very sad, very distressing," he said.
Impediments to platform reuse include liability for normally occurring radioactive material (NORM) that are sure to "give somebody a nervous time," obsolete equipment, and a regulatory and tax structure more beneficial to newbuilds, he said.
Finally, many of the structures were designed with the expectation of scrapping the unit at the end of its tenure on a field, said Read. And despite the penchant of operators to rely on proven technology, 20-year-old technology is a hard sell, Read said.
Watson agreed. "Everyone wants something sexy," he said. "They don't want something old and decrepit."
And one lifetime in the oil patch can attest to the strides the industry has made in technology.
"When I came into the industry, we built platforms like wedding cakes, tier upon tier upon tier," Read said, recalling the Piper Alpha as one example. "Digital technology has made what I grew up with obsolete."
One North Sea resale has made headlines. Hutton operator Kerr-McGee sold the field's TLP to Monitor TLP Ltd. earlier this year for $29 million. The TLP was removed from the Hutton field in the North Sea as part of the decommissioning program approved by the UK Department of Trade and Industry in May.
New stations in life
Reuse of platforms is more frequent in the Gulf of Mexico, said Robert C. Byrd of Twachtman, Snyder, and Byrd, a project management consultancy in Houston.
"Reuse has really become part of our culture in the oil and gas industry in the Gulf of Mexico," he said. In the Gulf, an estimated 30% of decommissioned topsides are candidates for reuse. About 20% of the jackets can be reused as well, he said.
"The most common reuse for jackets in the Gulf of Mexico is as artificial reefs," he said.
Byrd's company brokered a deal to renovate and move a platform in Eugene Island block 298 to South Marsh Island block 133 at a cost of $2.2 million less than the estimated cost of a newbuild, Byrd said.
Before a buyer purchases a used GoM platform, he said, the structure is submitted to an inspection, which includes checks for asbestos, NORM, lead-based paint, and fatigue. Following a passing grade and purchase, he said, the buyer assumes all liability for the platform.
"In the Gulf of Mexico, we don't reuse platforms because we're trying to benefit the world," Byrd said. "We reuse the platforms because they make small, marginal fields economical."
Other reuse targets
The petroleum sector can find other opportunities for reuse beyond platforms, Watson said. The labyrinth of pipelines snaking along the seafloor could see potential reuse, though no group is openly discussing an alternate future for the system, he said.
"There are no plans for this highly integrated system other than for it to be slowly decommissioned," he said.
The Recommissioning Partnership believes that the UK continental shelf is host to nearly 11,000 km of pipe, representing an investment of $10.6 million when valued at $1 million per kilometer.
"This is reuse on a big scale," Watson said.
Watson is urging the industry to consider the possible use of the pipelines in 50 or 200 years, rather than narrow thinking about how these stretches of pipes may no longer be useful once a field plays out.