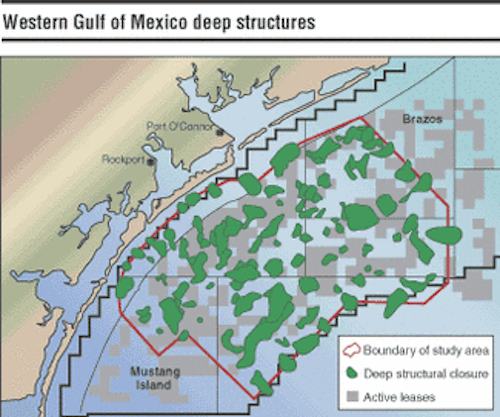 By Victor Schmidt
Exploration Editor

To offset the decline in natural gas finds on the Gulf of Mexico shelf and encour-age new gas development, the MMS offered royalty relief incentives. Judging by the response to last year's lease sale, the effort was well received.
New additions of natural gas on the Gulf of Mexico's outer continental shelf (OCS) have been falling steadily from a peak in 1970 and began declining even faster in 1988, when annual reserve additions fell below annual production.
The Minerals Management Service (MMS) of the US Department of the Interior has offered Deep Shelf Royalty Relief (DSRR) for new leases in water depths less that 200 m. During Lease Sale 178 in March 2001, 338 of the 547 shallow water blocks available received bids, reflecting industry's interest in areas with established infrastructure.
Based on this success, the MMS might consider extending the DSRR to existing leases. The economics of the DSSR, coupled with the large number of deep structures, could well attract aggressive exploration below 15,000 ft. The MMS estimates 5-20 tcf is locked in deep shelf reservoirs, but it will take incentives to prompt exploration at these depths.
Current conditions
Some 35,000 wells have been drilled in the GoM, but only 1,842 (5%) of those wells were drilled below 15,000 ft. This leaves a significant sediment thickness unexplored. This is primarily due to difficult drilling conditions at such depths. Potential drilling problems include:
High temperature and pressure
Salt intrusions
Lost circulation
Corrosive gases (CO2, H2S).
Although jackup rigs are well suited for the shallow shelf, most are not designed to handle the hook load or pressure containment needed to enter and drill safely at these depths and in these conditions.
The promise of new, large reserves offsets this concern. The MMS estimates the most likely value at 10.5 tcf. With the established platform and pipeline infrastructure of the GoM readily available, new, deep reserves could be quickly connected to the nation's distribution system. This is a key goal of the MMS.
Two areas give some indication of the large number of deep structures extending out to the 200-m batholith available for testing. Many are directly related to salt features and likely hold deep gas reserves. DSRR offers an incentive for industry to invest and explore the potential of these features.
Royalty value
In 2000, gas prices spiked to $6/Mcf, but now have settled below $3/Mcf. The DSRR incentive is based on the first 20 Bcf produced from below 15,000 ft on new shelf leases. The MMS places the royalty value of 20 bcf at $3.50 per million BTU, with a 1/6 royalty at about $11.7 million. The estimated cost of a deep shelf well is $9-23 million. Thus, the value of the DSRR would offset the cost of drilling a successful well over the first 20 bcf produced.
According to the MMS, the average discovery size of a deep gas reservoir is 20 bcf, based on 503 reservoirs discovered from wells drilled below 15,000 ft. Many deep wells on the GoM shelf have been drilled in the Norphlet Trend, which has 24 deep reservoirs. Deep GoM reserves to date total about 10 tcf. Close to 2.5 tcf of these deep reserves are found in this trend.
The Norphlet has an average discovery size of 105 Bcf per reservoir. Using the Norphlet as a proxy, these numbers leave plenty of upside for an operator if a large deep reservoir is discovered.
Gas demand
US gas demand continues to rise, spurred by continued growth in the US economy and in the public's preference for cleaner electrical generation using natural gas.
Prior to the Sept. 11 attacks in America, industry analysts were concerned that demand would outstrip supply during the winter season. Gas storage levels were lagging because of high gas demand for power generation. The present recession is an opportunity for producers to get ahead of the demand curve.
In 1999, domestic consumption was 22 tcf. That is expected to rise to over 30 tcf by 2015. Organizations that track natural gas usage project gas demand growth from 1.5% to 2.5% annually through 2015.
At present, the GoM supplies 5 tcf/yr to the US market - about 23% of domestic production. To stay at this level, GoM production must grow to 6.5-7.5 tcf/yr. This can only happen if major new supplies are discovered and quickly developed.
The DSRR is designed to slow the rate of decline in gas production through 2006-2007 by increasing the volume of gas discovered and developed from 2001-2006. New and developing reserves in Alaska, Canada, and deepwater GoM are not expected to enter the US gas market until after 2006. The MMS hopes that encouraging development of deep shelf reserves will close this gap.
The best short-term opportunity for new gas discoveries is in deeper plays on the GoM shelf. Although existing leases are not yet included in the royalty relief program, leases for this new frontier have been let. Now it is up to the industry to rise to the technical challenge, test the potential, and open the new frontier.
Reference
The Promise of Deep Gas in the Gulf of Mexico; OCS Report MMS 2001-037; US Department of the Interior, Minerals Management Service, Gulf Coast Region, 2001.