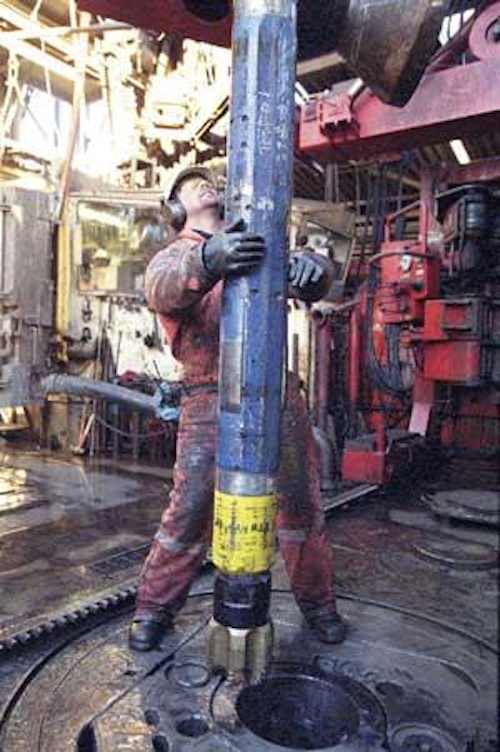 Longest solid tubular expansion
Nederlandse Aardolie Maatschappij BV (NAM) and Enventure Global Technology installed a 6,095-ft, 6-in. corrosion-resistant alloy (CRA) solid expandable tubular (SET) liner in a producing well located in the Groningen field, The Netherlands. This cased-hole liner (CHL) system was installed inside the 7 5/8-in. base casing to improve the productivity of the Eemskanaal-2 well, thus proving a novel retrofit design for "low-pressure" gas wells and setting world records as the longest SET in a single run and the first commercial applications of expandable Cr13 tubulars and Vallourec Mannesmann (VAM) proprietary expandable gas-tight connections (VAM ET-NA 4).
The multiple-record installation came quickly after the July proof-of-concept downhole expansion of Cr13 tubulars and gas-tight connections in NAM's Wanneperveen-2 well. Both CRA SET installations were the result of a cooperative effort among Shell E&P, NAM, VAM, and Enven-ture.
The CRA CHL System installed in the Eemskanaal-2 well was expanded in 7 5/8 in., 39 ppf, 33.7 ppf, and 29.7 ppf casing, with elastomer seals in each section. Combined mechanical and hydraulic forces used to expand the chrome pipe by 9.8% averaged 92,000 lb. Post-expansion inside diameter (ID) of the 6-in. 18.6 ppf CRA liner was 5.92 in., compared to a pre-expansion diameter of 5.39 in., while post-expansion burst and collapse were estimated at 7,000 psi and 4,000 psi, respectively. Overall liner length was reduced from 6,095 ft to 5,869 ft as a natural result of the expansion process.
As of October, 91 installations have been performed with expansion of more than 88,000 ft of pipe and more than 2,300 connections for 35 operators globally.
Drilling system surpasses milestone
The AutoTrak system from Baker Hughes Inteq has reached a significant milestone. The rotary closed loop drilling system (RCLS) has drilled a cumulative distance exceeding 1,000 mi since its introduction in 1997.
The system is a step improvement in drilling efficiency and is capable of delivering exceptional hole quality. The system enables operators to drill designer 3D profiles and extended-reach wells that would not be feasible without high-precision closed-loop steering. Using fully integrated, wireline-quality logging-while-drilling sensors, the RCLS places wellbores in the optimum position within the reservoir for improved production and extended well life. Compared to conventional drilling systems and methods, it is estimated to have saved operators $500 million in overall wellbore construction costs since its commercial introduction.
Recently, a third-generation AutoTrak G3 system was introduced in the Norwegian and UK sectors of the North Sea. The G3 system is a fully modular, automated, bottom hole assembly consisting of a steering unit, formation evaluation sub, and a two-way communications module.
Well visualization
A newly developed well visualization software program interfaces with existing IT programs to produce custom reports and well diagrams of a broad range of wells.
Corporate IT infrastructure often isn't compatible with well diagram drawing or reporting software. Producing well diagrams with corporate IT software may require the use of a variety of unrelated software programs and re-creation of drawings and spreadsheets.
StringView Millennium software developers kit by AnTech Oilfield Software of Exeter, England, uses existing data – engineering drawings, databases, or spreadsheets – to create well diagrams and reports. The software assists in creating professional, customized string diagrams of multi-lateral, vertical, deviated, and horizontal wells, as well as single and dual completions and multiple strings. Diagrams can be created using the icons provided by the software or a combination of existing company data and imagery. The primary benefits are:
It embeds seamlessly into the user's existing IT applications
It interfaces with the user's existing IT infrastructure, making it possible to manipulate existing digital data and resources to produce well diagrams
The quality of the visual presentation is unrivalled because of the vector-based graphics that do not degrade when stretched or curved.
The software can bring well diagrams directly to the user's applications from an existing database. Users can construct a well diagram using a spreadsheet, picking well components with the user's data attached, with the resulting well diagram appearing on the spreadsheet. Alternatively, data can be extracted directly from an existing database and combined with the component library to produce a well diagram, complete with logos and data tables reflecting the user's designated company product.
Portable, precise monitoring
New technology from Shell Global Solutions Improvements can precisely monitor solids during offshore operations by using direct, on-line filtration techniques, the company says. The units provide a well flowline monitoring program that uses non-intrusive, cost-effective techniques to sample fluids and filter solids as small as 10 microns. The units can determine the type and content of suspended solids, including sand, proppant, corrosion/erosion products, and organic deposits, to minimize expensive downtime.
Known as SandBox, the unit is available in both portable skids and the suitcase-sized model. These devices were developed specifically for offshore applications and can be transported via helicopter. SandBox detects the physical presence of solids in flowing wells via filtration at process conditions, whether they are small or large. Conventional methods are usually limited to detecting particles that are 50 microns or larger. Other systems are designed to alert for changes in solids production and may mistake a gas slug with sand if not properly calibrated. In addition, there is typically a minimum concentration of solids beyond which these detectors are ineffective.
Technology applications include the monitoring of:
Sand for type, size, and content
Wells for safe operation
Location, source, characteristics, and visual identification of solids
Flowlines to assist well ramping
Erosion and corrosion to reduce expensive, unscheduled downtime.