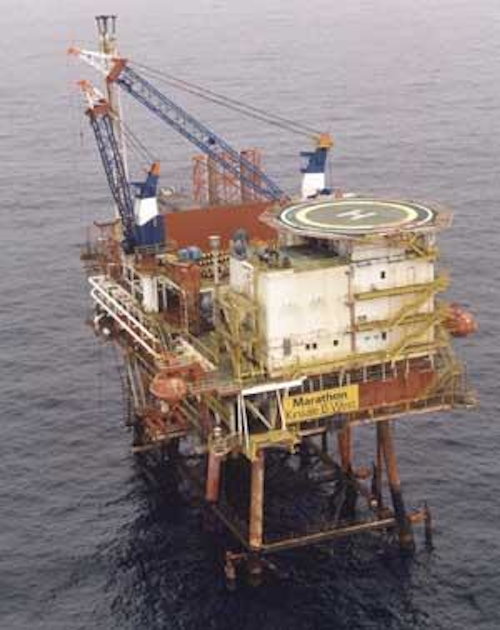 Norway pitching mature acreage
Norway's oil ministry is inviting bids for 109 blocks and part-blocks in the North Sea under its latest licensing campaign. The proposed acreage is unlikely to hold major surprises, but it is thought to hold potential for small to mid-size discoveries that could be developed through the locally extensive network of platforms and pipelines.
Exploration has tailed off sharply in Norway this year, with Statoil virtually the lone practitioner. In fact, Statoil has managed 10 successes out of its 12 wells on the shelf in 2002. One of the latest was Dolly, a 30-MMboe find 8 km west of the Gullfaks A platform, drilled by the semisub Deep Sea Trym.
This was overshadowed, however, by Statoil's latest appraisal well on Tyrihans South in the Norwegian Sea, drilled by the semi Stena Don in 270 m of water. This has proved up an extra 100 MMboe in the Tyrihans structure, now estimated to hold 350 MMboe. But despite the upgrade, Statoil will likely stick to its original plan of a subsea solution, connected to the Åsgard complex 30 km to the north. Timing may depend on BP's plans for Skarv, which is also vying for spare capacity in the Åsgard gas transportation system.
Deepest line in Norwegian fjord
Stolt Offshore will set a new depth record next year – 582 m – for a pipeline in Norwegian waters. The Seaway Falcon pipelay vessel will install a 46-km, 11-in. diameter line for distributor Lyse Energi to take gas from the terminal at Karstø on the southwest coast to Risarika, near Stavanger. This will also be Norway's first offshore gas line dedicated to its domestic market. Users will include tenants of an energy park, which Lyse plans to establish in Risarika, in partnership with Statoil and Shell. Stolt has also clinched a $60-million order for Nork Hydro's Vigdis extension project, 170 km northwest of Mongstad. The remit includes installing 6-in. and 12-in. water injection and production flowlines and umbilicals between two undeveloped satellite structures and Vigdis' existing subsea facilities.
Offshore southern Ireland, Marathon will drill a new development well into the Greensand reservoir, 7 km southwest of the Kinsale Head platform. The well will be tied in via a 10-in. sea line and will be controlled through an extension to the existing electro-hydraulic umbilical that controls Southwest Kinsale's gas storage wells. It will also boost throughput from the Kinsale fields from 65 to 90 MMcf/d.
$6 bn development boost for UKCS?
Analysts Wood Mackenzie have identified 27 probable field developments over the next three years on the UK continental shelf (UKCS), with estimated combined capital expenditure of $6 billion. Of these, by far the largest is EnCana's 500 MMbbl Buzzard oil field in the Central North Sea, a platform-based project assumed to cost nearly $1.6 billion. Nine other developments are expected to need minimal facility platforms, with at least four exporting production long distances to existing infrastructure – the longest assumed to be Shell's Carrack, at 87 km. Reserve yield across the portfolio is potentially 715 MMbbl of oil, 4.6 tcf of gas, and 244 MMbbl of liquids.
One on the list that has definitely been approved is Tuscan Energy's Ardmore, a redevelopment of the Argyll oil field abandoned "prematurely" by BHP in 1992. Tuscan aims to extract up to 25 MMbbl in the first two years of production using high angle production wells that were not available for the original development. These will be drilled by jackup Rowan Gorilla VII, which will also serve as the production facility.
WoodMac's overview came out too early to factor in Talisman's J-1 discovery, 10 km northeast of Buchan. The well yielded a 164 ft gross oil column at a flow rate of 6,600 b/d of oil and 7.7 MMcf/d of gas. Two successful sidetracks were also drilled, with early estimates putting the find between 40 and 70 MMbbl. Talisman plans further exploration drilling in this area in 2003. BG also found additional gas within its Seymour West prospect – the well is being incorporated into its current Armada Phase II development.
Dutch tax reverse
The Dutch government is currently in a state of flux, and so is the country's offshore fiscal system. The latest proposal, from the administration in office in September, was to remove the right to "depreciate at will" Dutch upstream offshore investments. Effectively, that would prevent operators from writing off any capital spending on investments after the end of 2002.
Depreciation at will was introduced in 1998 as an incentive to both exploration and development. It was followed by a reduction in production profit tax, and a rule change that admitted the state (EBN) to participate in exploration licenses, thereby sharing the costs, instead of merely backing in to production licenses. These moves had a positive impact on the sector and may have encouraged the aggressive newer players such as Gaz de France and Clyde. However, the new punitive measure, as WoodMac points out, could have the same draining impact as this year's sudden 10% hike on the UKCS petroleum tax. The Dutch parliament was due to debate the new proposal in November.
DONG broadens options for Stine
In the Danish North Sea, state oil company Dansk Olie og Naturgas (DONG) is considering adding a third new satellite platform to its Siri area complex, which it recently assumed control of from Statoil. The latter had in mind a two-well subsea scheme for its segmented Stine discovery, just northeast of the Siri central platform. DONG, however, reportedly sees potential for four producer/injector wells, a scenario that would favor a small platform in terms of economics. It recently commissioned platforms for two much longer tiebacks to Siri, on the Cecilie and Nini fields.
Elsewhere in this sector, the well DONG drilled for Amerada Hess on the promising Oscar prospect drew a blank. Another well, drilled by the same team to appraise a possible extension into UK waters of Amerada's Faeroese Marjun discovery, found non-commercial hydrocarbons. Evaluation work will continue next year.