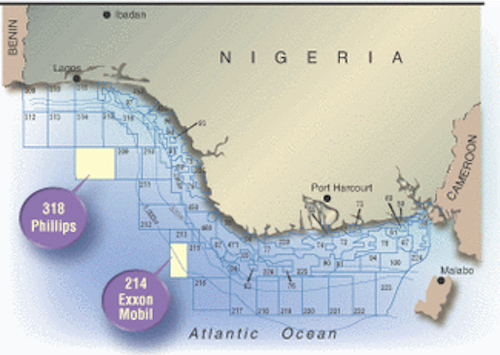 ExxonMobil, Phillips sign into Nigerian deepwater
After 18 months of negotiation with the state-owned NNPC, supermajor ExxonMobil and Phillips have signed for two deepwater blocks in the Niger Delta. ExxonMobil took OPL 214, and Phillips OPL 318. ExxonMobil will operate OPL 214 with 55% ownership, along with partners ChevronTexaco, 30%, and NPDC, a subsidiary of the NNPC, 15%. Phillips will operate OPL 318 with 50%, with partners ChevronTexaco, 30%, and NPDC, 20%.
The blocks had been the object of controversy late last year, when the Nigerian press speculated that ExxonMobil and Phillips had withdrawn their offers due to a change in production split. NNPC did not deny the report, leading to more speculation, as the state-owned company said it was ready to take up the operatorships of both leases if the American companies wanted out.
JDZ acreage to go in 3Q
Nigeria has formally announced that the joint licensing round in the Nigeria/Sao Tomé Joint Develop-ment Zone will take place in 3Q 2002. The zone straddles deepwater acreage in the two countries.
Rilwan Lukman, presidential advisor on petroleum matters and former OPEC president, remarked in the capital Abuja recently that the bidding previously scheduled for August is expected before the end of September. Eight of the 25 blocks in the JDZ will be offered in the first round. The JDZ, which covers 60,000 sq km, could yield more than 10 Bbbl, according to the report of a consortium of seismic interpreters who looked at a coarse 2D seismic survey of the zone last July. The evaluation was conducted in Landmark's offices in London.
Several majors have expressed interest in bidding for the blocks, each of which is likely to be 2,000 sq km in size. In the last two months, officials from TotalFinaElf and ChevronTexaco have visited Sao Tomé and Príncipe to express interest to STP President De Menezes.
Although Nigeria has an active deepwater exploration and development campaign, Sao Tomé and Príncipe does not. This round will be the first time that STP offers deepwater blocks.
Previously, ExxonMobil was contracted to evaluate 22 blocks in deepwater STP under a technical evaluation agreement. The company was to have a right of first refusal on any of the blocks, but some fell in the acreage that Nigeria claims, leading to the formation of a JDZ to administer the disputed areas.
Nigeria sticks with OPEC
Nigeria's Rilwan Lukman, the presidential advisor on petroleum, has reiterated the point that Nigeria "has no intention to leave OPEC."
Lukman spoke at the Society of Petroleum Engineers' annual conference in Abuja last month less than a week after addressing a world press conference on the issue.
The former OPEC president was responding to a July 21 report by British Independent newspaper that the country was about to leave the oil producers' cartel. Independent's news report had come about the same week that President Bush's assistant secretary of state for African affairs was visiting Nigeria and Angola and speaking of America's increasing interest in the oil reservoirs of the West African region.
His statement followed widespread rumors in the Nigerian oil industry that America was pressuring Nigeria to leave OPEC. The US is known to be keen on diversifying from Middle East imports.
"The purpose of the organization remains the protection of the vital interest of its members by ensuring the stability of the oil market and maintaining fair and equitable oil prices," Lukman said.
The pressure to leave OPEC comes amid plans by Nigeria to ask OPEC to increase its quota, currently 1.79 MMb/d. Quotas are allocated on the basis of reserves, population of the country, and other criteria. Even though Nigeria's reserves have doubled from 16 Bbbl of oil in 1986 to 32 Bbbl in 2002, the allocation has been increased by only 50%, from 1.3 MMb/d in1986 to 2.2 MMb/d in 2000. Even so, shortfall in demand forced OPEC to reduce the quota to 1.79 MMb/d last year.
Meanwhile, Nigeria's population has increased in those 16 years from 100 million to 120 million. Lukman told the SPE conference that Nigeria's reserves are projected to grow, "by some 3 Bbbl to 35 Bbbl by the beginning of 2004."
Most of this increase will come from deep-water, which has shown strong growth in the last five years and is responsible for at least 4 Bbbl out of the 16 Bbbl increase in 16 years.
"Nigeria's crude oil producibility is expected to grow from 2.6 to about 3.3 MMb/d by the beginning of 2004," Lukman said. "These figures exclude condensates and NGL volumes, which together are currently in excess of 200,000 b/d. Even with all these figures, the current under demand, as well as OPEC's recent commitment to quota discipline, may make it difficult for Nigeria to get the increased allocation it wants. Other members will not be prepared to give up market share, particularly those that would welcome a quota increase, such as Algeria. Lukman is undaunted.
---
Correction
In the August issue of Offshore it was reported that Allied Petroleum had relinquished OPL 210 offshore Nigeria. In fact, Allied has received government approval for the conversion of OPL 210 to OMLS 120 and 121. Allied is currently in the process of initiating a development operation on this block for the previously discovered Oyo field, which is expect to contain 80 MMbbl of recoverable oil.