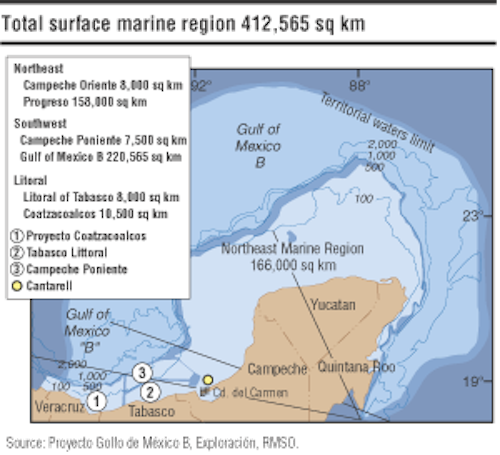 David Shields
Correspondent
Due to its vast proven oil reserves in the shallow waters of Campeche Bay, pro-ducing more than 2 MMb/d, Petroléos Mexicanos (Pemex) hasn't had incentive to explore and develop reserves in deepwater Gulf of Mexico. Restrictive laws on the exploitation of hydrocarbons, which remain a state domain, have also prevented international majors from getting involved in Mexico's deep-water development potential.
That is likely to change over the next two decades, however, says Fabio Barbosa, a professor at the Institute of Economic Research at Mexico's National Autonomous University (UNAM) in Mexico City.
"The Vicente Fox government's goal of increasing total domestic oil output by 30% to 4 MMb/d by the year 2006 will in itself force Pemex to look seriously at deepwater plans, as producing fields onshore and in shallow waters decline," Barbosa says.
Light crude output in fields such as Abkatun, Caan, and Pol in Campeche Bay are declining significantly. The Cantarell field, Mexico's only super-giant, has become the mainstay of the country's output, with close to 1.8 MMb/d coming from this field alone.
"However, Cantarell could well begin to decline in this decade, and Pemex has nothing with which to replace it," Barbosa says. "Pemex has had an incipient interest in deepwater for about a decade now, but we can expect it to look at new areas with much greater urgency from now on." Barbosa has documented Pemex's reluctance in recent years to create a deepwater strategy.
High-profile negotiations from 1997 to 2000 between Mexico and the US on treaties to define both nations' exclusive economic zones, as well as exploration rights in the Western Gap, have been a catalyst in creating Mexican interest in deepwater issues, Barbosa says.
One example of this interest was a proposal in 1998 by Pemex's Exploration & Production division (PEP), which focused on a strategic plan for the deepwater Gulf of Mexico. In March 1999, it defined three areas for exploration, called Coatza- coalcos, Campeche Poni-ente (Campeche West), and Deep Gulf of Mexico B, all in the southeast Gulf. Pemex invested $1 million to find the first drill site for Deep Gulf of Mex-ico B.
The flurry of interest also led to a decision by PEP to carry out three exploratory studies, def-ine a location, and drill the first exploratory well in the Perdido Folded Belt, which would be close to the Baha and Trident prospects on the US side in ultra-deepwater at Ala-minos Canyon, says Bar-bosa.
"Although drilling on that location has never actually gone ahead, there are references to it in Pemex literature, and the site was apparently to be known simply as PEP," he said.
Since 1998, Pemex's first maps of the "new oil geography" in the Gulf of Mexico have been presented at several international conferences. PEP officials Pablo Cruz-Helu and Javier Meneses presented plans of what they called "new oil-bearing areas of Mexico" at the Annual Convention of Petroleum Geologists in Salt Lake City, Utah, in May 1998. Although some familiar names, such as Veracruz and Coatzacoalcos, were used to describe the new areas, they were offshore zones never before seen on Pemex maps.
New offshore zones
The following areas on the continental shelf were shown:
Lamprea, presented as an extension of the Arenque jurassic play
The Veracruz Marine zone, a continuation of the Veracruz onshore tertiary province
The Coatzacoalcos Marine zone, with potential in 650- to 1,650-ft water depths.
Then, another four areas were identified on the continental slope, running from north to south:
The Mexican part of the Perdido Fold Belt
The Mexican Ridges, north
The Mexican Ridges, south
Campeche deepwater, which is the Camp-eche Bay extension of the producing area into deepwater (above 650 ft water depth).
"Ever-growing domestic demand, the need to remain in the world oil market, and the advantage of having as its territory one of the world's three largest oil-producing provinces, the Gulf of Mexico (has) encouraged Pemex to develop a visionary exploration plan," Cruz-Helu and Meneses said in their presentation.
"The number of potential deepwater prospects ellipse quoted by Pemex officials grew in the ensuing months," says Barbosa. In 1999, Jose Antonio Ceballos, general director of PEP at the time, said the company had acquired 11,000 km of high-resolution seismic data, with plans to gain greater knowledge of the continental slope, the Abyssal Plain, the Sigsbee Deep, areas of saline intrusion, and the Campeche Escarpment. Pemex officials began to talk about the new seismic data having allowed them to outline a new panorama in the nation's hydrocarbon potential.
In 2000, during a hearing on the Western Gap, Ceballos ventured forth with some figures that Barbosa says came as a surprise to Mexi-can oil-industry observers.
"Pemex bought seismic data on water depths ranging from 650 to 9,000 ft. The interpretation has allowed us to identify a folded belt of 190,000 km, in which structural alignments of up to 150 km in length have been defined, allowing for estimates of non-discovered resources of about 59 Bboe accumulated in Tertiary and Mesozoic rocks," Ceballos announced publicly.
A slightly more conservative estimate, by Roberto Flores Lopez, a former Pemex geologist who now belongs to the Group of Engineers Pemex Constitution of 1917, puts potential non-discovered resources in the new areas of the Gulf of Mexico at 43 Bboe.
At the Offshore Technology Conference in Houston in 2000, a Pemex official, Rafael Navarro, presented a collective paper that briefly went over project options in the GoM. It pointed out a need to have feasible technical and economic scenarios of the different prospects.
In 2001, at a public hearing in the Mexican Chamber of Deputies, Navarro made proposals for tax breaks on deepwater exploitation and for making minimal investments in deepwater blocks in the Gulf, from which Pemex could get access to key information. In August 2001, Eduardo Guzman, who took over as head of exploration at PEP, presented an updated map of the deepwater areas to the American Association of Petroleum Geologists and the Houston Geological Society. It referred to the following areas: Rio Bravo Delta, Allochtonous Salt Belt, Perdido Folded Belt, Extension Belt, Mexican Ridges, Deep Gulf Saline, Veracruz Canyon, Abyssal Plain, and Campeche Escarpment.
Coatzacoalcos project
"There is clearly political pressure to look at deepwater production," says Barbosa. In a year 2000 advisory document to the incoming Vicente Fox administration, PEP pointed out, "for over 20 years, Pemex has been developing fields in shallow waters of less than 100 m in the Gulf of Mexico. However, the productive basins are now mature, and it is ever more difficult to incorporate new reserves. Pemex is thus obliged to explore in deepwater."
Another important step was a proposal put forward by Jorge Nieto, the administrator of the Tabasco Littoral offshore region, and other young scientists at PEP to develop prospects in the Coatzacoalcos project, which is currently among the most immediate offshore options being considered by Pemex. This project refers to exploration in a 13,000-sq-km area, mainly in shallow water, but partly in deepwater, off Mexico's eastern coast near the city of Coatzacoalcos-Pajaritos.
Nieto and his team wrote that in the traditional offshore areas in shallow waters, "discovering easy oil is becoming ever more difficult," so they proposed creating a task force of Mexican specialists to draw up a long-term program to develop fields located in the deepwater Gulf of Mexico.
According to Barbosa, the Coatzacoalcos project is already causing some excitement about Pemex venturing into new offshore areas in the coming years. "Even if most of the work may once again be in shallow waters, there appears to be a significant deepwater component, based on the Tascoob-1 discovery in 640 ft water depth," he says.
Meanwhile, some modest progress has been made in deeper water drilling, other than Pemex's usual ventures into the Campeche Bay producing area. Pemex drilled Ayin-2 at 630 ft, Tascoob-1 at 640 ft, and Chuktah-1 at 1,260 ft. Some other Pemex plans, such as the Strategic Gas Program, a high-profile effort at producing non-associated gas, refer to Lankahuasa as a new hydrocarbon-producing area in the Gulf. However, Lankahuasa is entirely in shallow water.
At an AAPG meeting in Houston, PEP subdirector Alfredo Guzman acknowledged that Mexico intends to move into deeper Gulf of Mexico waters over the next few years. "It won't be this year, nor next year, but we could drill in 2004," he said. Pemex's exploration forays would likely be in 1,650 ft water depth.
Long-term outlook
As long as the constitutional restrictions on oil and subsoil ownership, as well as Pemex's ever present financial needs remain unresolved, it would be speculative to say that Pemex is about to actually do something in deepwater, says Barbosa.
"However, I would expect the first drilling work, leading to evaluation and incorporation of reserves, to occur by 2006. By 2015, it is very possible that there could be a boom in production in Mexican deepwater in the Gulf of Mexico with a role for international oil majors in drilling, laying pipelines, and building processing plants," he added.
Indeed, Luis Ramirez Corzo, currently general director of PEP, has defined characterization of Mexico's deepwater potential as a medium-term goal for the company. He added that "significant expansion of exploratory activity towards deepwater in the Gulf of Mexico and other frontier areas, taking on major geological risks" is one of Pemex's long-term goals through 2020.
This will oblige Pemex to use state-of-the-art technologies and the best practices in industry. It will also mean developing a first-class team of professionals committed to developing the nation's oil potential, as well as a better fiscal deal and true administrative autonomy from the federal government, Ramirez Corzo said.
Barbosa sees emerging policy in the Fox administration to modernize Pemex, to compete and to develop its own technology to some degree, thus taking on a proactive role in the globalization framework. A stronger Pemex, more autonomous from the government, will require a better tax deal that will allow it to reinvest much more of the nation's oil-export revenues, which are currently siphoned off by the federal government, allowing Pemex little leeway to invest. Pemex would thus have more money for exploration, production, research, and development and would be able to accomplish more on its own than it currently does.
The other scenario would be a not-so-successful attempt at strengthening Pemex, which might remain cash-starved and hostage to the finance ministry. Even then, in Mexico, where public opinion on oil-related matters is staunchly nationalistic, the state-run oil company would probably continue to exist, but would be limited to administrating and monitoring some kind of concession, production sharing contracts, or integrated service contracts that would allow oil-industry majors to get involved in Mexico's deepwater key tasks.
Oil majors are clearly indispensable in deepwater. However, there will always be political resistance to their presence and to a major role in production, given that Pemex is a national symbol. Thus, companies will have to be sensitive to this atmosphere of myth and national pride, and, if need be, be ready to put a Mexican flag on their helmets rather than a US flag or a company logo.
Concessions and contracts from Pemex, and perhaps even some kind of strategic associations with the state-run companies, may be a way for oil majors to get into the Mexican part of the Gulf. Due to Mexican sensitivities, contracts might not be as attractive and risk- and reward-oriented as they are elsewhere in the world. But Mexico seems to be warming up to a formula that will allow deepwater exploitation. The global oil industry will be interested and ready to get involved.