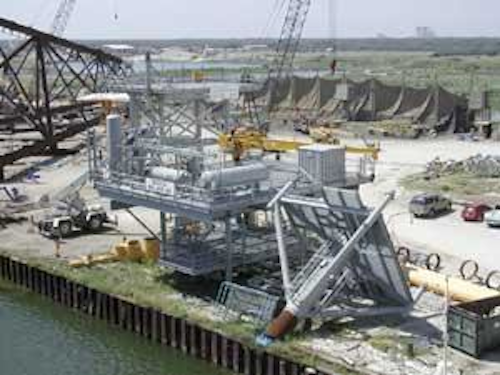 Jennifer Pallanich Hull
Gulf of Mexico Editor
Operators stretch their dollars, holding on to the money where they can. At the other end of the spectrum, fabrication yards along the Gulf of Mexico coast are searching for ways to make a profit. Prices for structures in the GoM have changed very little, while the costs involved in fabricating these pieces continues to increase. And overseas yards have stepped up competition, sometimes luring work away from US fabricators. State Service Co. Inc., Gulf Marine Fabricators, and J. Ray McDermott are all looking at ways to keep the projects flowing into the Gulf.
The jackets SSCI's Ingleside, Texas, yard fabricates are primarily destined for the outer continental shelf in waters less than 400 ft. The decks typically do not exceed 1,000 tons. Many of the projects consist of well protector structures or structures designed to house test facilities. Configurations may range from four piles to freestanding caissons. The majority of projects are destined for production of natural gas, located throughout the GoM.
"There's a lot of infrastructure in the Gulf already, so the need for production facilities has dropped somewhat," Jeffrey Little, SSCI vice president, said. SSCI is also seeking a niche in deepwater to expand its capabilities.
The company's design engineering staff sets it apart from other GoM fabricators, Little said. SSCI has developed a modular approach to many of its project components. This, along with a standardization of common components and relationships with key vendors is instrumental in ensuring the rapid project turnaround required by today's operators, he said. The company has focused on efficiency and integrating the engineering and fabrication sides of its business, Little said. To that end, the company has outfitted its yard with newer technology, including the ability to cut components using computer numerically controlled equipment.
"The way SSCI and fabricators in general have been able to continue in the last 10 years is to get more efficient," Little said. Structure prices have remained fairly steady over the last decade, he said, despite fab yards facing tariffs up to 30% on tubular steel imported to the US, a measure announced in March by US President George Bush in a bid to save the ailing steel industry.
National and imported steel prices escalated following that move. Little said it is difficult to forecast where prices will go for materials. Other issues yards along the Gulf coast are facing are limited skilled labor and rising insurance costs.
"But market prices for what we do haven't really been able to move up much, if at all," Little said.
Because the market is not allowing prices to increase, he said, the company has focused on improving its efficiency in an effort to maintain a margin. Many changes at the fab yard are incremental, but they add up, he said.
The yard is not in the business of competing with yards outside the Gulf coast, Little said. Competition by larger fab yards with overseas locations occasionally affects the 13-acre yard, he said. If one of the larger Gulf coast yards loses work to a firm outside the area, he said, the larger firm might seek work traditionally considered the domain of fab yards like SSCI. When work picks back up, however, those projects may be subcontracted to SSCI, he said.
SSCI's Ingleside yard was at capacity until September, he said, but work tapered off as the summer construction season waned.
"We try to level out dips in our manpower requirement by building modular components for stock," Little said.
The approach complements SSCI's strategy of having components in stock to meet timeliness requirements by operators. Little said the Ingleside-based company hopes to expand that strategy into larger structures and facilities. SSCI also hopes to double its size in gross revenues over the next five years through expanding its scope of services to meet increasing operator demands.
GMF upgrades yards
The market for most Gulf of Mexico yards is difficult, with low volumes and low margins, said Brinson Miles, president of Gulf Marine Fabricators Inc., a Technip-Coflexip operating unit. Each project is bid very aggressively, he said. The Gulf coast fabrication yard market is cyclical and lacks year-to-year continuity, he said.
"The market has been low but has shown recent signs of improvement," Miles said. "A continuing trend has been the loss of skilled people."
Part of the crunch comes from overseas, particularly Korean, yards, which have taken a lot of work that was traditionally done on the Gulf Coast, he said. This is especially true for large topsides projects.
"Continued improvement in work activity is the best cure," Miles said.
He said it would also be helpful if other countries followed the US example by opening, and keeping open, their markets to outside fabrications, such as jackets and topsides, with less insistence on local content pressure on operators.
Failure to overcome these challenges will lead to consolidation – or closure – of the fabrication yards along the Gulf coast, he believes.
One method GMF is using in the face of challenges is upgrades at its two fabrication yards. At the Aransas Pass, Texas, yard, new facilities are being installed to efficiently produce large diameter tubular products from the pipemills. This includes new rolls and specialized fitting and welding equipment. In the Ingleside, Texas, yard, a new lifting winch for the 4,000-ton crane was installed, and a new heavy-duty large-diameter pile rack is being installed for the production of suction anchor piles and cell Spar tubes. Tubulars up to 25-ft in diameter and 250-ft long can be produced efficiently from this facility.
Now in progress at the two yards, three miles apart from each other on the Intercoastal Waterway, are Atlan-tia/Elf Matterhorn topsides integrated deck for the GoM, the BP Holstein truss/soft-tank for truss Spar and suction anchor piles for the GoM, the ABB/ ExxonMobil Kizomba TLP tendons for offshore West Africa, two jackets and decks for Marathon Oil Alba for offshore Equatorial Guinea, and a tripod for W&T Offshore for the GoM.
As of mid-October, GMF employed more than 1,000 employees and 100 subcontractors, including the 250 new hires who signed on between June and October. Miles expects the employee ranks to swell by another 250 and the subcontractor number to double by April 2003 as projects slated to start construction in November gear up. Up next are the Daewoo/Chevron Sanha eight-pile jacket for offshore West Africa and the Kerr-McGee Red Hawk cell Spar hull and topsides for the Gulf of Mexico.
GMF is proud of its new cell Spar product line. The technology creates a new means for operators to develop previously uneconomical deepwater oil and gas fields. Miles says this breakthrough expands the fabrication market for GMF. The cell Spar is a truly US built hull and topsides, Miles said.
He said GMF is diversifying its revenue stream with new product lines, including suction anchor piles, cell Spars, and other new products being developed by Technip-Coflexip's R&D team, like the extendable draft platform.
"Steady investment in facility improvements, such as the new numerically-controlled beam-cutting machine, helps to keep our yard steadily improving productivity," Miles said.
J. Ray yards ring the coast
The approach J. Ray McDermott has taken is to allow its three yards along the Gulf of Mexico to complement each other.
The Morgan City, Louisi-ana, yard sprawls over 300 developed acres. The yard's 1,050 employ- ees have recently focused on three jackets for BP. By the beginning of 2003, said Frank Smith, vice president and general manager of fabrication operations, Western Hemisphere, the yard anticipates 1,300 employees and 1,200 subcontractors on board, and work on BP projects should continue through the end of 2004. These are the resources needed to deliver the Holstein, Mad Dog, Thunder Horse, and Atlantis projects, Smith said.
"These are huge, huge projects, requiring substantial facilities, capabilities, and access to resources to build the projects," he said.
Smith said Gulf coast yards are now seeing competition from overseas yards for dom-estic and foreign projects. The Morgan City yard has completed several projects for installation in West Afri-ca. "But we're finding a lot of very good competition for West Africa projects," he said.
The Talleres Navales del Golfo (TNG) yard in Veracruz, Mexico, functions partly as a repair yard and partly as a fabrication yard. Right now, the yard's doing about 80% fabrication work and 20% repair. Smith said the goal is to level the fab and repair work out to a 50/50 ratio. With that goal in mind, J. Ray is contemplating restructuring TNG to better accommodate more extensive repair jobs, Smith said. J. Ray said one of the selling points for doing work at the Mexico facility is competitive pricing of products mixed with skilled labor at very competitive costs.
The recently opened High Island facility is an ideal site for drilling rig conversion, or, eventually, FPSO integration. "We're having some growing pains, but we're getting through that," Smith said. "We opened High Island on a project to project basis because we were at 100% capacity" at Morgan City.