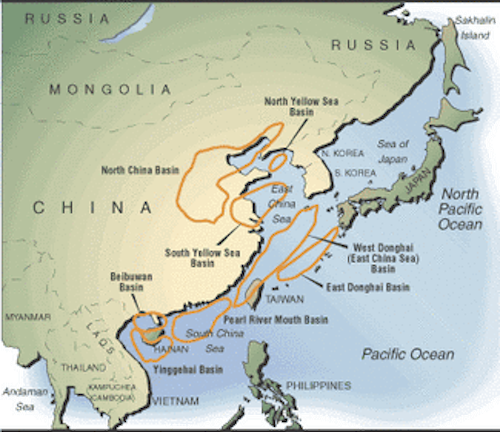 Judy Maksoud
International Editor
China is picking up more foreign partners and increasing investment in offshore exploration and production in anticipation of expanding domestic needs for oil and gas.
An International Energy Agency study predicts that China's oil demand will almost double in the next 18 years to 500-600 million metric tons a year. Gas demand in Beijing is predicted to more than quadruple by 2008, reaching 212 bcf/yr. With the considerable natural gas infrastructure that is to be commissioned in the next few years, gas use will account for up to 8%-10% of total energy use by 2010, according to the IEA report.
China is the second largest user of oil after the US and imports 30% of its oil demand, of which half comes from the Middle East. With continued upheaval in the Middle East, China has decided to reduce its demand on imports from the area. One way of doing so, in addition to increased domestic output, is to look to other suppliers, such as Russia.
In early October, Russia's Yukos announced its intent to increase exports to China. Mikhail Brudno, vice-president of Yukos subsidiary Yukos RM, has said that by 2010, when export volumes reach 33 million tons, Yukos would cover 10% of Chinese demand.
Another way of reducing dependence on imports is for China to develop its own hydrocarbon resources. Recent events indicate the country is rapidly pursuing both solutions.
History
In the past 20 years, a series of hydrocarbon-rich sedimentary bas-ins covering nearly 1 million sq km have been found offshore China. The basins from north to south are:
Bohai
North Yellow Sea
South Yellow Sea
East China Sea
Okinawa Trough
West Taiwan
Southwest Taiwan
East Taiwan
Pearl River Mouth
Beibu Bay
Yinggehai-Qiongdongnan
Basins in the south part of South China Sea.
To date, most oil and gas exploration has focused on the Bohai Bay, Yellow Sea, East China Sea, and the northern continental shelf of the South China Sea, where estimates place oil reserves at 27.53 billion tons and gas at 10.6 bcm. But recent developments have moved exploration into new areas.
Expanding production
In a corporate statement early this year, China National Offshore Oil Corp. (Cnooc) announced it would focus on growing production, executing development plans, and adding reserves through exploration this year. Natural gas (including LNG) will continue to be one of Cnooc's core business priorities. The company further committed to drilling 40 wells this year, between 20 and 40 of them with partners.
Developing gas fields
In late March, Cnooc began developing gas resources in the East China Sea's Xihu Trough with partner Sinopec Corp. An operating company formed at that time, the East China Sea Xihu Oil and Gas Operating Co., will oversee the overall development of the region, with Cnooc Ltd. serving as the operator. The Xihu Trough covers 59,565 sq km and includes a number of discoveries (including Chunxiao, Tianwaitian, and Duanqiao gas fields and the Canxue oil and gas field) holding estimated reserves of 500-800 bcm of gas. The original project plan was for the gas fields to be developed first, with first production slated for yearend 2004. The first stages of field development are scheduled for late this year. The project also involves further exploration activities.
Cnooc is also looking to the South China Sea to contribute to its gas production. Of the three fields to begin production this year, two are in the Bohai Bay off China's northeast coast, and the third is in the South China Sea.
Royal Dutch/Shell Group plans to invest over $3 billion in energy projects in China by 2005 and will focus on the natural gas sector. Shell will soon finalize a production sharing contract with Cnooc on joint natural gas development in the East China Sea and will have a 20% stake in the $2-billion exploration and development project.
Foreign acquisitions
In April 2002, Cnooc purchased the Indonesian assets of Spain's Repsol-YPF for $585 million. The acquisition "offers the company immediate access to a world-class gas project with world-class partners," said Cnooc Chairman Wei Liuch-eng in a company statement following the acqui- sition.
Four months later, Cnooc announced it would buy a 5% stake in Australia's North West Shelf gas project for $320 million. When finalized, this acquisition will add 1.1 tcf of gas reserves to Cnooc.
Cnooc chose the North West Shelf to supply gas to China's first planned LNG terminal in Guangdong, which will come on line in 2005. The company will have a 25% stake in the China LNG joint venture to supply LNG from Australia. The China LNG joint venture will supply LNG to the Guangdong terminal, which will handle 3 million metric tons a year.
Partners in the venture include Woodside Petroleum, BP, Chevron-Texaco, Shell, BHP Petroleum Pty Ltd. and Japan Australia LNG (MIMI) Pty Ltd., each of which holds 12.5%.
Within China and abroad, Cnooc has teamed with heavy hitters, including BP, ChevronTexaco, Royal Dutch/Shell, and Phillips, to increase oil and gas reserves and to secure China's future energy supplies.
Cnooc is now in exclusive talks with BP to buy into the Tangguh gas field off Indonesia, which would supply LNG to a planned terminal in China's Fujian province. The LNG supply deal is expected to be for 25 years and will involve the supply of 2.5 million metric tons of LNG a year to the Fujian plant in southeast China.
Forging new ties
Cnooc is actively looking for exploration partners. One of Cnooc's newest partners is Taiwan's state-owned Chinese Petroleum Corp. In April of this year, Taiwan's top China policy-making agency approved a proposal for CPC to jointly explore the Taiwan Strait with mainland China's Cnooc. In 3Q 2002, the JV was preparing to begin drilling exploration wells in the Tainan basin in the Taiwan Straits. The agreement, which was finalized in late spring, marked the first major joint venture between state-owned enterprises in Taiwan and China. Each company holds a 50% stake.
In August, Taiwan began considering a second joint exploration deal with China that would focus on the Nanri Dao basin, also called the Nanjih Islands basin. Nanri Dao is off the coast of China's Fujian province and is across the Taiwan Strait from Hsinchu city.
More recently, Cnooc announced two prod-uction-sharing contracts with Husky Oil China Ltd. on blocks 23/15 and 23/20 in the Beibu Gulf basin of the South China Sea.
Husky's contractual obligation is to drill and complete one wildcat well in each contract area in the first 3 years of the contract. The two blocks together cover 2,870 sq km, near the Weizhou oil field.
In July, 2002, Husky produced first oil from the Wenchang field in the Pearl River Mouth basin. According to Husky, production from blocks 13/1 and 13/2 exceeds 60,000 b/d, 10,000 b/d higher than original estimates for the blocks.
Husky plans to drill two or three wells by the end of this year or 1Q 2003 on block 39/05, which covers 5,700 sq km near the Wenchang field. Wenchang facilities could be used to develop new discoveries in the block.
Into the deepwater
In late September 2002, Cnooc requested bids from foreign companies for oil and gas exploration and development of 12 new deepwater blocks in the South China Sea. The area, south and east of Hainan Island, covers 76,000 sq km in water 300-2,000 m deep. Cnooc openly invited experienced companies with a history of deepwater successes to partner with Cnooc in developing new deepwater areas. Unlike other countries, such as Mexico, that have restricted foreign participation, China is taking the most direct path forward by offering partnerships to companies that can make the most rapid progress in developing deepwater discoveries.
Cnooc subsidiary Cnooc Ltd. will own all working interests resulting from E&P activity in the new areas. The company already owns interests in 45 oil and gas properties in Bohai Bay, the South China Sea, and the East China Sea.
New discovery confirmed
In mid September, Cnooc reported that its natural gas wildcat well PY34-1-1 confirmed an earlier gas discovery in the PY34-1 area in the South China Sea. Testing showed a production level of 13 MMcf/d. The well is in the Pearl River Mouth basin in the eastern South China Sea.
This latest confirmation indicates that there is a sizable gas accumulation in the region that could lead to cluster development of the area. An earlier discovery in March, YCH13-4-2 in the western South China Sea, yielded 20 MMcf/d.
Seismic
While exploration and production drilling moves ahead, seismic surveys are helping to determine the next areas to see the drill bit. Australia's Roc Oil is half way through its 3D seismic shoot in China's Beibu Gulf. At least one exploration well is already planned for next year when the data have been evaluated.
The survey covers a 42-sq-km area in shallow water block 22/12, 60 km off the southern coast of China in the Weixinan Depression.