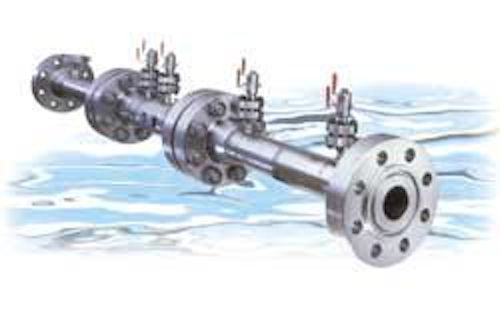 A.S. Downing and P. Daniel
Solartron ISA
J. Lund
Advantica Technologies
Metering costs, as a proportion of total revenue, become more significant as the oil/condensate fraction diminishes. This fact makes it extremely desirable to find a low-cost accurate method of metering wet gas.
Solartron ISA and Advantica Technologies have developed a new wet gas metering technology capable of providing gas and liquid flow rates in a single instrument, with no need for liquid fraction data from a test separator.
Wet gas is a term often used but rarely defined. A broad definition might be "well fluids with a gas void fraction (GVF) of between 95% and 100% by volume." The liquid fraction in these flow regimes may include water, condensate, and injected chemicals.
Complex flow regimes are encountered in multiphase flow that are difficult to predict and are dependent on many factors, including topography. "Annular", "bubble", "slug," and "stratified" are some of the terms used to categorize the flow patterns.
Transition regions exist between these distinct regimes, and the identification and classification of the flow pattern is not trivial. Annular flow is generally considered to be the most characteristic wet gas flow regime, changing to misty flow as the GVF increases toward 100%.
The need to meter wet gas flows may be driven by a variety of considerations. Effective well or reservoir management depends on good well flow data being acquired in a timely manner at a reasonable cost. In offshore fields, either topside or subsea, metering is required for allocation purposes when more than one party is using the same export line or gathering center.
Venturi method
In the 1990s, a relatively simple method of wet gas metering was developed in the North Sea and elsewhere. Based on the classical Venturi system, a metering methodology developed by a number of companies used a correction factor to take account of the influence of the presence of small amounts of liquid in gas.
The methodology usually applied is to measure the gas as if it were dry and then correct this reading using a correlation based on knowledge of the liquid fraction. Commonly used correction algorithms include those proposed by Murdock, Chisholm, and De Leeuw.
While this methodology provides highly accurate measurement, its limitation lies in the fact that the liquid fraction information is based on historical data, and repeated well-testing is needed to keep it up to date.
It was the requirement for a low-cost wet gas meter that did not rely on knowledge of the liquid fraction that motivated development of a new meter, now named DualStream II.
Dual DP approach
The new approach employs two differential pressure (DP) devices to calculate the gas mass fraction (and therefore the liquid fraction), negating the need for test separator data.
The flow measurement process is as follows:
•Flow rate is measured using two DP devices assuming dry gas conditions. These indicated gas rates are used to estimate the gas mass fraction
•The estimated gas mass fraction is used in a Murdock correction to generate corrected gas
•The correct gas flow rate and estimated gas mass fraction are used to generate the liquid flow rate.
The meter design comprises three main elements: an upstream mixer, Venturi and a second DP device.
Field trials of a prototype of the DualStream II were conducted on the BG-operated Armada platform in the UK North Sea between August 2000 and September 2001. The meter is installed on the test line upstream of the test separator, allowing direct comparison with the separator's single-phase meters. The prototype meter achieved gas flow rates to within 2.5% of reference over an extended GVF range 90-99%.
Conclusion
Multiphase flow meters for high flow rate, high GVF applications, especially subsea, are costly and are limited in performance. The dual-DP type meter, based on the simple Venturi, offers a practical solution to this problem that can be applied on a per-well basis for both topsides and subsea applications. Early results from the first commercial installations of DualStream II are excellent.