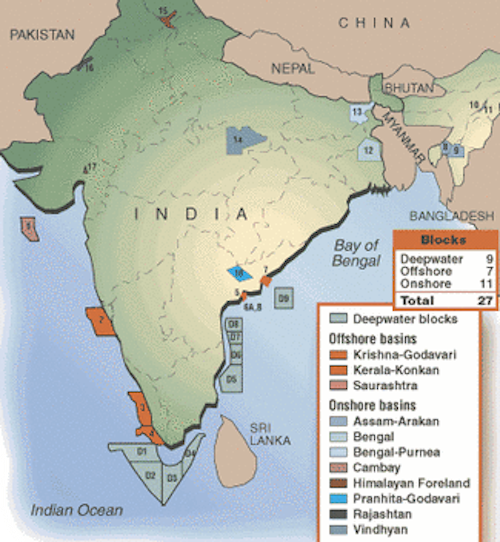 Despite efforts to entice foreign companies to invest in India's offshore, chances are good that India's state-owned Oil and Natural Gas Corp. will remain the produc-tion leader for the foreseeable future. ONGC is the country's largest oil producer and has announced plans to double its reserves by 2020 to 12 billion tons. Of this 6 billion-ton increase, 20 million tons are expected to come from deepwater exploration blocks and oil equity abroad.
ONGC holdings
ONGC has 21 deepwater petroleum exploration licenses. Twelve of these came on a nomination basis, while the rest came through NELP bids. The company has made plans for four deepwater drilling projects (totaling 47 wells) in the Kerala-Konkan, Krishna-Godavary, and Cauvery basins.
At a conference in Houston in June, Santosh Gangwar, minister of state, petroleum and natural gas, explained that the supply/demand gap is growing in India. The country needs gas, he said. New investment terms, according to Gangwar, are designed to make foreign investment appealing.
Petroleum Minister Ram Naik agreed with Gangwar about investment incentives. "We are throwing the bureaucratic red tape in the proverbial dust bin," he said.
Their hope was that newly opened offshore areas would encourage investors from other countries to test the waters offshore India.
"We are on the threshold of discovering oil and gas in new areas off India," said Dr. Avinash Chandra, directorate general of hydrocarbons for the ministry of petroleum and natural gas. Newly surveyed areas show about 50 potential hydrocarbon yielding areas off the southern tip of India, Chandra said.
In April 2002, Petroleum Geo-Services acqu-ired new seismic data in the Lakshmi basin that showed oil reserves beneath the gas. Acc-ording to J.M. Maus-kar, India's joint sec- retary for the ministry of petroleum and natural gas, the total prognosticated reserves off India amounts to 207-244 Bbbl of oil.
NELP III
Promising seismic and better terms should have attracted significant foreign interest in the Indian government's New Exploration Licensing Policy III.
When the bidding closed Aug. 28, eleven companies, including only four foreign firms, had shown interest, but their interest covered a large number of the blocks. No majors were in on the bidding, but Geo Global Resources, Cairn Energy Plc., Premier Oil, and Hardy Exploration and Production bid for 23 of the 27 blocks offered.
India's ONGC is competing against a Reliance/ Hardy consortium for all of the offshore blocks, including nine in deepwater and six in shallow water. State-run Indian Oil Corp., the Gas Authority of India Ltd., and Oil India Ltd. also submitted bids for several blocks.
Awards are expected in late December 2002 or January 2003.
Drilling plans
In mid August, ONGC announced plans to drill 37 deepwater wells over the next two years. According to Bassoe Consultants, the company will drill 10 wells off the east coast and 22 off the west coast. Five delineation wells are also anticipated in water depths ranging from 3,281 ft to 9,843 ft.
Cairn Energy is expected to begin an accelerated drilling program in 4Q 2002. In the first half of the year, Cairn focused on developing the commercial potential of recent exploration successes.
The company announced that the second half of the year would focus on operational activities.
In an interim report, Cairn announced that exploration would continue in the company's holdings off both the east and west coasts. Off eastern India, exploration work consists of reviewing and evaluating data following a successful exploration program on block KG-DWN-98/2, a 100% owned deepwater block in the Krishna-Godavari basin. Cairn had five hydrocarbon discoveries from the five exploration wells drilled in this area. More exploration and appraisal will likely take place in 2003 and 2004.
Off western India, exploration drilling has resulted in five discoveries in the last two years. One of these was the Lakshmi discovery, where Cairn discovered oil in April. Current oil in place estimates are 100 to 300 MMbbl, with estimated recoverable reserves of 66 MMbbl. More appraisal drilling will delineate the potential oil development area under the Lakshmi gas field at the end of this year.
Cairn's Gauri gas field was declared commercial in July of this year, with recoverable reserves of 60 to 200 bcf. Oil was discovered beneath the gas, and appraisal drilling will evaluate the field's potential this year.
More drilling will also take place on the Ravva field in 2003 and 2004. Exploration well results were integrated into the 3D seismic, and a large number of leads and prospects have been targeted for further evaluation.
Privatization
While Cairn forges ahead with a broad drilling program, only time will tell if other foreign companies will join in the search for hydrocarbons off India. While there have been promises to remove red tape, investors will be looking for proof that dealing with the Indian government will not be unnecessarily bureaucratic. One thing working against the Indian government is its inability to move forward with some of its own plans, particularly the plan of privatizing ONGC.
In early September, India's privatization panel met to discuss asset sales in two state-run oil firms, which together hold 40% of the country's $15 billion domestic petroleum products market.
Opponents to the privatization plan believe the government should have control over the firms. In the end, political differences scuttled the privatization plan.
Discussions ended in a decision to defer privatization until December. There is no guarantee, however, that positive news will come by year-end. The failure to reach agreement on privatization brings into question the Indian government's ability to follow through on its objectives. Indian officials in favor of the plan fear that foreign investors will question the stability of Indian policies and the ability of the Indian government to make good on its decisions.