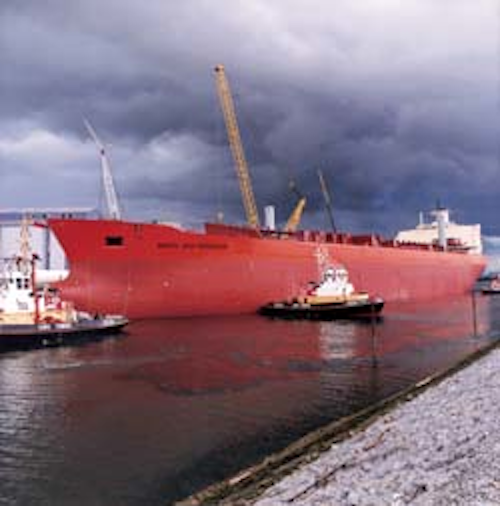 Jeremy Beckman
Editor, Europe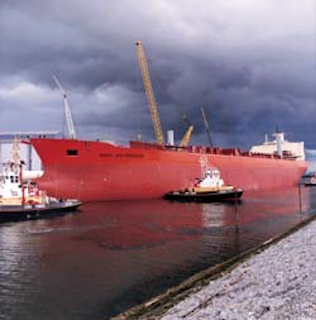 (Left) The recently converted North Sea Producer, formerly a products tanker, at SLP's yard on Teesside, UK. (Right) Artist's impression of the North Sea Producer above the MacCulloch main drilling center.
Speed is the watchword for UK field developers these days. If there's bankable oil out there, let's zap it to the market. This philosophy sea-change has two causes: Drilling technology has advanced to the point that no reservoir is considered too remote or complex and few environments too harsh for development. Second, the advent of low-cost floating production means that monohulls can be rushed to these fields relatively quickly.
So goes the theory. In practice, FPSO construction is still in its teething stage. A cavalcade of yards in Britain are suddenly promoting a new doorstep service of tanker conversion and vessel topsides. They can compete on price with the established sites in Spain, Norway, and Singapore; but coping with ultra-tight lead times for equipment deliveries is something new for them and their subcontractors.
Even experienced FPS yards like Astano can't always legislate for defective equipment, and the subsequent impact on schedules. Leaks in the subsea manifold for the BP Foinaven DCI drilling center have further delayed the project, which was originally penciled in for first oil in late 1995. This has now slipped to October this year at the earliest. The development budget also looks like escalating from the original $360 million to $450-470 million.
Economically, it is not looking like a resounding success for BP or the team of Foinaven contractors. Golar Nor, which will own and operate the FPSO under lease from BP, says that under present terms, the five-year minimum contract will not repay any of the equity invested in the vessel.
Late equipment deliveries contributed to the delays, but the main culprit was probably technology, allowing BP to identify scope for producing 11% more oil. This led BP to request substantial changes in the vessel specs. It now has expanded storage capacity for 300,000 bbl of oil with slots on the vessel for 19 wells tied through production drilling centers.
In recognition of these factors, BP is re-examining the remuneration terms with the contractors, who could otherwise face stiff penalties. But it remains to be seen whether BP's second west of Shetland development, Schiehallion, can meet its ambitious schedules. The newbuild FPSO, under construction at Harland & Wolff in Belfast, will have three times Foinaven's storage capacity, at 950,000 bbl.
The initial keel section has only just been laid, and the project was only sanctioned by the UK government in May. But BP is now aiming for first oil in the fourth quarter of next year, six months earlier than the start-up target in the PDO.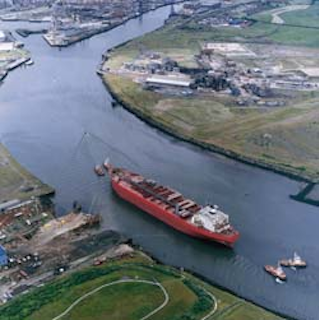 The North Sea Producer is towed out.
Captain marches on
Two fast-track FPSO developments which are managing to be punctual are Texaco's Captain and Conoco's MacCulloch. Both vary greatly in size and complexity, but in their individual ways are impressive feats of speed.
Texaco's Captain lies in UK block 13/22a. Although relatively close to the Scottish mainland in the Moray Firth, the field is remote enough from existing infrastructure to warrant an FPSO with tanker offloading.
Annex B (UK government approval) for the project came in early 1995, and first oil is due out in December. It's a tight target for a 350MM bbl oilfield, involving a newbuild FPSO and a wellhead platform. But the development itself took 17 years of on/off conceptualizing.
Captain was discovered in 1977 in 341 ft of water. Although the reservoir was identified as a giant, holding perhaps 1.5 billion bbl, there were five key disincentives to exploiting it:
the oil was viscous and heavy (88cp and 20° API), with reservoir pressure of just 1,344 psi and a low gas-oil ratio of 130 cf/bbl.
water breakthrough looked likely to set in early in production, limiting recovery of oil and upping the requirement for water handling.
formation of stable emulsions and high water cuts would necessitate large vessels and special separation facilities.
over 200 vertical wells and multiple drilling centres could be needed.
the oil's high napthenic acid content could make refining pricey.
It was the rise of horizontal well technology that revived the project in 1989, although the second Captain well was drilled that year vertically and completed with an electric submersible pump. The following year, well 13/22a-8 was drilled with a 1,000 ft horizontal section, and that produced 6,500 b/d - nearly ten times as much as the second well.
Texaco then began to get serious. A multi-skilled team was appointed which determined that the field would be viable if 6,000 ft horizontal wells could be drilled and completed in the shallow, unconsolidated reservoir, thereby slashing well and drilling center numbers.
This was proven by a 90-day extended well test drilled by semisub John Shaw, which produced over 11,000 b/d through a purpose-built processing system exporting to a tanker alongside. Results were in general much better than expected: not a drop of water had been produced, and the oil was not as viscous as had been predicted.
Texaco saw no technical barriers then to the world's first development based entirely on horizontal wells. But the economics of the project were yet to be proven. The solution was a staged development to minimize initial capex which involved establishing two drilling centers. The first is located on Area A on the west of the reservoir, where the 10,500-ton wellhead platform built by UiE Scotland is being installed. This will be tied back by a series of pipelines, 1.5 km long, to the Tentech 700 design FPSO built by Astano in El Ferrol, Spain.
The FPSO has storage capacity for 550,000 bbl of oil, tantamount to nine days maximum production of 63,000 b/d. A shuttle tanker built by Astano affiliate Sestao will offload the crude every nine days using a 300 ft long hose.
Area B will involve another wellhead protection platform or a subsea manifold tied back to the FPSO; a decision will be taken six to nine months after first production from Area A, according to Texaco's Captain project manager, Shah Etebar. All the oil will be developed through extended reach horizontal producer and injection wells. Having horizontal water injectors should improve line drive pattern displacement and also avoid mobilization of gas in the recently discovered gas cap.
In time, there could be Area C and D developments. Texaco has plenty of acreage to explore and appraise in the greater Captain area: any finds would likely be tied in as satellites to the FPSO.
Captain is an alliance project involving ABB Lummus Global in London, responsible for the topsides, Astano, UiE and Coflexip Stena Offshore for pipelaying. They are rewarded with a bonus for early delivery: at this point first oil looks to be coming one month ahead of schedule in November.
ABB had completed the topsides engineering prior to project sanction: its brief was "not a Rolls Royce design, just something that worked", says Etebar. The other alliance members were also asked to propose their own work scope, based simply on functional specifications; but they were given freedom to suggest options that meshed their strengths with the existing development details. Texaco wanted to discourage unnecessary changes, says Etebar: "That's what delays projects and pushes up costs."
Pre-drilling of seven horizontal wells finished end-June, four months early. Contracts with better incentives brought drilling times down from 28 to 20 days per well; but thorough reservoir appraisal also helped, cutting out unnecessary operations. Pipelaying was also completed ahead of schedule this April by CSO Apache. According to Coflexip Stena Offshore project manager, Alastair MacDonald, further economy was achieved by using a polypropylene corrosion coating which reduced wall thickness.
Centrilift is providing the electric submersible pumps, including the UK sector's largest ESP to date - 60,000 b/d at 1,250HP - for one of the water injection wells. Reliability is the incentive here: if the pumps fail within two years of service, Centrilift is penalized. It makes more money the longer they keep working.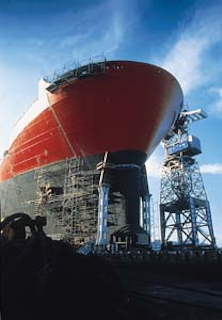 The Captain Field FPSO berthed at the Astano yard in El Ferrol, Spain.
MacCulloch tight fit
Conoco's MacCulloch is the UK's fastest floater project. For a 58MM bbl oilfield, the schedule may not look unbeatable - detailed engineering started August 1995, first oil due out December 1996 - but previous UK FPSOs were subject to plenty of pre-design or post-testing.
That isn't feasible for the project contractor, North Sea Production Co, which is also managing the field facilities on a tariff-based, production service contract. It gets paid solely when first oil comes out. Conoco retains responsibility for the field as the block licence holder, but drilling aside, this is basically a hands-off approach by the operator.
MacCulloch was discovered in 1990 in 150 meters of water in UK block 15/24b. Two appraisal wells were drilled in the ensuing two years. Channeled Upper Balmoral turbidite sandstones of late Palaeocene age surround the reservoir, which is normally pressured, and lies 1,850 meters subsea.
With reserves this small, a platform was considered out of the question. But the emergence of a low-cost, floating production service sector in the North Sea area suddenly made the development look feasible. Mid-size tankers were becoming available for swift conversion, and novel leasing arrangements were shifting the onus of vessel management away from the oil company.
Conoco and MacCulloch co-venturer Lasmo decided to foist responsibility for all the production facilities, subsea included, onto NSPC for the life of the field, expected to be five years. NSPC is a 50-50 venture between SLP and Maersk UK, and they also own the vessel, a converted products tanker named North Sea Producer.
Subsea wells will be tied back to the FPSO using seabed and flexible flowlines and risers. There are two drilling centers: one on the west flank of the reservoir is designed for up to seven wells; another on the east will have two wells. Pre-field start-up, the semisub Drill Star is drilling and completing one horizontal producer in the east and two at the western center, where completion flowbases are also being installed to allow hook-up of the facilities to the FPSO's well slots.
Coflexip Stena Offshore only received the subsea EPIC contract from NSPC in April, but installation must start this month. It is manufacturing all the flowlines, risers, PLEM and production manifold. CSO Apache is also installing the two 35 km pipelines that will carry oil and gas from the FPSO to the Piper B facilities, before the oil heads off to the Flotta terminal and the gas into the Frigg system to St Fergus.
Most other UK FPSOs have offloaded to shuttle tankers. North Sea Producer will have the facility to do this as well, should the pipelines be out of service.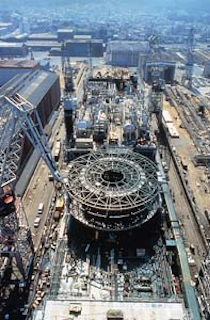 Exposed turret on the Captain FPSO prior to final fit-out.
Engineering timetable
When completed, North Sea Producer will be able to process 60,000 b/d of oil and store 550,000 bbl. It will also have facilities to provide water injection at 72,000 b/d and gas lift/export at up to 24 million cf/d.
Although pre-engineering started last August, NSPC did not receive its all-encompassing contract until November. This made the schedule exceptionally tight for SLP on Teesside, northern England which had 36 topsides packages to commission and install. The pre-contract terms also imposed a strict spending limit on equipment.
At first a one-stop strategy was considered - one yard handling everything - but it seemed more practical in the circumstances to shift the first FPSO conversion phase to A&P Appledore, a ship repair yard further north on the River Tyne. Following drydocking, A&P delivered the vessel to SLP late in June.
Longest lead time for any item is the Brown Brothers swivel, which had to be ordered last August. Other key items are the weathervaning turret from Bluewater, allowing permanent mooring and tiebacks of flowlines and risers to the FPSO; the produced water treatment package (READ); water injection (Baker Hughes); and the subsea control system (Brisco). Conoco is updated monthly on the progress of deliveries.
SLP estimates delivery deadlines are about three months quicker than for Amerada Hess UK's Fife Field Uisge Gorm floater, which also had less kit onboard. However, some time has been saved by reconditioning two turbines and a helideck from BHP's Esmond platform, which coincidentally was being stripped following decommissioning at a site further down the River Tees.
North Sea Producer is designed for a 10-year working life: Conoco has the option to relocate it to another field once MacCulloch expires. NSPC's contract allows for a maximum of 15 days' downtime for maintenance each year. To this end, reliability studies have been performed calculating the minimum of equipment spares that need to be held.
The ship's motions have also been investigated to see how they would affect operability of the topsides plant. Tank tests were delayed because the river site in The Netherlands was occupied by another, giant-size vessel, which didn't help the time factor. Separator tests were also performed at Heriot-Watt University in Edinburgh, which led to some design modifications.
Further time will be saved by starting hook-up almost directly the vessel arrived. As much equipment as possible is being commissioned onshore. For SLP Teesside, this is a tough first floater assignment - but it also justifies a £5 million investment in a new quay to handle production ships.
The MacCulloch Safety Case incorporates the new UK design verification regulations (DCR) which allow the vessel to leave the yard as a ship, then be classified as an offshore installation out on the field with personnel onboard. NSPC is also responsible for emergency response and logistics.
Copyright 1996 Offshore. All Rights Reserved.