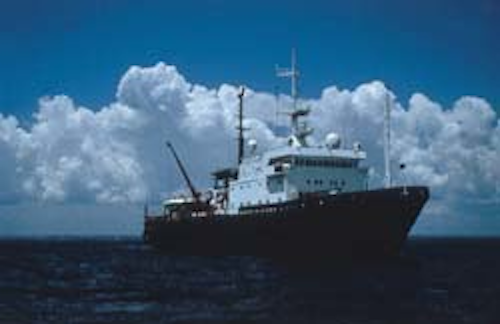 BRIEFS . . .
Europe
North Sea goldmining is being undertaken by Amerada Hess on its Scott Field, beginning in April. The field, deepest and hottest in the North Sea, has small quantities of gold in its produced water, but over the life of the field, will still produce an estimated 12 bbl gold worth over $420 million.
Norwegian superdeep well was drilled by Saga in 6406/2 to the greatest depth so far on the Norwegian shelf. Total vertical depth is 5,768 meters into the Lower Jurassic. The lower section is expected to hold reserves of 200 billion cu meters gas and 470 million bbl oil.
Turkey's North Marmara gasfield is to be developed. Negotiations are underway for a turnkey contract with Momentum Engineering. TPAO (Turkish Petroleum) expects to produce a million cubic meters gas per day from the 3.1 billion cu meter reserve.
Mideast
Qatar's North Field, the massive gasfield held by the Atlantic Richfield Qatar Consortium, with more than 343 tcf of gas, is now the site of a new effort to drill for the presence of commercial levels of oil as well. Oil was encountered while drilling for the gas.
Kazakhstan's Caspian delayed, according to Baltabek Kuandykov, Kazakhstancaspiyshelf director. Negotiations over production sharing have stalled development and are now not expected concluded until sometime this year. First oil is to be in 1998, with first exports in 2003.
Azerbaijan's giant Shakh Deniz Field development is at hand. A 60/40 PSA is nearing completion via negotiations between state oil company Socar and BP, Statoil, and Turkey's TPAO. Still to be determined, however, is Iran's level of participation, if any. No time limit has been set.
Azerbaijan's Karabakh Field has been granted in a PSA to Pennzoil, Agip, and Lukoil.
Other fields/structures are nearing grants as well: structures near Karabakh to Amoco and Unocal, the Umid-Babakah structure to Occidental, and others to Exxon, Chevron, and Elf.
Iran's first Caspian platform has been built and installed in the southern sector of the land-locked sea. The 8,000 metric ton jackup drilling unit was built by the Iranian engineering company Sedra, with assistance from two Finnish companies. Capable of drilling to 20,000 ft beneath the seabed, it stands 127 meters high.
Africa
Angola's Block 17 is set to be explored by Elf. Plans call for a 3D survey over 367 sq km, then an exploratory well. Noncommercial levels of hydrocarbons were found in an earlier well.
Gabon's Kowe permit, held 75% by Marathon, 25% by Santa Fe Energy, was the site of a new oil discovery in 151 ft of water 18 miles offshore. The Tchatamba Marine #1 wildcat flowed at 4,545 b/d oil. Additional seismic is planned for delineation.
Asia
Australia's Santos is farming in on the Stag Field on the Northwest Shelf. The company is taking a 20.8% interest in the WA-209P permit held by Globex Far East. The field has tested 5,820 b/d oil and 358 million cf/d gas.
Russian seismic vessel Zephyr 1 has been upgraded and is now being operated in Asia by ABG Exploration and the Dalmorneftegeofizika Trust, out of Sakhalin Island.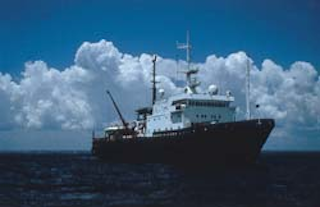 The Russian seismic vessel Zephyr 1.
Bangladesh's Bhola gasfield discovery in the Bay of Bengal is expected to boost the country's natural gas reserves, now approximately 10 tcf, by as much as 10%. The find was made by a subsidiary of state oil company PetroBangla.
India's Ravva Field, off the country's east coast, has been upgraded by its JV partners from 80 to 150 million bbl oil equivalent. Production is predicted to range between 45,000 and 50,000 b/d by 3Q next year.
Thailand Gulf Suriya Field has been discovered by Triton Energy-Carigali JV in the Malay/Thai Joint Development Area. The discovery well tested 58 million cf/d gas and 351 b/d condensate.
Vietnam's Block 01 discovery by Petronas, the Emerald 1 well, went to 4,165 meters and tested at 2,741 b/d oil and condensate, 16.8 million cf/d gas. The discovery well is near Petronas's Block 02 Ruby Field, which tests 1,750 b/d oil.
China's Xijiang 30-2 Field in the South China Sea, has started production at 20,000 b/d oil, but will peak at 60,000 b/d in two years. Phillips is the operator. It and the nearby Xijiang 24-3 Field produce to an FPSO located between them. The oil is then shuttled to refineries in China. They lie in 330 ft water some 80 miles southeast of Hong Kong.
Americas
Gulf of Mexico's Garden Banks 72 is to be drilled by partners MidCon (Occidental) and Flextrend Development (Leviathan). A multi-use platform is now in place. The field has tested 10,500 b/d oil and 11.9 cf/d gas. Drilling is this month.
Continuing speculation, Hunt Oil and partner PanCanadian are about to drill offshore Newfoundland in the high-interest Cape St George region near Port au Port Peninsula, sometime this spring.
Canada's Grand Banks West Bonne Bay are now set to be explored by Amoco Canada over the next five years. The company plans C$90 million costs in exploring the 18,105 hec. tract. Forty km northwest, Hibernia Field is to begin production in 1998, and Petro-Canada plans to develop the nearby Terra Nova Field thereafter.
Brazil's Marlim Field will have two more production platforms installed this year, boosting the current 110,000 b/d oil by an additional 200,000 b/d upon completion in early 1997. This will push the country's offshore production to almost 1 million b/d by mid-1997. (Current reserves estimates are up to 2.5 billion bbl oil equivalent - a 25% increase.
Copyright 1996 Offshore. All Rights Reserved.