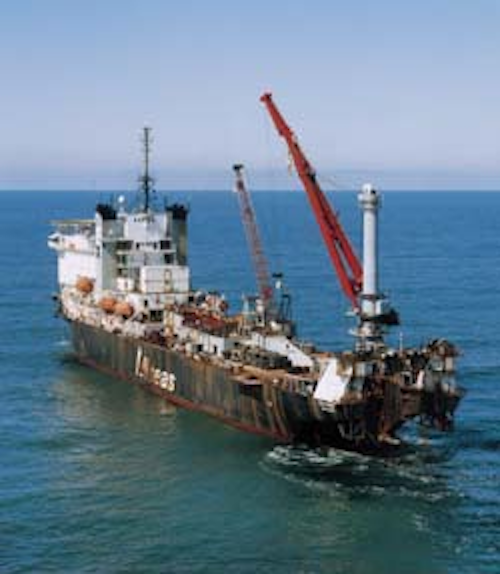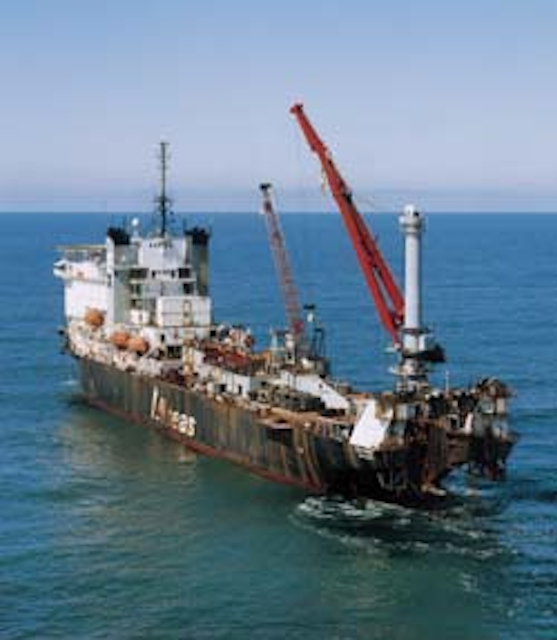 Allseas' DP Lorelay pipelayer will lay the Mensa, Ram Powell, and Auger Expansion lines in late 1996.
Extensive engineering has been carried out to increase the installation depth capability of Allseas Marine Contractors' dynamically positioned pipelay vessel, Lorelay, in order to undertake various projects worldwide.
On this basis of the resulting conversion work and work record, Allseas has been awarded pipeline installation contracts for three different deepwater developments in the Gulf of Mexico by Shell Oil of Houston. The pipelines, which will be installed in the second half of 1996, as follows:
Ram Powell: Two pipelines - 26 miles of 14-in. line and 26 miles of 12-in. line - starting at a subsea template located at the future Ram Powell tension leg platform. Water depth at the start-up site is 3,220 ft.
Auger Expansion: One pipeline - 40 miles of 16-in. line and 6 miles of 14-in. line - starting at a subsea template at the location of the Auger tension leg platform. Water depth at start-up is 2,860 ft.
Mensa: One pipeline - 63 miles of 12-in. line - starting at the WD143 (West Delta) platform in 370 ft water depths and routing to MC685 (Mississippi Canyon) in 5,400 ft water depth. This laydown will include the installation of a pipeline end manifold (PLEM).
The Lorelay is designed to install small-to-medium range pipelines (maximum overall OD of 34 in.). Over the past 10 years, the Lorelay has installed over 1,400 miles of offshore pipelines in the S-lay mode. The deepest line installed so far is a 20-in. oil line for Exxon at the Santa Ynez Unit offshore California, in a water depth of about 1,300 ft.
Deepwater S-Lay
As a result of extensive engineering studies, a small radius stinger was designed to install rigid pipelines in water depths up to and above 6,500 ft, still remaining within the strain limits set by the international code DnV in 1981.
The small radius stinger configuration results in a pipe departure angle at the stinger tip which is identical to the configuration for J-lay operations. A steep departure angle, up to almost vertical, will allow for pipelay within reasonable tension levels. The corresponding bottom tension will be marginal, which will reduce the risk of excessive free spans after pipelay.
The Lorelay is suitable for the step to deeper waters, because dynamic positioning (DP) is not related to water depth, as is the case with anchoring. Anchor handling in very deep waters becomes cumbersome and time consuming. The DP capacity (thrust) is not critical for small radius pipelay due to the steep departure angle.
The S-lay production rate is favorable above J-lay rates. On the Lorelay, a long firing line remains available, with six welding stations, one non-destructive testing (NDT) station, and two field joint coating stations. Combined with Lorelays' workability performance, Allseas operates a technically unique installation vessel for deepwater.
Mensa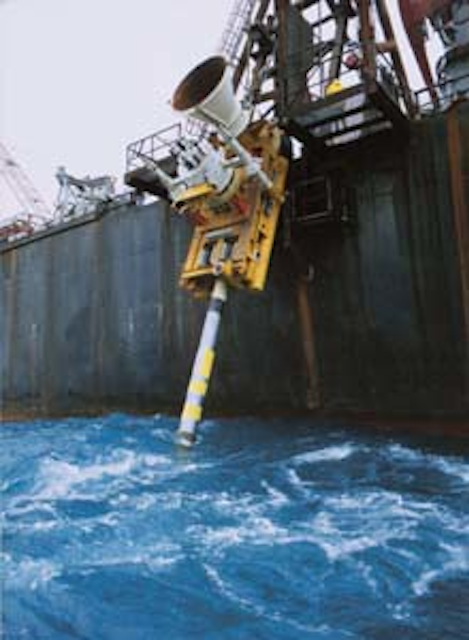 The Lorelay's DP system shifts the vessel to a perpendicular to the pipeline position in order to install wellheads and manifold structures too large to fit in the firing tunnel.
The installation of the 12-in. Mensa pipeline will be a world record for offshore rigid pipeline installation in general, and the deepest pipeline installed in an S-lay fashion.. The pipe will have a wall thickness 19.1-20.7 mm and a steel grade of APl5LX70.
A level of pull-force redundancy is required for dynamic effects and pipeline tolerances. To have the same level available as any other installation project, Allseas is preparing for a permanent upgrade of tensioner and abandonment and recovery (A&R) capacity, to be implemented in early 1996.
The tensioner capacity will be increased from 135 tons (3 by 45 tons) to 165 tons (3 by 55 tons), and the abandonment and recovery (A&R) winch at 120 tons will be replaced by a traction winch, with a capacity of 225 tons.
PLEM installation
At the deep end of the 12-in. line, Allseas has to install a pipeline end manifold to allow for future tie-in with the Mensa subsea template. Due to the physical size of the pipeline end manifold, the structure cannot be installed in the firing line as a standard lay-down operation.
Upon completion of pipelay, the pipeline is laid down in a conventional way on the seabed. After confirmation of the position of the pipeline end, the pipe is recovered in a single point lift over the port side of the Lorelay, using an A-frame for the recovery rigging with the vessel axis perpendicular to the pipeline heading. The horizontal component of the pipe tension acts as input for the dynamic positioning.
Using this recovery method, the PLEM's physical size (with a base of five meters by five meters) and weight (about 25-30 tons) can be handled easily. The PLEM is welded onto the pipeline (vertical weld), and upon completion laid down on the seabed.
Ram Powell, Auger
Work on the other two pipelines includes the following:
Ram Powell lines: The first Ram Powell contract pipeline, a 12-in. crude line, will extend between Viosca Knoll Block 956 and the C platform in Main Pass Block 289. The second line, a 14-in. gas line, will extended between Viosca Knoll Block 956 and Viosca Knoll Block 817 A platform.
Both lines are FBE anti-corrosion coated with some concrete weight coating. The oil line will cross four previously layed pipelines. Both installations will include spool pieces.
Auger Extension lines: The Auger Extension pipeline will be layed between a subsea connection to the existing Auger 12-in. oil line in South Marsh Island Block 205 and Shell's A platform in Eugene Island Block 331. The line will cross seven previously layed lines.
Other work completed by the Lorelay in late 1995 includes laying of Shell's Amberjack 20-in. oil pipeline in the US Gulf of Mexico for a distance of 25 miles and installation of a 24-in. gas pipeline for a distance of 38 miles to British Gas' Dolphin platform offshore Trinidad.
As many more similar deepwater projects are expected in the Gulf of Mexico, Brazil, and North Sea, which require medium-size rigid pipelines, Allseas foresees an expanding market for deepwater pipeline projects.
Copyright 1996 Offshore. All Rights Reserved.