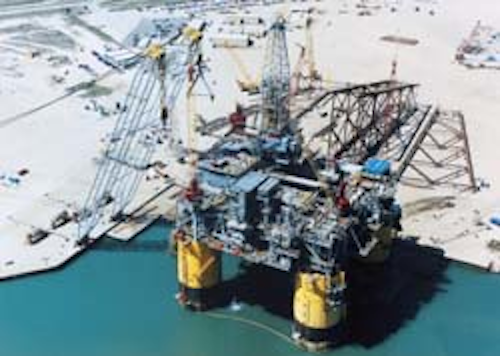 Michael Crowden
Houston
Mars Field production
due to begin in July
The $1.2 billion Mars project is due to begin production in July, about four months ahead of schedule. The Mars TLP was towed from its integration site near Corpus Christi to its permanent location at Mississippi Canyon 807, 130 miles southeast of New Orleans. Installation of the TLP in 2,940 ft of water establishes a water depth record for a production facility in the Gulf, surpassing Shell's Auger TLP at 2,860 ft. Shell is operator of the Mars project and owns 71.5% interest. BP Exploration owns 28.5%. Mars Field encompasses all or a portion of six OCS leases in the Mississippi Canyon area. The partners expect to recover in excess of 500 million bbl of oil equivalent. Initial production will be from one to 10 wells pre-drilled by the Sonat semisubmersible George Richardson. Production will increase rapidly as the other pre-drilled wells are brought on line and additional wells are drilled from the platform. Daily production is expected to climb to the design capacity of 100,000 bbl of oil and 110 million cu ft of gas in early 1997.
The five deck modules were constructed by McDermott in Morgan City, Louisiana. The hull was built by Belleli in Taranto, Italy. The integration of deck modules and hull was handled by Aker Gulf Marine at Ingleside, Texas.
Phillips's Agate-1 continues sub-salt play success
Phillips has made another discovery in the subsalt play. "This discovery is further confirmation that Phillips and the industry are solving the subsalt puzzle in the Gulf of Mexico," said Wayne Allan, chairman and chief executive officer. The Agate-1 well on Ship Shoal 361 tested two separate zones in a single sand formation for a flow rate of 4,126 b/d of oil and 24 million cu ft/day of gas. It was drilled to a total depth of 16,163 ft in 400 ft water depth and encountered a gross hydrocarbon interval of 105 ft. This is the third discovery for Phillips in the subsalt play, launched in 1993 by the Mahogany discovery. Mahogany Field now is scheduled for first production later this year. In 1994 the Teak discovery was confirmed. Phillips is operator of the Agate prospect with 50% and Anadarko has the remaining 50% interest. The test results will continue to be evaluated and the partners are considering an appraisal drilling program. The Agate well has been suspended for future production. Phillips says the field, which lies 9.5 km southwest of Mahogany, could possibly be produced through the Mahogany platform, significantly lowering development costs.
Dominion Reserves, American Exploration
jointly purchase reserves
Dominion Reserves and American Exploration have jointly purchased working interest in five blocks from a private seller for $56 million. Dominion owns 75 percent and American 25 percent of the purchased property. Estimated reserves net to the acquired interests are 45 billion cu ft of gas and 2.4 million bb of crude oil and condensate.
About 35 percent of the acquired reserves are undeveloped. Additional unproved reserve potential has been identified. The developed properties have net production of approximately 23 million cu ft/day of gas and 2,600 b/d of oil and condensate. American Exploration will operate three blocks, High Island 45, East Cameron 129, and South Marsh Island 133, representing 97 percent of the proved reserves. "We now hold interest in or control 25 blocks in the Gulf and have acquired over 600 sq miles of 3D seismic data," sad Mark Andrews, American Exploration chairman and chief executive. "An active exploration and development program is planned in 1996."
Hydril connector completes
DeepStar testing program
Hydril's Series 2000 connector, which replaces traditional pipeline welding, has successfully completed a DeepStar-sponsored test program aimed at qualifying the connector for s-lay and deepwater j-lay pipeline installation and service. Three samples each of eight-inch and 12-inch size were subjected to rigorous testing at
Stress Engineering's Houston test facility. The test regimen included make/break demonstration, installation load application, cyclic internal pressure, thermal cycling, external pressure integrity, torsional locking, and pipe burst. The testing was completed in late February.
Cinnamon log shows significant
pay in Green Canyon 45/89
Louisiana Land and Exploration says one of its key 1996 exploration prospects, the Cinnamon prospect operated by Shell Offshore, has yielded significant results during log evaluation. The Cinnamon discovery well at the Green Caynon 45/89 complex offshore Louisiana has indicated high quality reservoirs and potentially significant pay between the 9,500 and 10,255 ft. The prospect is located on the Flex trend about 180 miles south/southwest of New Orleans. Water depth is 690 ft. Planning is underway for offshore location and platform development. Shell owns 83 percent, with LL&E a 17 percent partner.
LSU study finds no need for explosives ban
A study by the LSU Center for Energy Studies indicates the use of explosives in platform removal should not be prohibited. The study concludes the evidence does not warrant prohibition or tightening of regulations, says Allan Pulsipher of LSU, a member of the study committee. The study was organized by the Marine Board of the National Research Council. It was undertaken in response to a report by the federal General Accounting Office. The report said explosives were damaging marine life. The GAO also criticized federal regulations for failure to encourage alternative methods for removing platforms. The LSU committee said sea turtles, whales, and porpoises appear to be adequately protected by current regulations. However, the study raised new concerns regarding fish.
Since the explosion kills all nearby fish, further study is warranted into the long-term effects, said Pulsipher.
Pool platform rigs contracted
for deepwater projects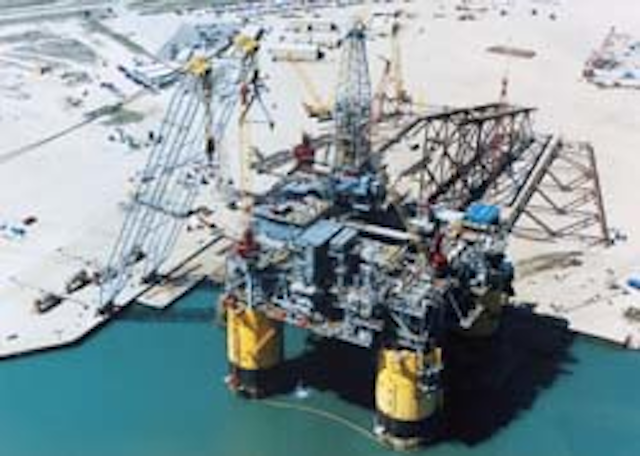 Is there life on Mars? Shell's Mars TLP is show here in late March at its integration site prior to tow out. Seen behind the TLP is the beginnings of a jacket for Phillips's Mahogany subsalt development. Mars is now located at Mississippi Canyon 807 in the record water depth of 2,940 ft.
Pool Company has received a long-term contract from Shell Offshore for one of its idle platform rigs. Also, Pool has completed construction of a multi-purpose platform rig for an Oryx Energy deepwater project. The idle rig has been cold-stacked for several years. It will undergo $7 million in modifications in preparation for a one-year contract, with two one-year extension options, with Shell. Designated Pool Rig 18, the rig will be a minimum area self-erecting (MASE), 2,000-hp platform rig with enhanced configuration allowing for minimal production shut-in time. It will have a top-drive system, a small footprint, and the ability to rig up without assistance of a crane barge. Construction of Pool Rig 10 also is complete. The electrically powered, 650-hp rig can be used for both workover and sidetracking operations. It will used by Oryx Energy for operations on the Viosca Knoll 826 Spar project, a floating platform in about 2,000 ft of water. Pool now has a fleet of 14 platform rigs and five jackups in the Gulf of Mexico.
Copyright 1996 Offshore. All Rights Reserved.