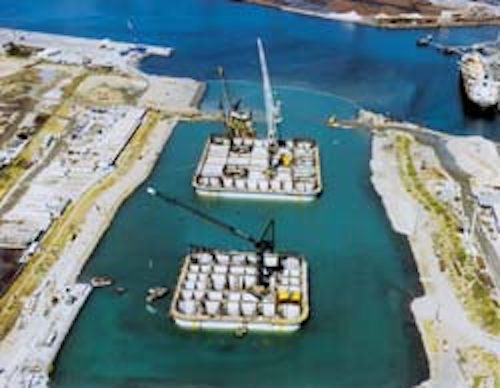 Jeremy Beckman
Editor, Europe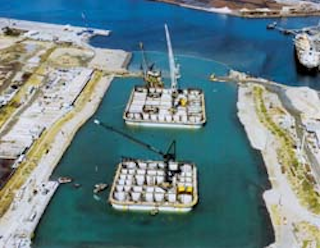 Concrete gravity structures at Port Kembla, New South Wales.
Floating platforms are in vogue for frontier developments around the world. But competition is also tightening amongst contractors bidding for this work. To maximize their chances, European and North American companies are teaming up as EPIC consortia offering all kinds of design solutions. However, it is also vital to input local engineering capability into the equation.
Doris Engineering has followed this format to clinch work in Australia, Newfoundland and Norway. As these jobs near completion, the company is entering a new round of crucial bids in an attempt to replenish its offshore workload.
Terra Nova
As part of the Grand Banks Alliance, Doris has made the shortlist of three groups competing for Petro-Canada's Terra Nova project. Other members of this alliance are Shawmont/Brown & Root, Halliburton, FMC, Reading & Bates and Coflexip Stena Offshore.
Terra Nova, thought to hold 400MM bbl of recoverable oil, will be Newfoundland's second offshore development after Hibernia. Petro-Canada has stipulated a floating production unit, but has given the three groups six months to propose a concept, either for a steel or concrete-hulled FPSO, or a steel or concrete-hulled semi. If steel is selected, a hull from an existing unit may be considered.
Unlike Hibernia, Terra Nova's hull will not have to withstand impact from giant icebergs: there are ice blocks in the vicinity, but they are relatively small. Terra Nova is also a smaller oilfield (around 20%), although water depths are slightly more than Hibernia's, at 100 meters. Currents are similar.
With regular infrastructure still lacking to the Newfoundland seaboard, a vessel with storage offloading to a tanker might prove more practical than building a dedicated pipeline. The field partners are also thought to favor a fast-track project, which also points towards a vessel, reusable elsewhere when Terra Nova production dries up.
Doris designed the GBS for the Hibernia platform, built at Newfoundland's Bull Arm site: this location would also be a candidate for the Terra Nova hull construction or conversion.
The six-month study started at the beginning of April; Petro-Canada and its partners are due to award the development contract early next year.
Shetland alliance
As part of the Shetland Deepwater Alliance (SDA), Doris also proposed a concrete FPSO for Schiehallion, the second stage of BP's Atlantic Frontier program. The field extends into block 204/205a, operated by Amerada Hess.
In the event, SDA came a close second to the Atlantic Frontier Alliance, which offered to build a production ship at the Harland & Wolff shipyard in Belfast. At the time of the award, the UK government was keen to galvanize the floater construction industry in Britain, particularly in (then) trouble-free Northern Ireland.
A letter from BP subsequently acknowledged the accomplishment of SDA's bid, stating that it was equal to the winning solution technically and commercially. But the Atlantic Frontier Alliance had the edge in terms of pre-project sanction commitments.
With more developments possible west of the Shetlands, Doris and partner MacAlpine have decided to maintain their cooperation on this subject. MacAlpine owns a yard in Ardyne Point, Scotland, which would handle concrete fabrication. Doris can also bring in expertise from Offshore Design Engineering, a 50-50 subsidiary with the UK's Bibby Line.
Doris remains in contact with BP on floater development. There are at least ten new FPSOs to bid for in the UK over the next five years, according to Dominique Michel, recently promoted to president at Doris.
Norway is also witnessing an upsurge in floating systems, but the capacity of Norwegian yards and engineering contractors is not yet at bursting point. This was the case when Doris won the tender for the Troll Oil concrete floater in tandem with Kvaerner. Doris has possibilities for a proposed phase 2 development, now that substantial new oil reserves have been discovered at Troll, but is not confident of an immediate breakthrough elsewhere in Norway.
Laminaria
In the much warmer waters of the Timor Sea, Doris is monitoring Woodside Petroleum's moves on Laminaria, a fairly recent oil discovery in the Ashmore/Cartier province close to the Zone of Cooperation.
The initial oil encounter in October 1994 was followed by further appraisal wells last year and a 770 sq km seismic shoot over the AC/P8 permit. Woodside's latest estimate was that 125MM bbl were technically recoverable in the field's central and southern areas, but UK analyst Wood Mackenzie sees potential for up to 200MM bbl if appraisal of the northern sector is successful, with development costs of around $600 million.
Water depths of 375 meters point to an FPSO with subsea wells and offshore loading. If this is the chosen solution, Doris will offer its own concept for a newbuild or converted vessel with a probable field life of up to 15 years. If successful, it would work with Australian engineering company Kinhill.
The two have already collaborated on the first two concrete gravity base structures built in Australia. Concrete casting was performed at the 10 meter deep basin next to the inner harbor at Port Kembla, New South Wales. Both platforms are currently being completed and will be towed to their fields later this year.
Ampolex has selected a concrete platform for storing oil from the Wandoo Field, and 13 other concrete structures are thought to be in contention for new fields off Australia. Doris is optimistic, but cautious: "Companies are waiting to see the first platforms installed before going to concrete themselves," says Michel.
Mini TLP
Aside from the huge N'Kossa concrete barge, West Africa has not offered much scope for Doris' skills, with developments until now concentrated in shallow waters. That may change now that the focus is on the deeper waters of the Gulf of Guinea.
Doris has teamed up with French drilling contractor Foramer to offer a 12-well Mini TLP with tender-assisted drilling, suitable for water depths of 1,000 meters in the Gulf. Although the sea off West Africa is subject to long swells from the South Atlantic, conditions in the Gulf of Guinea are comparatively mild. Wind and wave impact are not extreme, which allows a tension leg platform to be considered with locked-off risers (with no riser tensioners).
The Mini-TLP would be an unmanned, steel-hulled wellhead platform supporting dry trees with a minimum of topside facilities (no storage). A Foramer rig - probably a second or third generation semi, but possibly a tender barge - would install the platform, as well as performing drilling and workover operations. Control of the TLP would be handled from a host platform 10-15 km away.
Doris has presented the concept to BP, Elf, Statoil and Shell which have been collaborating on deepwater West African developments for over a year. It will also be explained in a paper at OTC.
Another concept making waves in deepwater projects is the Spar platform, already selected in the Gulf of Mexico. Doris sees potential for smaller Spars off West Africa, "but we would do our own version", says Michel.
Copyright 1996 Offshore. All Rights Reserved.