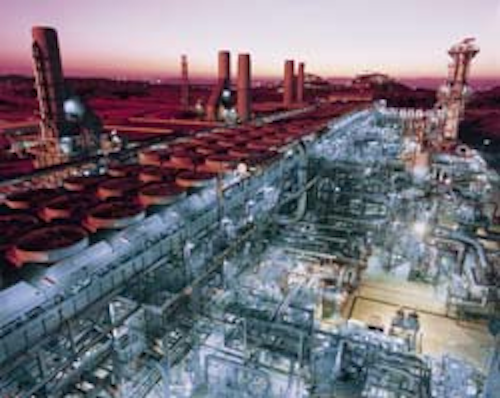 Woodside's NWS LNG Facility
The Northwest Shelf Gas Project is the largest natural resource project ever undertaken in Australia and has set the stage for virtually unlimited development of Western Australia's northwestern reaches, not only of other similar projects, but a wide range of products and services based on the region's remarkable reserves of hydrocarbons and metals.
The A$12 billion Northwest Shelf Gas Project is in two phases, one to provide domestic gas, the other LNG and LPG production and the operation of the complex of Goodwyn-North Rankin gas and condensate fields. The first is 50% owned by Woodside Petroleum, with BP, Chevron, BHP Petroleum, and Shell as its partners. The second is equally owned (16.67% each) by these same partners and Japan Australia LNG (Mimi).
Domestic sales gas began to flow the 1,500 km from Dampier to Bunbury in 1984, with a supply of 414 terrajoules/day. The third liquefaction train of the LNG facility's present three trains, began operation in 1992, bringing the total capacity to 7.5 mtpa.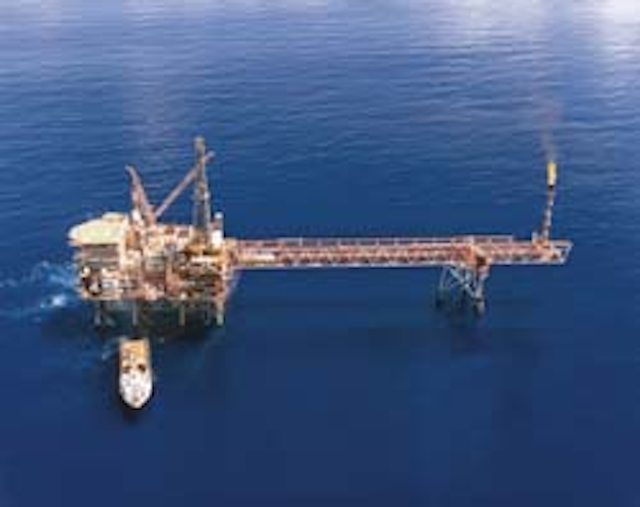 The Goodwyn Platform

---

As early as 2003, the NWS Project is to be expanded by another two trains of about 3 mtpa each, based primarily on interpretation of 3D data and exploratory wells drilled on the Perseus Field, which lies between North Rankin and Goodwyn Fields. Estimates of recoverable reserves are 3-5 tcf gas and undetermined condensate. A major exploration drilling program is to be carried out in the first half of this year aimed at proving up additional gas reserves.
At this time, there is a controversy as to whether the nearby Greater Gorgon fields should be produced as a part of the Northwest Shelf Gas Project. More discussion of this question can be found elsewhere in this report.
The NWS Project presently has a fleet of eight LNG carriers plying the waters between the LNG facilities on Western Australia's Burrup Peninsula and Japan. The first sale of LNG to Japan was in 1989. Beginning in April of this year, some 7.33 mtpa will be sold to Japan per year. Other customers include Spain, Turkey, and Korea.
Copyright 1996 Offshore. All Rights Reserved.