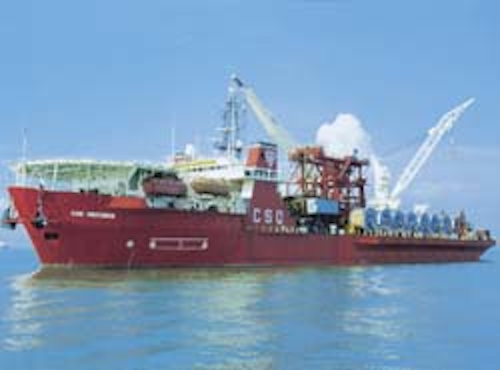 The COS Venturer
Baker Oil Tools
"Truthfully, we picked Western Australia because of personal reasons," said Gordon Collier, area manager for Baker Oil Tools. "The activity was growing here in the oil industry, and I felt this was probably one of the places that would mushroom eventually as a key area in the oil industry, and this would be the place to be. Baker Oil Tools' head office was in Adelaide, South Australia at the time.
"Woodside's Rankin platform was being commissioned and wells were being completed and Baker Oil Tools was all a part of that. Western Mining and Hudsons were starting to have discoveries in their different offshore fields. Then Wapet started their discoveries, and it just kept on growing. BHP came into the Timor Sea, had their discoveries. All of a sudden there was a slew of good discoveries by basically all the companies. Santos went offshore and had big finds.
"Baker being part of the game in Australia since 1968, we decided as a group that the best place to position ourselves was in Western Australia, because we felt activity was shifting to the West Coast. That was seven years ago. Since then, we've consolidated all our corporate services here in Perth under one roof - from the planning to the drilling, to the completing, and finishing of a project, the whole package.
"Now, we're seeing a lot of other companies that operate out here and in Southeast Asia moving their operations here. Whether it was by good management or luck, we picked the right spot at the right time. Because we got here early, we now command a pretty decent portion of the market here in Australia and in New Zealand and Papua New Guinea."
McDermott Industries
"As a company, McDermott's been in Australia 28 years now," said Hugh J. Cuthbertson, General Manager of McDermott Industries Australia. "We're the major offshore construction contractor in Australia, and are responsible for having put in most of the offshore structures and pipelines not only in the Bass Straits but the Northwest Shelf as well. McDermott has a long history, the traditional type of equipment: derrick barges, pipelay barges, and fabrication capabilities.
"Since 1989, when we finished a big Bass Strait project and moved from Melbourne to Perth, we've been fairly busy with a series of projects. We had a crew almost continuously till the beginning of 1995, working from one job to the next. The rest of the year's been a little quieter, but 1996 looks promising. We're beginning to get busy again. We've done a lot of work for Woodside, put in a pipeline and did Hammer Strait, put the bolt down, put in the structure. We put in the Harriet pipelines for Apache. We did the Emflex 1. And we had the DB100 serve as a long-term accommodation facility for Woodside.
"We have a commitment for March, April, and May of 1996 for the East Spar Alliance, where we're doing some deepwater construction. And we're optimistic there'll be a number of other bids going through soon, because the area is booming. Western Australia's quite promising. There's more potential out there now than ever before, particularly for large projects, where we get our clients. The industry is very promising, and this is a very good atmosphere, a very good place to do business. It's unique that way, unlike anywhere else, everyone is right here. There's really no comparison between Perth and Singapore."
Coflexip Stena Offshore
"1995 has been spent primarily in establishing our new manufacturing plant and in merging the activities of Coflexip with Stena," said Kevin Wood, senior vice president of Coflexip Stena Offshore. "It's a very difficult task, and I think we've accomplished it very effectively.
"Coflexip choose to put its plant in Perth-Fremantle because Western Australia presented a very attractive option in terms of cost and a very sensible option in terms of facilities. There are not many parts of Asia-Pacific where you can obtain deepwater access with good industrial land. It's not available in Singapore, for example. So our territory from here reaches from India to New Zealand and includes everywhere south of the CIS, including Japan, China, and Korea.
"If you operate from an Asian country, currently there is an insufficient amount of locals to operate the company. Therefore, you have to bring in a large quantity of expatriates. Western Australia has a sufficiently large population of skilled oil field engineering personnel who have learned their skills either within Australia or around the world, so there's a great advantage in terms of being able to economically put together a permanent group of people who live here and go home to their families on a long term basis, and that makes a big difference. It makes a big difference to your cost and it makes a big difference to your whole sort of operational culture. It's good to have somewhere where everybody feels they permanently belong.
"We have absolute cooperation and assistance from the Western Australian government and from the unions and our sort of arrival and inshore operations here have been simple and free. We think that it was a good decision and a decision that other companies will make."
Clough Engineering
"We started off in offshore in 1986 with the Harriet Field development," said Michael Douge, commercial manager of Clough Engineering. "After that, we did the main North Rankin trunkline in JV with ETPM, then another JV, with BHP Petroleum, for several Timor Sea projects.
"Since 1988, we've performed the majority of the offshore construction work focused around FPSO developments in Australia, some 12 projects mostly done by BHP Petroleum. We've called on Stena Offshore whenever their expertise was required. We have a couple of Stena people here and we actually have a few of their engineers working with us as well.
"We've also got significant contracts with Western Mining and Ampolex for NWS projects coming up next April, an offshore pipeline and development work for the Wandoo Field. The latter will be as a part of Australia's first strategic alliance.
"In the last four years, we've gone from $180 million to $500 million turnover. The strength of that has been a significant growth into the Asian market, with a great capacity to select suitable joint venture partners and to have a working relationship with joint venture partnerships from all over the world.
Worley Engineering
"Things have never looked better in Western Australia, in terms of new opportunities," said Peter Meurs, managing director of Worley Limited. "I don't think I've ever seen a time when there was more new offshore prospects or more new offshore projects being talked about at one time. You've got East Spar and Wandoo coming online. Almost certainly a new power line for Woodside and two or more new LNG trains, and the Perseus development. Laminaria is proving up to be a great oil field.
"And I think that we're still at a very low level of exploration. You look at the exploration success in Western Australia in the past two years. It's been remarkable - nine out of ten. The world is starting to recognize that this is a stable area, union issues are getting under control, people are making money here, engineering resources and construction resources are here, so there's a lot of very positive indicators here, as well as tremendous prospectivity.
"Worley started in the States, moved to the UK, then moved here in 1978 in time to design the North Rankin platform. Since then, the group's grown in both structural and processed mechanical strengths at about 30 or 40% a year. We've established ourselves throughout Southeast Asia, Australia, and New Zealand as about the largest oil and gas specialist group in this region. Although our head office is in Sydney, most of our operations and people are here in Perth.
"We're involved in almost every project in some way. Probably our largest activity at the moment is a long term alliance with Woodside, called Transfield-Worley. It is a $45 million a year engineering, maintenance, and structural alliance covering all Woodside facilities for an unlimited period."
Copyright 1996 Offshore. All Rights Reserved.