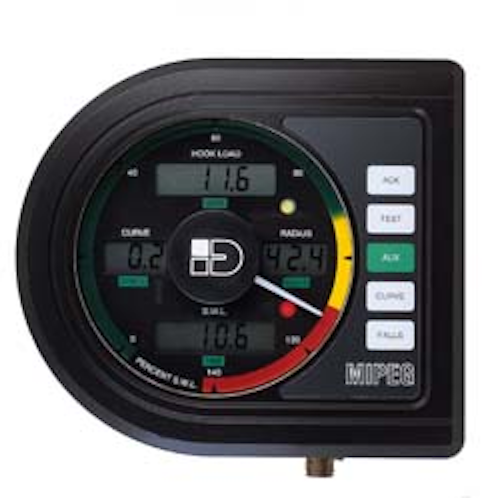 The MIPEG 2000 features an enhanced display unit.
Datainstrument, the crane load monitoring specialist, has extended the range of its MIPEG products with the launch of the MIPEG 2000 system. Early success and important references have been achieved in the shape of orders from Shell Oil for three units to be installed on the Ram Powell platform in the Gulf of Mexico, for BP's ETAP development, and from Reading & Bates for one unit.
The development of the MIPEG 2000 was undertaken with the needs of the US market in mind, explains Peter Bateman, head of the Bergen-based company's UK subsidiary, Mipeg. Extra digits have been incorporated in the analogue display unit to enable loads and radius to be shown in lbs and ft, as well as in the metric units used in most other countries. The display itself has been enhanced with improved back lighting to make viewing easier and the addition of extra alarm lights.
The new product is available both with recording system and without. Upgrading from non-recording to recording is made easy by the fact that the display unit is standard for both systems, thus eliminating the need for modifications, Bateman says. Although the basic design is the same as for the established
MIPEG 500 and 1000 load monitors, Datainstrument has utilized state-of-the-art components in the new product. The MIPEG 2000 is designed to meet the codes and standards applied in offshore sectors around the world. Although there is no statutory requirement for it, type approval is also being sought from Lloyd's Register of Shipping, Det Norske Veritas and the American Bureau of Shipping.
The new product is suitable for fixed and floating platforms, and can be retrofitted on existing cranes. It can easily cope with any number of crane curves for sea state, boom length and rope fall conditions, and can record crane activity data for maintenance and for incident evaluation.
As offshore users increasingly focus on life-cycle costs in evaluating equipment, Bateman identifies the reliability of MIPEG products as a key reason for their popularity. Based on records kept over the last 15 years for all the MIPEG 500 and 1000 systems in use - there are more than 250 installed offshore - the company estimates the mean time between failure (MTBF) at more than 48,000 hours.
To consolidate its presence in the Gulf of Mexico and Far East, Datainstrument has appointed agents in New Orleans and Singapore. MIPEG products have been sold in both these regions - to Shell's Mars TLP and Enserch's Garden Banks 388 project in the Gulf, and to the ACT China project and to Reading & Bates as general engineering contractor for Amoco's Liuhua floater. In the North Sea, recent deliveries include the Harding, Andrew, Britannia and Troll Oil projects.
Copyright 1996 Offshore. All Rights Reserved.