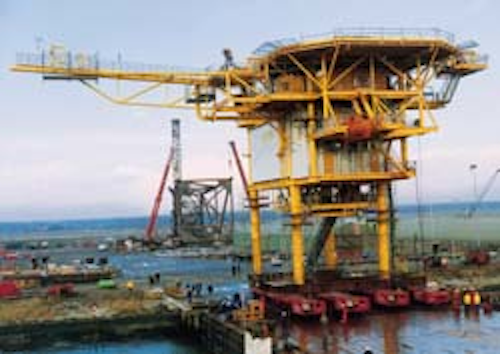 Free-air gravity anomalies for the Falkland Islands region derived using the Gravsat system from ERS-1 radar altimetry.
As exploration extends to the less easily penetrable frontier regions, oil companies are questioning the value of conventional gravity mapping methods. Shipborne surveys are time-consuming, widely spaced and not practical in areas such as the ice-packed regions around the poles.
Quicker and more comprehensive coverage can be supplied through geodetic analysis of high density satellite altimetry. Satellite Observing Systems of Godalming, UK performs this service through use of a technique which determines gravity anomalies (distortions to the mean ellipsoidal gravity field). The service, called Gravsat, can generate high resolution gravity maps of any offshore region.
Around 30 oil industry companies have so far bought these gravity anomaly maps, both as specific datasets and as atlas products to assess exploration prospects. All packages purchased relate to frontier areas such as the Arctic, parts of South East Asia and the West of Shetlands.
SOS was formed in 1988 as a consultancy advising the British National Space Centre and various European and United Nations organizations on the use of satellites for agriculture, fisheries and environmental purposes. The company's founder, Dr Tom Allan, was formerly chairman of the Seasat research committee. In 1992 BNSC branched out into funding commercial studies as well as scientific, which led to the development of Gravsat. SOS has access to data from three currently orbiting satellites, including continuous access to the European Space Agency's ERS-1 satellite. It has also secured recently released data from the US Navy's previously classified Geosat GM mission.
Over 10 years of satellite data are held on archive in the Godalming office: processing is handled mainly by four Sun Unix machines with several gigabytes of storage. SOS also maintains a permanent Internet line with 64Kbyte/s capacity which provides a gateway for fast delivery of ERS-1 data.
Visualization techniques
Gravsat maps are produced in collaboration with the British Geological Survey. Visualization is performed by BGS using its in-house Colmap software on Silicon Graphic Unix systems, and plotted as AO maps on a Versatech electrostatic printer. BGS employs digital filtering and pseudo-relief display techniques to resolve sedimentary basins, faults, underlying structural trends and regional tectonic control.
The maps are derived from satellite radar altimeter data forming a dense matrix of observations less than 8km apart across the globe. Tidal and atmospheric propagation effects are taken into account before using sea surface slopes to derive gravity anomalies. Adding the new data from Geosat has increased Gravsat's resolution. The interpreted data has also been incorporated in BGS' latest exploration atlases for the West of Shetland and Hebrides area off Scotland.
SOS is also working on higher resolution Arctic Ocean gravity maps. Despite the remoteness of the Arctic and its perpetual ice cover, the mean sea surface still conforms to the Earth's geoid and therefore reflects variations in the gravity field. Past coverage from satellite altimeter missions only extended to 72N, but following the launch in 1991 of ERS-1 altimetry became available up to 82N, thus opening up a large part of the Arctic Basin.
Following a decade of research into reprocessing of satellite altimeter return data over ice, Dr Seymour Laxon of the Mullard Space Laboratory near London developed techniques to measure sea surface slopes in ice-covered regions. These data were used to produce the first satellite marine gravity maps of the Arctic Ocean in 1994.
Now, following analysis of data from an ERS-1 voyage which ended in March 1995, SOS now claims to provide a much enhanced Arctic Ocean gravity map. As well as providing data as a guide to hydrocarbon exploration, SOS also proposes using satellite data to detect rapid movements of the Arctic ice edge, which could threaten exploration operations. Under another BNSC initiative, SOS has also developed the Wavsat system which processes satellite data to provide global wave statistics. Since 1985, satellite radars have routinely measured wave height and this data has been stored for analysis in Godalming.
Each satellite radar altimeter measures significant wave height over a 5-10km footprint each second (every 7km), giving an accuracy comparable to estimates of wave height from a 20 minute buoy record. SOS uses its analysis of the data to generate reports covering any ocean position during any month or season.
There are a variety of uses for the offshore industry. Knowledge of long-term wave conditions can be integrated into platform design or jack-up specification, or to devise optimum routes for large structure tow-outs.
Wavsat has also been used as evidence for an insurance company of wave heights occurring at a point off the West African coast. SOS obtains additional scientific expertise on wave statistics sadds scientific input from the Southampton Oceanography Centre and has co-operated with the Centre in studies of deepwater frontier regions.
In the short term, floating production systems or divers may be at risk from wave conditions higher than those forecast by conventional modeling. SOS can advise of the impending risk through a spin-off service of Wavsat known as Sea State Alarm. Paul Stephens of SOS explains:
"Companies can receive wave height data along a predetermined satellite track during a critical operation to provide real wave height data to add to forecasts from numerical models. The timing and position of tracks are calculated in advance so that the company can assess the relevance of the purchase.
"Due to the nature of the orbits and the limited number of satellites currently available, the tracks will be widely spaced across an area. This can still provide valuable information about unusual conditions to allow operators to take decisions based on better data than otherwise available. The data area received and processed within one to three hours of satellite overpass and can then be e-mailed or faxed directly to the site."
One result of a decade of analyzing satellite wave data studies is that large areas of the North East Atlantic appear to have become rougher. This follows a trend observed in conventional wave measurements at various sites. The change has been linked to global warming.
Copyright 1996 Offshore. All Rights Reserved.