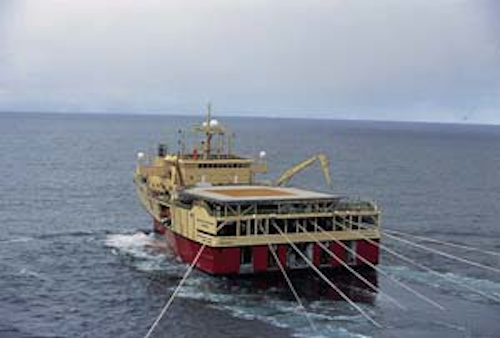 PGS's Ramform Explorer averaged almost 1,000 sq km a month
Dev George
Managing Editor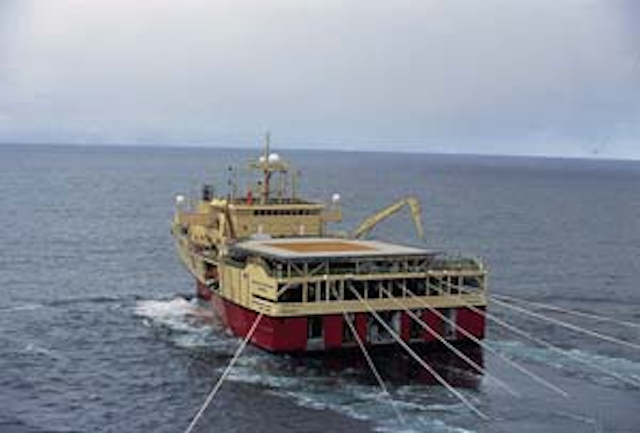 The PGS Ramform Explorer surveying the Nile Delta West, Deep Marine Block.
Amoco has participated in over 5,000 sq km of 3D, and British Gas in more than 2,100 sq km of 3D, and both have employed AVO technology, seismic stratigraphy, and other high tech tools to reveal the bright spots within the Pliocene trend and others in the Nile Delta Basin.
According to Bob Miles, exploration manager for Amoco Egypt, the Nile Delta Basin is a very high tech play. "Amoco and British Gas and all the other companies active here are taking the same high tech approach; it's very 3D seismic-intensive. The Delta is particularly suited to high tech, and so far the results have been beyond our wildest dreams. We've had very high success ratios, we've learned something new from each well, and we've found a very large new trend we didn't expect to be so big, the Pliocene. It was really a sleeper; and it holds more tcf of gas than we could ever have thought. It has reinforced some of our theories and has changed a few, too."
Previous major gas structures have been located in the Miocene. The veritable veteran Baltim Field lies in Miocene Abu Maadi sands, while the Temsah is found in the Miocene Servellian sands. "The Pliocene is the newest one out here," says Miles, "and it is very rapidly developing. It's a bright spot AVO play best identified on 3D seismic."
Ramform Explorer
PGS Exploration's state-of-the-art seismic acquisition vessel, the Ramform Explorer, launched last year, was employed by both British Gas and Amoco to explore this new Pliocene trend earlier this year, its first assignment outside the North Sea. The vessel, working in seven-streamer/two-source mode, began production on January 10, first for British Gas over two of the Nile Delta concessions it operates, the West Delta Deep Marine and the Rosetta Blocks, for a total area surveyed of 2,429 sq km of 3D seismic. An additional 900 km of 2D were also acquired.
The West Delta Deep Marine concession covers an area of 8,500 sq km and contains the NDOA-1 gas discovery as well as a number of large gas prospects. Edison Gas holds a 50% interest in the block. The Rosetta concession covers an area of 3,600 sq km. Shell Egypt holds 40%, Edison Gas 20%.
Dr. Hugh Miller, British Gas Country Manager, Egypt, said, "This is one of the largest 3D seismic surveys ever undertaken in Egyptian waters. The information provided will improve British Gas's prospects of discovering commercial reserves in the blocks." Both blocks are located in the Nile Delta Basin northeast of Alexandria in water depths over 200 meters.
Upon completion of the British Gas program on March 20, the Ramform moved on to two programs for Amoco, which totaled 1,543 sq km. Working in the same seven-streamer/two-source mode, 3D data was acquired on the Ras Al Barr concession and the Offshore North Sinai concession. Some 500 sq km were acquired on Ras al Barr, about 800 sq km on Offshore North Sinai.
Ras al Barr is deep Servellian play and shallow Pliocene. It is the site of three major discoveries so far, Egypt's largest flowing field, the Ha'py, which averages 57 million cf/d, Akhen, and another that has tested 28 million cf/d. The Offshore North Sinai is more Pliocene. The Wakar Field has averaged 26 million cf/d gas and 2,700 b/d condensate.
The Ramform completed its Nile Delta work on May 4. Altogether, some 3,972 sq km of 3D data were acquired in 116 days - an average of over 1,000 sq km per month over the period, a world record only recently broken by PGS's Atlantic Explorer shooting for Amoco in Angola recently. Total CMP km recorded in Egypt by the Ramform Explorer is 158,860.
Amoco believes this highly prolific Pliocene play may extend all the way around the Delta in a sweeping arc. It has produced five fields and a very large number of leads so far, and the company plans to drill a half dozen more in the next year or less.
Copyright 1996 Offshore. All Rights Reserved.