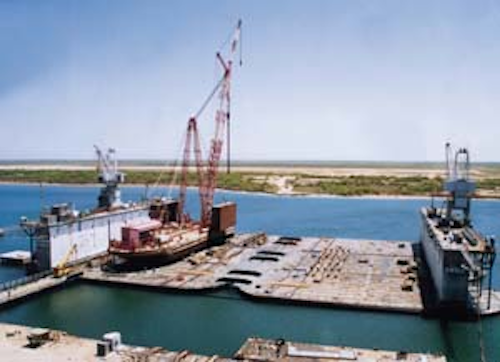 Royalty relief begins for deepwater on July 1st
Temporary regulations implementing the OCS Deep Water Royalty Relief Act will became effect in the US on July 1st, said the Minerals Managment Service. Final regulations are being prepared for a later date. Fields that did not produce before 28 November 1995 could be eligible for royalty suspension volumes of at least:
17.5 million bbl of oil in 200-400 meters of water, 52.5 million bbl in 400-800 meters of water, and 87.5 million bbl more than 800 meters of water.
"The high level of interest in deepwater development in the Gulf of Mexico will likely help slow the trend of declining domestic production and rising oil imports, plus provide important economic benefits to the region and the entire nation," said Cynthia Quarterman, MMS Director. "The royalty relief available under this rule will add even greater momentum to industry's efforts to find and produce the deepwater resources needed for the growing US economy," she added.
New depth record set by Oceaneering
Oceaneering International says it has set a world water depth record for ROV drilling support operations. Its Hydra 1095 made an eight-hour dive to a depth of 7,790 ft from the drillship Discoverer 534, which was drilling on Shell's Baha projects in the Alaminos Canyon area of the Gulf of Mexico. This surpasses the old record of 7,520 ft set by an Oceaneering Hydra ROV in 1987 while supporting drilling operations from the drillship Discoverer Seven Seas.
Noble develops novel conversion concept
Noble Drilling has developed a novel conversion concept for deepwater drilling operations in the US Gulf of Mexico. It is proposing a conversion of a shallow-water submersible drilling unit into a deepwater semisubmersible. The EVA 4000 design features modification and upgrading of a three column submersible for operation in 4,000 ft of water.
According to Noble the economics of the conversion reduces the project costs for Gulf of Mexico deepwater exploration and development because of lower initial investment in the asset which can be designed to specific customer requirements. The hull modifications include the installation of additional columns, trusses, and enlarged lower hull pods. There would also be a major enhancement of drilling equipment. Noble says the design features excellent motion characteristics and equates to, or is superior to, current third and fourth generation semi-submersibles. Noble owns eight submersible units all of which are located in the US Gulf of Mexico. Five of the units are currently operational. The rigs were all built since 1979 and are capable of drilling in 85-100 ft of water.
Phase two production begins from BP's Pompano
BP Exploration has announced initial production from its Pompano Phase II project in the Gulf of Mexico. The development is located in 1,860 ft of water on Mississippi Canyon 28, 124 miles southeast of New Orleans. BP Exploration is operator and owns 75%. Kerr McGee is a 25% partner.The initial well is the first of up to 10 wells to be drilled from a subsea template, with production flowing to processing facilities located on the Pompano platform at Viosca Knoll 989, more than four miles away.
"The deepwater Gulf of Mexico, the area beyond 1,500 ft water depth, is the primary focus of BP's offshore US exploration strategy," said Jack Golden, president of BP Exploration. "We feel this area has great potential and we expect BP Exploration to play a leadership role in this province. Phase II, and other deepwater projects in various stages of development, are cornerstones of our plans to increase our Gulf of Mexico production significantly over the next few years."
The initial well of Pompano Phase II is producing 6,900 b/d of oil, with increases expected. Drilling at the site will continue through 1997. By the end of 1996, production from this project will have doubled Pompano output from 30,000 to 60,000 b/d on an oil equivalent basis. Phase II production is from the same reservoir as wells drilled from the Pompano platform. However, this phase of the project uses subsea wells in the deepwater portions of the reservoir unreachable from the platform. The Pompano Phase II wells are being drilled by the semisubmersible Santa Fe 140.
Newfield drills ahead at Ship Shoal
Newfield Exploration says its Ship Shoal 354-1 exploratory well, offshore Louisiana, has encountered 141 ft of gas/condensate pay in three sands between 15,430 and 15,190 ft. Drilling is underway on a elineation well. Newfield is operator and owns a 45% stake in the project. Shell Offshore owns 35%, and Newfield program participants collectively own 25%.
$300 million gas facility planned by Texaco
Texaco says it will construct a major natural gas gathering and transmission pipeline and processing complex to be located onshore and offshore South Louisiana. The $300 million facility is expected to begin accepting gas in the third quarter of 1997. The project's pipeline, to be located in the central Gulf of Mexico, will comprise a 30-inch trunkline with numerous laterals of various diameter along the spine of the system. Plans also call for a cryogenic natural gas processing plant capable of processing 600 million cu ft/day of gas at the onshore terminus of the 130-mile pipeline in Larose, Louisiana.
The pipeline will provide access to the significant development activity taking place in the deepwater Gulf of Mexico, specifically in the South Timbalier, Grand Isle, Ewing Bank, Green Canyon, and Mississippi Canyon areas. All of these regions are experiencing increased drilling and development activity and this project will provide natural gas pipeline capacity to an area currently without adequate capacity to handle additional production.
---
Floating dock augments yard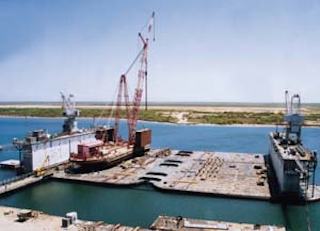 AMFELS has strengthened its presence in the Gulf of Mexico with the recent inauguration of a floating dock and extension of its land lease. AMFELS is the US-based subsidiary of Singapore-based Far East Levingston Shipbuilding. The Solomon P Ortiz dock is located at Brownsville, Texas. It has a lifting capacity of 48,000 tons. AMFELS's lease with the Port of Brownsville has been extended to the year 2016. AMFELS occupies a 55-hectare site. "This drydock shows AMFEL's commitment to the oil and gas industry in this region and underlines the generally bullish sentiment which FELS and AMFELS have towards the future of the global offshore industry," said Choo Chiau Beng, FELS's managing director.
Copyright 1996 Offshore. All Rights Reserved.