Nile Delta gas leading Egyptian growth
Dev George Managing Editor Flaring gas from an Amoco platform in the Delta. A section of an Amoco platform in the Delta. A jackup rig at work in the Nile Delta.
Jul 1st, 1996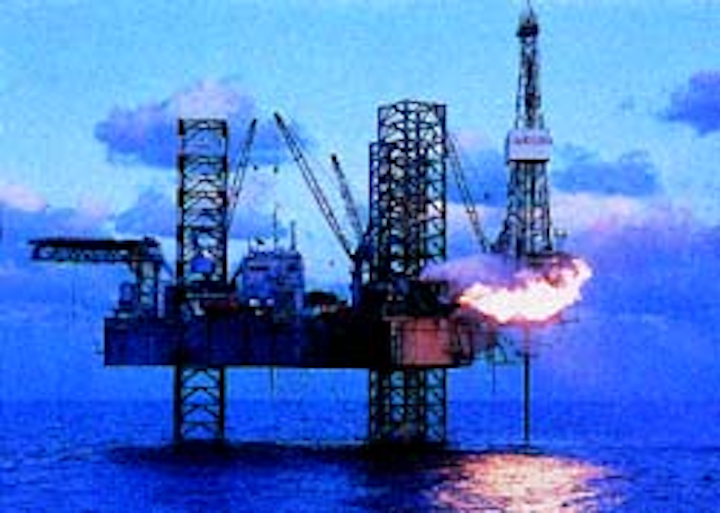 Dev George
Managing Editor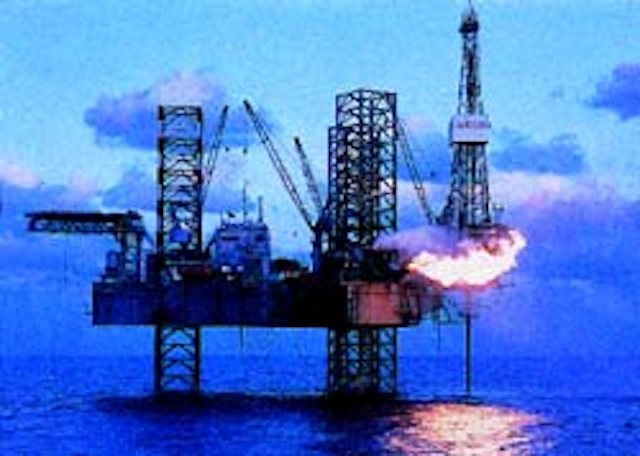 Flaring gas from an Amoco platform in the Delta.
A section of an Amoco platform in the Delta.
A jackup rig at work in the Nile Delta.
In the first half of 1996, half a billion dollars were invested in Egyptian oil and gas exploration and production by foreign petroleum companies, according to Dr. Hamdi el Banbi, Egypt's Petroleum Minister. Some 178 wells have been drilled in Egypt's Mediterranean shelf, mainly the Nile Delta, and in the Gulf of Suez. Although the Gulf is a mature oil province, the Delta is a relatively new gas province that is said by some to be world class.
Egypt has been a source of petroleum products for thousands of years, but only recently has begun to reap the benefits of its apparently vast natural gas resources. Its oil reserves have grown slowly to 3.9 billion bbl today, but its gas reserves have skyrocketed to an officially estimated 50 tcf in the last three years. The country now produces 1.2 million b/d oil, 1.3 bcf/d gas.
Natural gas
The World Bank recently estimated that approximately 40 tcf of gas reserves are yet to be discovered in the Egyptian aquatory. Certainly, significant discoveries are occurring frequently. Amoco Egypt, the country's largest operator after Egyptian General Petroleum Corporation, in consort with International Egyptian Oil Company, Agip's local affiliate and the state oil company, has had several important gas discoveries in the Nile Delta's Ras al-Barr region and in the Temsah concession off Port Said. Several other recent discoveries in the Mediterranean, on the Wakar and Port Fuad Fields, will soon come onstream.
Port Fuad should be coming into production right away, and the Wakar will be placed onstream upon completion of pipelines tying it into the production facilities at Port Fuad later this year. Other Delta concessions, including British Gas's Rosetta and West Delta Deep Marine, and the El Qara and Manzala concessions have all been gas prone. Beyond this region, the Gulf of Suez's West Feiran Block and the Red Sea's Qusair Block, both recently awarded, are also gas prospects.
Amoco Egypt
Bob Miles, exploration manager for Amoco Egypt, maintains that "Part of the success of gas in Egypt is a result of the Egyptian government's change in their policies in the mid-1980s, which was a visionary step. It opened up all sorts of possibilities, and I don't think anyone at the time had any idea what was out there in the Nile Delta. As time has passed, it has surprised all of us how quickly it has grown and how large the Delta's potential may really be. I don't think we know.
"The Temsah structure is close to the 4-5 tcf in proven, probable gas in place, but we don't really know how big the structure is. The last well we drilled opened up one end of it, but it clearly goes a lot farther than we originally thought. Wakar is a separate structure off to the east on an 100% International Egyptian Oil Co. (EGPC & Agip) lease. Their Wakar and Port Fuad Fields are there. Port Fuad is the only one of the newer fields out here that is onstream. It is relatively small, producing 70 million cf/d, but Temsah will be much more than that."
Amoco and IEOC hold the Baltim concession, with its three principal fields, Baltim East, Baltim South, and Baltim North. "The East is the biggest, in the 1-2 tcf range. The South is fairly small, the North is in the 100s of bcf, but we don't really know yet. We're drilling the first appraisal well now."
Amoco's fourth concession participation in the Delta region is in North Port Said, which is Port Fuad and Wakar Fields and the Temsah Field, as well as Denise and Denise South Fields, which are in the Pliocene off the west end of Temsah Field, in a shallower horizon than the Pliocene.
Miles says that the Pliocene play is the newest in the area and that it is rapidly being developed, since it has produced, so far, some five new field discoveries, a large number of leads, and a Pliocene-based drilling program that includes at least a half-dozen wells over the next year or so. "Amoco has in the Pliocene, the Denise, Denise South, Seth, and Ha'py Fields, and now we've found Pliocene pay in the Akhen Field, although we're continuing to drill down.
"There is a fair amount of gas from the Gulf of Suez, too, but, for the most part it is oil. The Gulf is a mature basin, it will continue to be successful, but it is difficult to grow the area, since the targets are getting smaller and smaller. The Nile Delta Basin, on the other hand, is still at an early stage. It's an emerging basin, even though it has already proven itself, but it is very early, so infrastructure is yet to be put in place and over the next few years we'll see a lot of growth, a lot of steel coming into these waters. And the future looks rosy, because the markets are there."
Egypt's gas market
Miles says that because of the proven gas reserves of the Nile Delta, Amoco and its partners are starting to study the market possibilities, including the feasibility of development of an LNG train. It clearly could become an economic reality, he says. "All the neighboring countries need gas, and there is an increasing demand for gas domestically and for export. With the major gas discoveries in the Delta, we've got enough for both now."
To meet these infrastructural needs, Egypt's first private natural gas pipeline company, Egypt Trans-Gas Company (ETGC), was established as a joint-venture between EGPC-owned Egypt Gas and Amoco, IEOC, and British Gas. ETGC is to be responsible for natural gas transmission, distribution, trading, and storage.
A pipeline linking the Nile Delta with the Western Desert fields, where other large gas reserves are located, and the national gas grid is under study. At this time, the gas grid only connects Cairo with Alexandria, Suez, and Port Said. Priority, nevertheless, has been given to the construction of an export gas line from Port Said to Israel, to meet Egypt's goal of exporting natural gas to Israel by the year 2000.
Negotiations have been on-going in both Cairo and Tel Aviv to iron out the gas trade agreement, which is expected to be concluded shortly, The gas will be exported initially from Amoco-operated Temsah and Baltim Fields, both currently in development. At issue are such things as the infrastructure to be built in Israel, the price, and amount of gas to be exported.
Egypt is seeking a wellhead price of US$2.50 per million Btus as well as transportation and service costs, whereas Israel is holding out for only the wellhead price of $2.50/MMBtu. Initial deliveries have been set at about 250 million cf/d by Egyptian Petroleum Minister al-Banbi. Israeli requirements for electrical generation during the first year have been set at 194 million cf/d, however, and 290 million cf/d after three years. The Israeli market will be greatly expanded, however, when industrial users are linked to the system, with requirements estimated at approximately 600 million cf/d.
In addition to this Israeli demand, the newly established Palestinian areas are also seeking to import approximately 48 million cf/d Egyptian gas for their own power generation and to fuel desalination plants. If this happens, the supply will most likely be through the same pipeline. Furthermore, Egypt has already penned a tentatively agreement with Jordan to provide it with natural gas via Aqaba by year 2000.
Beyond the growing demand for exported gas, Egypt's domestic consumption is rising rapidly. Egyptian General Petroleum Company predicts that in-country consumption will reach 1.9 billion cf/d by 2000 and jump to 2.8 billion cf/d by the end of the next decade. This primarily because the country is converting all its present oil-fired power plants to gas. New plants now under construction or projected for future construction will also be gas-powered. Furthermore, industrial users not now on the gas grid system are expected to be linked in within five years, as are nearly a half-million private residences and more than 5,000 commercial establishments. The huge petrochemical complex scheduled for the Gulf of Suez will also be joining the grid, as will a gas processing plant near Alexandria, which will convert some 300 million cf/yr to LPG for domestic purposes.
Egypt's Gulf of Suez is has been at the heart of Egypt's petroleum industry for many years and will continue to be a major oil production area, but the focus is slowly shifting to the Nile Delta and to gas as the future of the country's petroleum industry.
Copyright 1996 Offshore. All Rights Reserved.